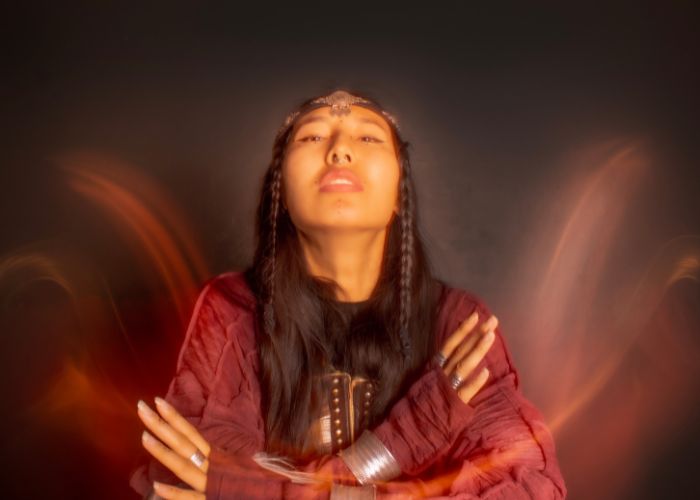 I met Snow Raven after Wesleyan's shift to remote learning during the spring of my freshman year in 2020. Living and studying at my parent's home, a tiny house by the Russian River in California, amongst nine other beings who inhabit the home, was not a sustainable option for me. With no room to myself, or privacy, there was simply no space for me to cultivate a healthy learning environment, one of the biggest reasons why I chose to travel 3,000 miles away from home to study in Middletown, Connecticut. Having already built community and relationships in Maui, Hawai'i, during my year off before university, I decided to take a leap of faith. I reached out to some friends, packed a bag, and moved back to the Island.
Within the first week of being back, I found a community home in Ha'iku where I lived with seven other folks. Only this time we were spread throughout a Japanese style home, which had a waterfall in the basement floor with sounds that trickled through the open space in the center of the proceeding three floors. The house had been uninhabited for the greater portion of two decades, so there was a lot of maintenance and a lot of rat poop to clean up. Nonetheless, we cultivated a community home that was caring and productive for all of our various needs. My roommate, at the time, was an amazing guitarist who was organizing an event with a group named Olox, a trio of sound enthusiasts, whom we hosted for the duration of their stay. And so, I met Snow Raven.
When Snow Raven entered the home, I was struck by her presence. Her awe and amazement at the tiniest of details, like the way the water trickled from the waterfall in the basement floor, and the trails of her voice as it spiraled through the home, were mesmerizing. I, too, was amazed by the sheer grace of her composure. So effortless, yet so elegant. After the concert, where Olox performed an ecstatic electronic set melded with traditional vocals and drum from the Sakha culture, we returned to our home and shared a traditional Mexican dish from my family's recipes, that I had veganized, of course, since everyone in the home preferred an animal-free diet at the time. Within a few days, the Olox team departed, but not without leaving a lasting impression on me.
Turns out, despite being from completely different parts of the Earth—arctic Siberia and tropical Mexico—Snow Raven and I have a lot in common. We are both artists with a deep passion and desire for the healing of our Earth mother. For the awakening of care and awareness amongst humanity. A shift in the paradigm towards a way of living that is harmonious and in reciprocity. One that doesn't extract and take for the mere purpose of profitable gain. Since that first encounter at age nineteen, I had a feeling that Snow Raven would be someone I would want to reconnect with someday. Perhaps work together. Yet, I had no idea that would be back on the Wesleyan campus, two years after the height of a global pandemic.
In the summer of 2022, I reached out to Snow Raven via social media, asking if she might be returning to the Island any time soon. I received a COE summer research fellowship that allowed me to return to Maui to continue work on a reforestation project. My teammate, Benji Rodrigues, and I interviewed elders throughout Maui, gathering stories and memories from the times before Maui was overtaken by plantations; before the Kalo (Taro) fields had been replaced by sugar cane. Back before the land became deforested and Lahaina went from an abundant food forest to a dry, decimated heat trap. Traveling back in time through the elders' memories touched my heart in the way hearing my own grandparents' struggle with fighting to protect their lands in México does. How could it be that in such a short time span, less than 250 years, a lush and giving land could be so sad? So depleted? That summer project, one we hope to transform into a documentary film, fueled my passion for my own thesis development.
When I reached out to Snow Raven, early on in the development of my project, the initial intention for my thesis was to create a space through photography where I bring awareness to the connection between body and land. I wanted my senior thesis to be rooted in the earthly connection indigenous peoples have to the land and spirit and the ways in which my camera, an instrument of my perception and experience, could manifest my ideas into the physical realm. This has been the general trajectory of my thesis development, only now I am equally as focused on the materiality of the photographs I am producing.
Despite not being able to connect during the summer, Snow Raven and I remained in touch—a virtual connection that eventually led to the realization of a wild idea: What if Snow Raven could perform at Wesleyan? What if she shared about her culture and, perhaps, inspired someone in the crowd? The first time I ever experienced a Snow Raven performance, I felt a physical shift in my body. I was in a time of deep personal healing, in my body, mind, and spirit. I was actively processing traumas I had, unknowingly, kept locked within my cells. Traumas that I had not been able to acknowledge because I was in a constant state of survival and fear, products of my own diaspora. The sounds and vibrations that flow through Snow Raven have the ability to move energy in the cells of our bodies; she is a shaman, after all. Walking throughout the Wesleyan campus, I often feel the stress of academia lurking in the shadows. I wanted to organize an event that would offer an opportunity to not just think beyond the physical reality of school, but to simultaneously allow the opportunity to feel something beyond it. Something out of the everyday occurrences of school. What better person to invite than Snow Raven?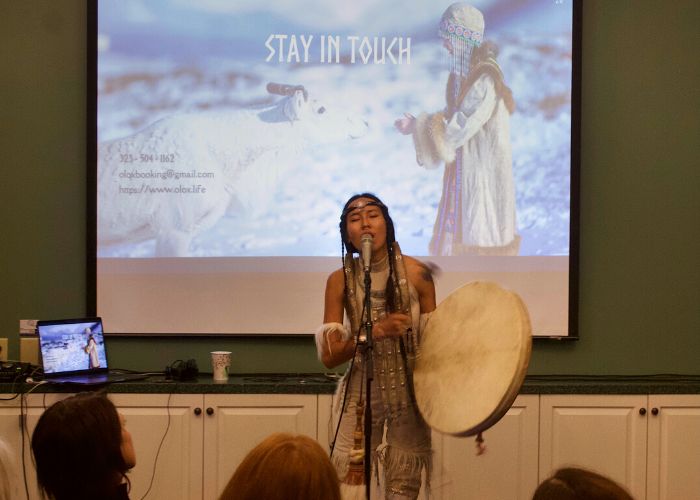 On November 20, 2022, Snow Raven performed for an enthusiastic audience at Downey House here at Wesleyan. When she encouraged the crowd to mimic the bird and animal sounds she was creating through her voice, I felt joy spring into my heart. It was beautiful to feel a sense of sonic unity throughout the room. A unity that sounded chaotic and wild with the diverse range of noises coming through everyone's voices. This event will remain a highlight of my Wesleyan experience, and I couldn't have done it without the support of the many people and departments on campus that encouraged this vision.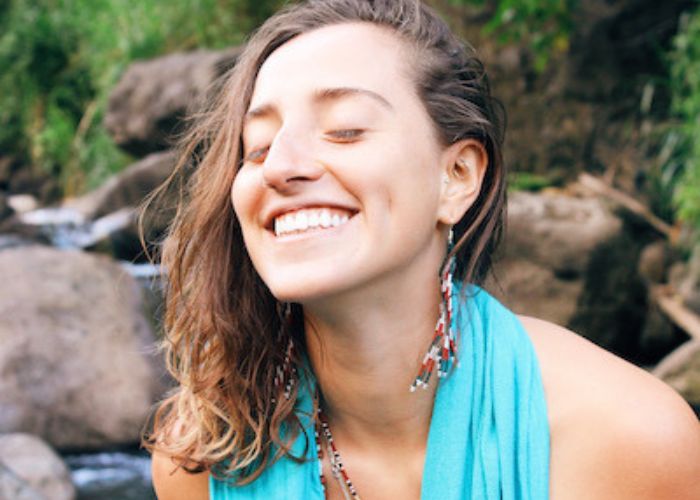 Nélida Samara Zepeda is a graduating senior at Wesleyan University majoring in Environmental Studies and Studio Art. She is from Guadalajara, México, and now resides in the Bay Area, California.