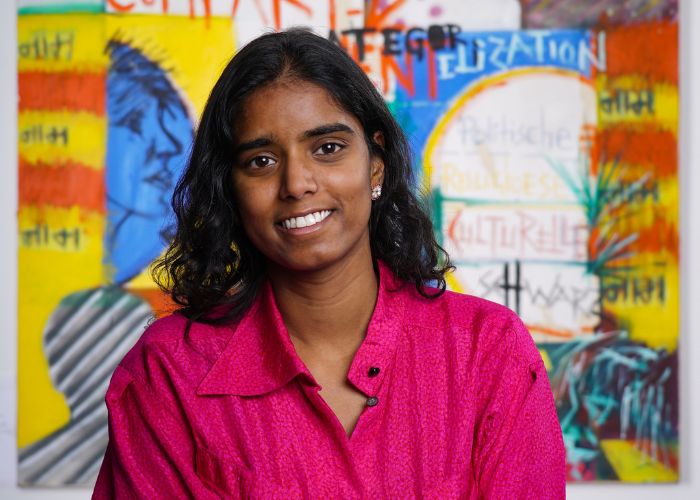 Malana Rogers-Bursen has joined the COE as project coordinator for the Robert F. Schumann Institute of the COE, a new position funded by the recent 5-year $2-million grant from the Robert F. Schumann Foundation to focus on the areas of food security, environmental justice, and sustainability.
Welcome to Wesleyan! You are project coordinator for the Robert F. Schumann Institute of the COE. Why is this position an important one, both for the COE and beyond?
The COE has long been committed to students engaging with the community and making an impact on environmental issues beyond the university. I think this position and the Robert F. Schumann Grant helps strengthen that work by allocating more resources to community engagement work and creating stronger ties between the university and the community and students and the community, so that our work can be further aligned and reciprocal. In addition, this role can provide support for community groups that have limited resources. For example, food justice leaders have told me they have been wanting to have more regular gatherings but don't have the resources to organize those gatherings. I can offer support in this area.
How did you get interested in environmental issues? Was there a moment where you realized your passion for the topic?
Almost 10 years ago, I was able to participate in a tour of East Baltimore called the Toxic Tour. Glenn Ross described how environmental racism and urban redevelopment has led to health consequences for Black and brown communities. He also named the specific institutional actors in the city who have contributed to toxic dumping and disinvestment in Black and brown neighborhoods. This was the first time I'd heard someone lay out environmental issues so clearly through a racial justice lens. For me, environmental issues are inherently connected to all other justice issues. I've worked on racial justice and immigration issues for many years in Connecticut. BIPOC communities are disproportionately affected by pollution, natural disasters, flooding, drought, and extreme heat all over the world; but our work defending our lands, neighborhoods, and survival is not always recognized as environmental justice work and our voices are often sidelined.
When I was in Switzerland, some friends and I hosted discussions on environmental and racial justice at our community center. We wanted Black people, indigenous people, and people of color to feel more connected to the environmental justice movement, whether it was seeing the work they're already doing as interconnected or connecting to something new. We started the discussion by asking everyone to introduce themselves through their connection or disconnection to the issues of racial and environmental justice. So many people told long stories of the impact of colonialism, racism, enslavement, and migration on their families, and the resulting disconnection from home and land. It was very powerful and renewed my commitment to work at these intersections.
On April 29, the COE will present the CT Food Justice Gathering, here on campus. Tell us about the event!
The CT Food Justice Gathering is a chance for knowledge exchange, and to build power across intersectional issues. It's also a chance for the Wesleyan community to learn more about the food justice movement in CT. The FREE event is hosted by the College of the Environment and Cultivating Justice, a youth-led organization meeting community-identified needs around food security, land access, environmental justice, civic engagement, power building, and pathways towards agriculture for people underrepresented in Connecticut's farming community. The day-long event will feature a panel discussion, workshops, and more. Anyone interested can register at www.bit.ly/ctfoodjustice.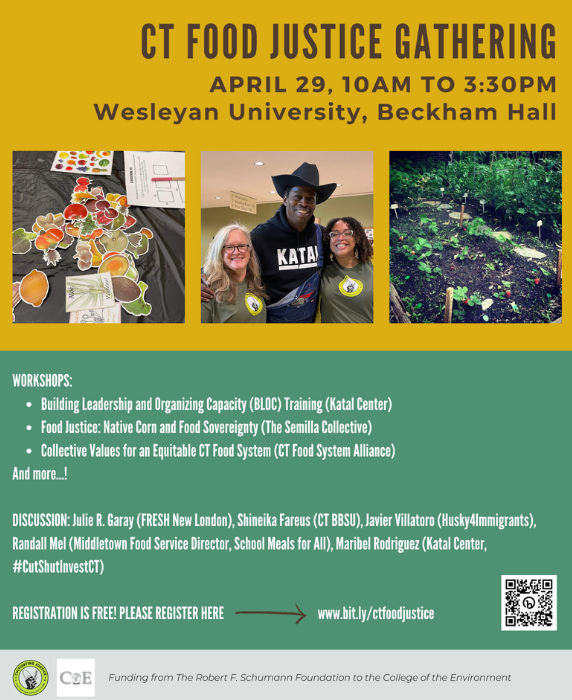 You spent the last several years working abroad. Tell us about your experience there and how you're bringing those experiences into this role.
I lived in Bern, Switzerland, for three and a half years, during which time I completed a master's program in Urban Studies at the University of Basel. It was a really interesting experience. Through the program, I traveled to South Africa to study affordable and equitable housing. I did research on urban planning that comes from the ground up, from community actors. In addition, I co-founded a student group called the Racial Justice Student Collective and co-founded a community center in Bern called the Living Room. Through the Racial Justice Student Collective, I learned a lot about what it takes to bridge the university and community divide, particularly supporting students to connect and engage beyond the university. Through the Living Room, I learned more about community building and the importance of place. I saw again how important it is for marginalized communities to own their own spaces and land.
What interested you about Wesleyan in general and about this position, specifically?
I'd always heard that Wesleyan is a center for music, art, and creativity. I also liked the idea of connecting Wesleyan students to the work happening across the state. In 2015/2016, I served as an AmeriCorps VISTA with the CT Food Program Alliance (formerly the Connecticut Food Justice Youth Corps). I was so inspired by the youth across the state who were leading food justice projects. I knew this role at Wesleyan would reconnect me with food justice work in Connecticut and bring in my passion around environmental justice. I was also excited to increase connections between the university and surrounding communities, and to leverage resources to support a broader movement. It's interesting to think about the role a university can play in community change.
What are your short-term and long-term goals for your new role and how do you hope your work will impact Wesleyan students?
I'm really looking forward to the creativity in the role. I'm excited to see what the possibilities are for contributing to the strengthening of the food justice and environmental justice movements! While community work is my passion, I'm also interested in supporting young people to grow their knowledge and connection to community groups. Supporting the next generation of climate activists is so important! There are also opportunities to build connections between high school students and college students.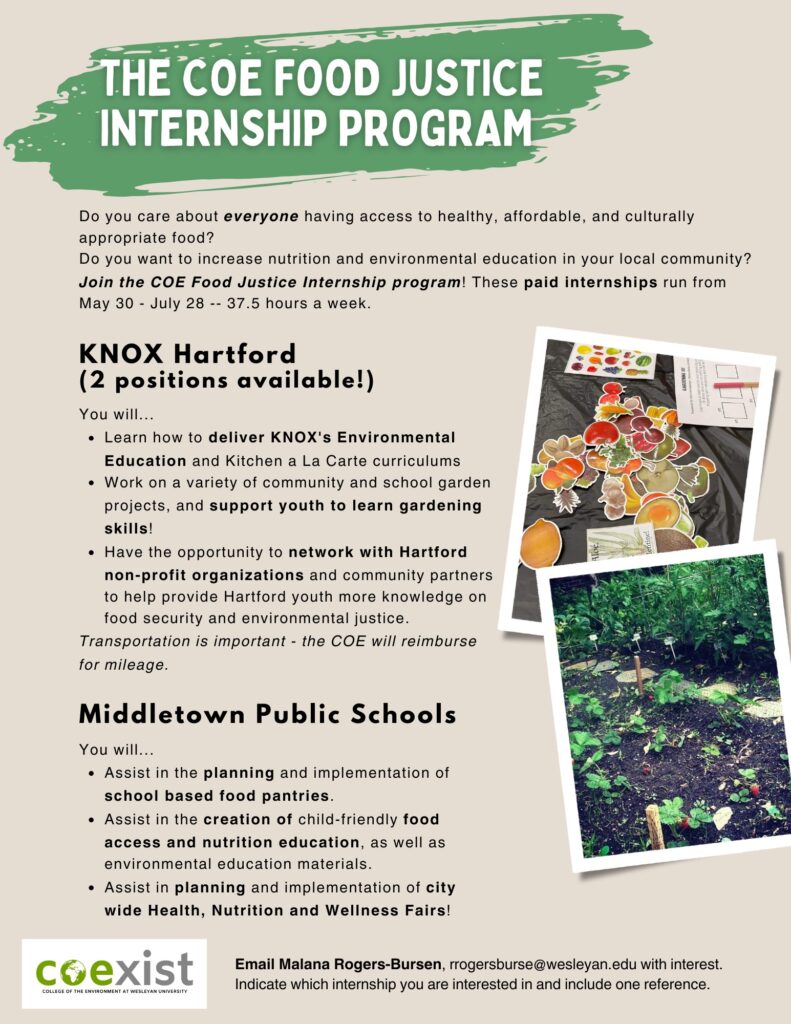 In the short-term, I want to connect with as many community groups and individuals as possible, learn about their work, and find out how we might collaborate. I also want to build relationships with student leaders and learn more about their interests and work. Through these conversations, I will explore ways we can share resources to strengthen the Connecticut food justice and environmental justice movements.
In the long-term, I'd love to see more Black and brown farmers in Connecticut who feel supported by a broader network. I'd love to see more BIPOC building power through land ownership, the ability to grow their own food, and legislative campaigns. In addition, it would be great to see more students who understand the broad landscape and history of food justice and environmental justice work in Connecticut and who engage in relevant research projects to support this work. I hope students will feel excited to make these intersectional issues an important part of their lives after graduation!