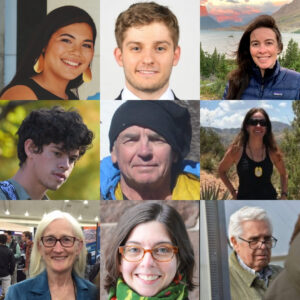 Each academic year, the COE gathers a small group of Wesleyan faculty members, a scholar of prominence from outside Wesleyan, and undergraduate students into a year-long academic think tank on a critical environmental issue. The aim of the COE Think Tank is not only to generate a deeper understanding of the thematic issue, but also to produce scholarly works that will influence national/international thinking and action on the issue. The Think Tank theme for 2021-22 is visualizing environmental change.
Our 2021-22 COE Think Tank faculty fellows are: Suzanne O'Connell, the Harold T. Stearns Professor of Earth Science; Jennifer Raynor, assistant professor of economics; Courtney Fullilove, associate professor of history; Helen Poulos, adjunct assistant professor of environmental studies; Antonio Machado-Allison, university professor in the College of the Environment; and Alton C. Byers, senior research scientist at the Institute of Arctic and Alpine Research (INSTARR) at the University of Colorado at Boulder and this year's Menakka and Essel Bailey '66 Distinguished Visiting Scholar in the College of the Environment. Olivia Baglieri '22, Dylan Judd '22, and Skye Hawthorne '22 will also be joining the Think Tank as student fellows this academic year.
Efforts to raise consciousness about environmental crises have foundered on a paucity of immediate visual evidence, leading to inertia and resistance among policymakers and the general public. This failure of public imagination impedes meaningful action to remediate and avert damage to the global environment. This year, our COE Think Tank fellows are pursuing independent projects on visualizing environmental change. Suzanne O'Connell will produce a book-length study on glacial melt as a visual manifestation of anthropogenic climate change. Jennifer Raynor will use satellite images to identify economic activity, including illegal and small-scale fishing on the high seas. Courtney Fullilove will analyze the International Union for the Conservation of Nature (IUCN) Red Lists of Endangered Species as codices of biodiversity loss and symbols of endangerment. Helen Poulos will explore how melting glaciers influence the hydrologic cycle using ECOsystem Spaceborne Thermal Radiometer Experiment on Space Station (ECOSTRESS) remotely sensed data. Antonio Machado-Allison will investigate whether policies established by Venezuelan governments from 1958 to 2021 were enacted for protection, conservation or exploitation of natural resources in the Orinoco River basin. Alton Byers will pursue interdisciplinary and integrated approaches to improve the accuracy of tools to monitor glacial lake outburst floods (GLOF) and massive rockfalls in the Himalayas and the Andes.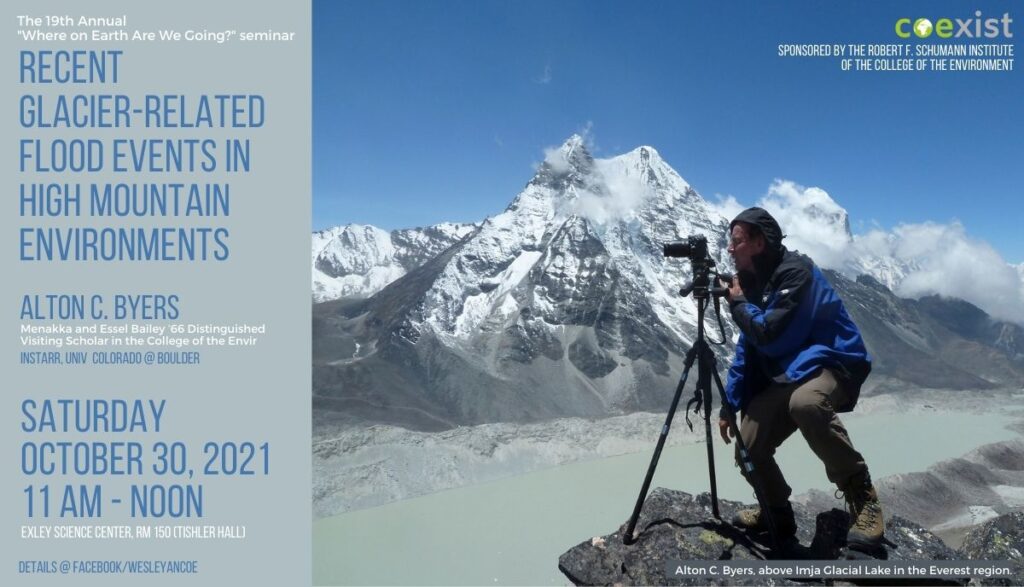 Together these projects investigate the ways images make salient the effects of otherwise "invisible" behavior that is hurting the planet: Raynor considers how observation and tracking can help create appropriate incentives for people to take action around environmental issues; O'Connell uses visualization strategies to mobilize public awareness to overcome inertia; Fullilove analyzes how popular images of biodiversity loss may nevertheless privilege certain species and political actors, to the detriment of broader preservation mandates; Byers explores how practices of observation and measurement, including the establishment of baselines and organized replication in monitoring and evaluation (M&E) systems can support nonprofits and governments implementing projects to address community development, biodiversity preservation, and climate change; and more. The combined research of our COE Think Tank fellows aims to contribute to a literature on environmental awareness and public communications about environmental issues, as well as devising effective policies to mitigate harm.
Read more about our current and past COE Think Tank themes and fellows!