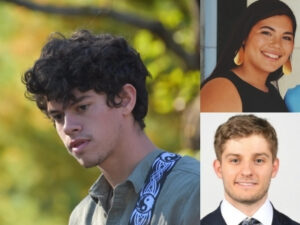 Each year, our COE Think Tank brings together Wes students and faculty from across the university, plus a noted outside scholar, for a yearlong conversation on a topic of vital environmental importance. This year's focus: visualizing environmental change. Read on to discover how our three student fellows will explore the topic in their work. This year's student fellows: Olivia Baglieri '22, Dylan Judd '22, and Skye Hawthorne '22.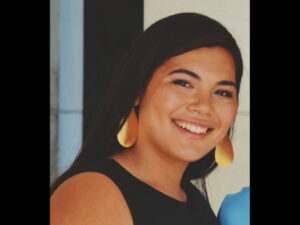 Olivia Baglieri '22
I am a current senior pursuing a major in earth and environmental sciences as well as a minor in environmental studies. Having lived in Singapore, Toronto, and currently in Denver, Colorado, I've had the unique opportunity to experience environmental change and innovative sustainability from a young age which has driven me to seek out avenues to further combat climate change.
The COE Think Tank's theme for this year of visualizing environmental change speaks to my focus on sustainable energy as well as examining how we've arrived at this unprecedented peak of emissions and human-driven pollution. I'm extremely excited to be part of this year's Think Tank as a student fellow and to have the opportunity to work closely with professors in a variety of fields that are all dedicated to environmental change. I hope to bring an interesting perspective to the Think Tank through my own experiences of climate change as well as expanding my own knowledge.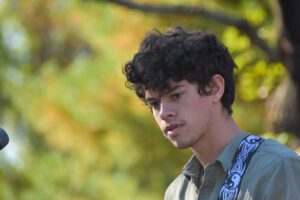 Skye Hawthorne '22
I'm a senior pursuing an earth & environmental science major with a minor in data analysis. Having grown up in California, I've lived my entire live experiencing diverse climates–and precipitous climate change–first-hand. I've seen droughts become more intense, storms become more infrequent, and smoke from wildfires fill the sky each summer. Understanding, communicating, and visualizing climate change is personal to me, and I'm honored to have the opportunity to bring my perspectives on environmental change to the COE Think Tank this year.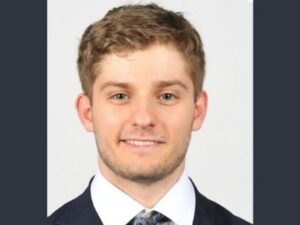 Dylan Judd '22
I am a senior chemistry and environmental studies double major from Long Island, NY. For my capstone project, I am writing a senior essay on my undergraduate research with Prof. Michelle Personick, which involves creating effective metallic catalysts for sustainable fuel production and industrial energy conservation. I am also a project manager for Dr. Kate Birney, who uses chemical archaeology to determine the original contents of ancient artifacts by replicating environmental pressures common compounds would experience in the natural world. Outside of class, I play varsity baseball at Wesleyan and ran the club volleyball team for two years before the COVID-19 pandemic.
The COE Think Tank on visualizing climate change feels like the missing piece to my Wesleyan experience. My junior year focused mainly on chemistry, so I am eager to engage in meaningful conversations within the environmental sphere before I graduate. I am most excited to learn about the different visualization methods that transcend science, such as art and filmmaking. The wide array of perspectives will allow me to open my mind to different strategies on how to successfully convey the urgency needed to address climate change, an issue whose rising sea levels and flooding threatens the future of my hometown. Being a student fellow working with such a distinguished group of professionals is a privilege, and I hope my background as a research chemist can spark new conversations for this group to consider.