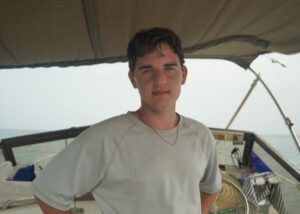 Every year, the COE awards fellowships to fund summer research opportunities for Wesleyan students across all majors and class years. Joel Rader '23 is a film and environmental studies major who spent summer 2022 investigating how resilience has been "seeded" within the social-ecological system of the island of Culebra, Puerto, Rico, in the wake of the devastation wrought by hurricanes Irma and Maria. To view Joel's amazing fellowship project website, click here!
Tell us about your summer research project!
My project explored the island of Culebra, Puerto Rico, as a Social-Ecological System (SES), including the integral contributions to SES resilience made by small business owners, activists, scientists, and environmentalists. The project focuses in particular on the significant work that the nonprofit organization Sociedad Ambiente Marino (SAM) does toward resilience efforts in Culebra.  SAM's efforts are not just important for the Culebra SES itself, but could be a replicable model for other island communities throughout the Caribbean that are among the most exposed to climate change impacts today. Among SAM's important current projects is the restoration of endangered coral species that are important to this region of the Caribbean.