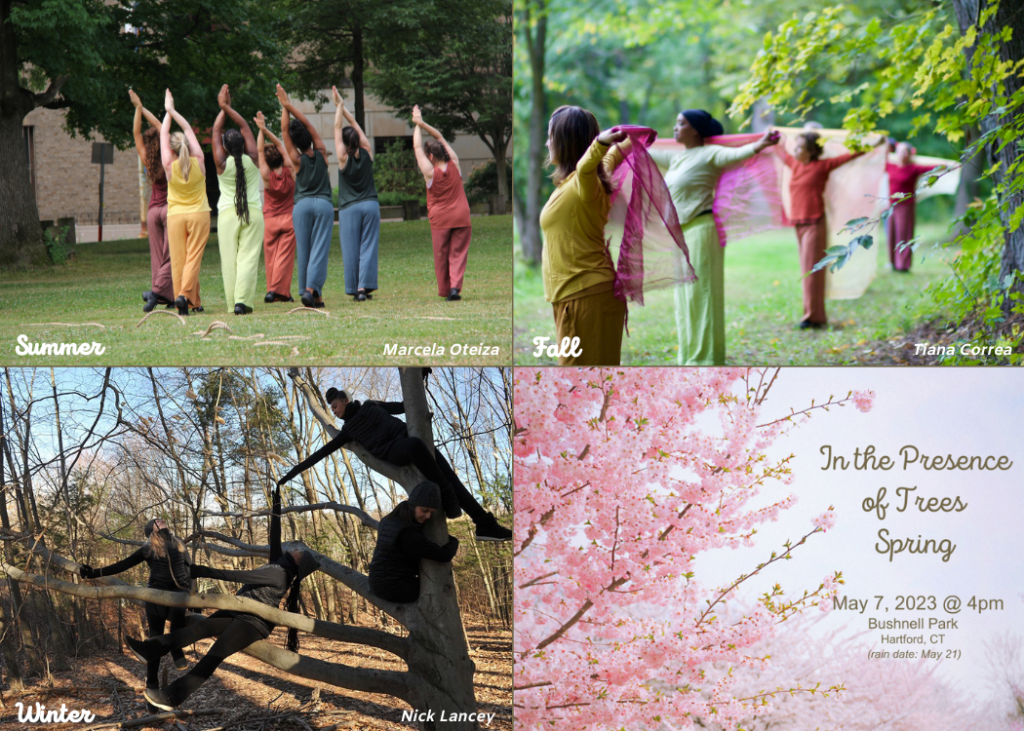 Marcela Oteiza, associate professor of environmental studies and dance and chair of theater, has been involved with the Justice Dance Performance Project (JDPP) since 2011. Her latest collaboration with the group, In the Presence of Trees, is a four-part site-specific outdoor dance-theater performance series following the changing of the seasons while celebrating the wisdom and value of trees, especially in the urban forest.
The series, which began in summer 2022 with a performance in Bushnell Park, in Hartford, CT, will come full circle on May 7, when the troupe returns to Bushnell Park to perform In the Presence of Trees: Spring, the fourth and final event of the series. Like previous series performances, the event will be free and open to the public.
"This series started with the idea of exploring how trees connect with one another and protect each other–and how they communicate between different species," says Oteiza. "The larger idea being that we can learn how to better communicate with each other by being in the presence of trees, listening to and learning from them."
In the Presence of Trees focuses on creating a dialogue between the trees, the performance space, the audience, and the performers. "You connect with the trees on two levels," says Oteiza. "One is the internal relationship the performer creates with the tree they're dancing with. They become partners with the tree. The second is the external relationship: the shapes the dancers create while performing with the trees and how the audience perceives them." Performers in the series range in age from 17 to 80, inhabiting a diverse range of body types. A decision that was intentional, says Oteiza. "Performers can be any age and dancing bodies can be any type of body. It was very important for us to make that clear."
As the visual designer for the series, Marcela is responsible not only for costuming, but also for choosing objects used for each piece, selecting and understanding the trees that will be included in each performance, setting the audience-performance relationship (how the audience will enter the space, whether they'll be guided through the space, what the audience should feel as they enter the space), and layering those elements to create the environment in which each performance takes place.
"As a visual designer, I consider such elements as accessibility, tree access, and open space versus closed space," says Oteiza. "The costumes were chosen to blend with each space, as part of the landscape, so that the eye of the viewer can encounter the dancers in the same way we look at a view and suddenly focus on a particular feature in the landscape and spend more time with it."
Marcela's role also includes helping the company create relationships with the people who inhabit each space. "For the Winter performance In Keney Park, the company worked with the Ebony Horsewomen, an organization based in the park that provides equine-based programming and equine-assisted therapy for inner-city youth. Ebony Horsewomen opened their doors to us and created a relationship there."

Once the series is complete, with the May 7th performance of Spring, films of all four seasonal pieces will be available for viewing