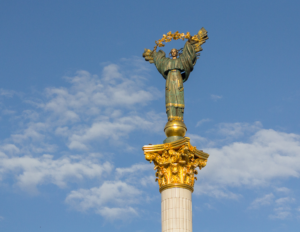 The College of the Environment, the Allbritton Center for the Study of Public Life, the Fries Center for Global Studies, and Russian, Eastern European & Eurasian Studies present a series of international livestream conversations with students, journalists, civic leaders, and others in Ukraine. Links to recordings of all past series events can be found below.
Week 7: Fri, April 22 at noon
Fries Center for Global Studies (Fisk 201)
Link to join online: bit.ly/ukraineseries
This week, we're joined by investigative journalist Mustafa Nayyem, former Deputy Minister of Infrastructure and Transport, who is credited as catalyzing the Maidan protest in Kyiv in 2013 with his fierce defense of open journalism, democracy, freedom, and famous call to action stating, "Likes don't count." Nayyem was elected to the Ukrainian Rada Parliament in 2014 and in 2021 appointed as Deputy Minister of Infrastructure and Transport. He is currently in Kyiv, actively engaged in the defense against Russia.

Past events
Week 1: Fri, Feb 25 — Panel: Students
Week 2: Fri, Mar 4 — Panel: Journalists/Civic Leaders

Panelists: Olga Guzhva, independent journalist, currently in Kharkiv, second biggest city in Ukraine (bombed March 2); Marta Pyvovarenko, founded Development Foundation civic org for psycho-social wellness during Maidan Revolution and founded CommunitySelfHelp organization last week (coordinating medical supply transports and refugee relief in Lviv); Inna Datsiu, former director of 360.org, civic environmental advocate and activist, freelance facilitator, trainer, organizational development and environment/climate change consultant; Svitlana Andrushchenko, professor at Institute for International Relations at Taras Shevchenko National University in Kyiv and xpert in geopolitics of energy; Misha Iakovenko '17, works in US, took leave to go to Warsaw to help with relief efforts through Green Corridor to Lviv.
Week 3: Fri, Mar 11
Panel: Civic Leaders, Experts & Artists
Confirmed speakers include:  Oleksandr Sanzhara, secretary of the Dnipro City Council (https://thefrontierpost.com/us-diplomats-check-readiness-of-ukraine/); Svitlana Andrushchenko PhD, Institute of International Relations, Taras Shevchenko Univ., Kyiv, an expert in the geo-politics of energy; and artist Diana Berg, who has remained in Donbas to fight for Ukraine through art, for the past seven years (https://www.facebook.com/diana.hmm.berg). Wesleyan students Julia Kulchytska (from Lviv, Ukraine) and Lera Svirydzenka (from Belarus) will also join the conversation
Week 4: Fri, Mar 25
Panel: Belarusian and Russian Students
About the panelists:
Frantsuaza Li: "I'm a native Russian and I'm against the war. I'm a 19-year-old sophomore of the Biology Faculty at the Higher School of Economics. I am from a very religious family and my parents voted for Putin in 2018. For many years I have been believing propaganda just like my parents. But three years ago I saw Alexey Navalny's corruption investigation and my understanding of the world was broken. One year ago on 25 January I went to my first meeting. Six months ago I became a volunteer for independent politician Anastasia Bruchanova's campaign for the State Duma. Five months ago I was an election observer. And Anastasia won. But the government cheated with online voting. Three weeks ago I was arrested at a protest for the first time in my life. I will be in trial under article 20.2 on the morning of March 25. Hello from Russia!"
Mikita Vushau: Graduated from Belarusian State University last spring, and had been organizing different cultural and political events at his university and faced oppressions. During summer 2020, Mikita participated and organized different political events in order to fight for free and fair elections.
Alexander Slavin, video producer, journalist & academic author. Worked for brands and companies, such as "Nike" and "Sony", independent Russian media and international media agencies.
Lera Svirydzenka '25 is a political refugee from Belarus. Tim White '23 is a junior film major from Moscow, Russia, interested in music, art and Russian history and politics.
Week 5: Fri, Apr 1
Panel: Sergei Guliaev
Week 6: Fri, April 8