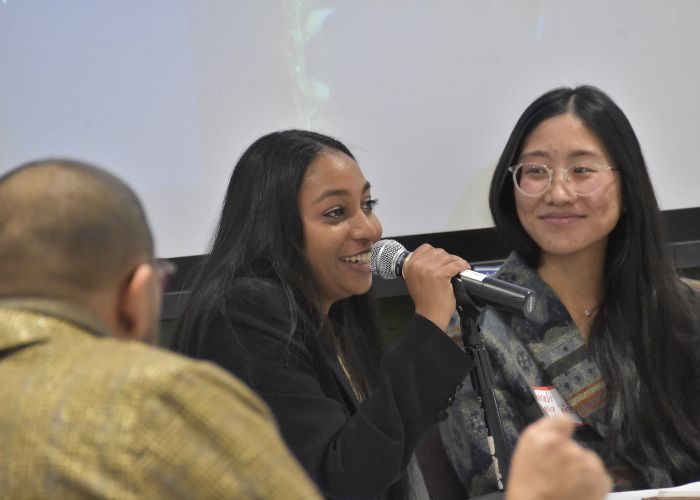 The Robert F. Schumann Institute of the Bailey College of the Environment was honored to host Mobilizing Power: Community Building for Environmental Justice on November 11, 2023, in Daniel Family Commons in Usdan. The event brought together advocates from a variety of nonprofits, government agencies, grassroots campaigns, and academic institutions to exchange ideas for making meaningful, long-term environmental progress. The event was sponsored by The Robert F. Schumann Institute of the Bailey College of the Environment at Wesleyan University, Wesleyan Sustainability Office, Save the Sound, Sunrise Wesleyan, Wesleyan Environmental Solidarity Network (ESN), Sustainable CT, The Rockfall Foundation, and the DEEP.
Organized by Malana Rogers-Bursen, project coordinator for food security, environmental justice, and sustainability for the Robert F. Schumann Institute of the Bailey COE, Mobilizing Power brought together approximately 90 participants, including environmental justice leaders, high school youth organizers, and college students from Wesleyan and other universities, to discuss important issues related to environmental justice in Connecticut. The planning team for the event included community leaders from Sustainable CT, CT DEEP, Save the Sound and the Rockfall Foundation, as well as student leaders Dylan Campos '24, Michael Minars '25, Debbra Goh '24, Hannah Phan '25, Laine Gorman '25, and Naysa Abraham '26, who took clear leadership shaping the event and presenting throughout the day.
"Throughout the planning process and during the actual event, I was impressed by the intergenerational connections. In addition, connections were made to community organizers, philanthropists, state employees of CT DEEP, and the arts community," said Rogers-Bursen. "People left feeling empowered to continue to make change locally and beyond. I think these connections have the potential to build power statewide and strengthen our environmental justice movement!"

Mobilizing Power highlighted the need to transition to a more environmental justice centered approach to climate action. People often have an abstract understanding of climate change because it is presented as a slow-moving, intangible process, occurring over a long period of time. This perspective fails to address the ongoing human cost of environmental degradation and pollution, which have been impacting communities for decades.
People in high-risk areas are consistently excluded from insurance coverage, making it more difficult for communities that should have the most support to recover from environmental disasters. For decades, the insurance industry has intentionally reduced coverage for people living in regions of the country most likely to be hit by disasters, including sections of New Orleans pre-hurricane Katrina. The people with the most insufficient coverage are overwhelmingly low-income people and communities of color.
After years of working in the insurance industry, Mobilizing Power speaker Sharon Lewis moved to work as the executive director of the Connecticut Coalition for Environmental Justice after seeing how racism plays a role in insurance. She gave some key advice at the event, derived from her experiences as a community mobilizer:
In order to be a true advocate for environmental justice, there must be a genuine focus on serving people. This goes far beyond just handing out flyers and hoping people will be interested enough to contribute, advocacy is ongoing work that requires cultivating strong relationships with community members.
If you want people to be your allies, you must make the work easy and accessible for them. You do this by considering when people have available time, and offering them food and water during meetings. Considering people's basic needs and being accommodating towards their busy schedules and many responsibilities is important. People struggle to find time to engage in community work, especially when they are already overburdened by numerous challenges that demand their time.
Mobilizing people requires empathy, care, and drive. The best way to build the kinds of relationships necessary for meaningful work means living in the same neighborhoods, and engaging in the groundwork.
Success also requires that you do not just work with allies, but also with those who are opposing your goals. Having a seat at the table sometimes means sitting with people who you fundamentally disagree with, and being able to stand your ground.
Another speaker at the event was Ashley Stewart, manager of community engagement at the Connecticut Green Bank. The Connecticut Green Bank is working to leverage public resources toward environmental initiatives and has a focus on creating jobs for Connecticut residents. Their work intends to increase resilience in the most vulnerable communities.
In a smaller discussion groups after Stewart's talk, I had the opportunity to speak to many individuals coming to the event with different perspectives and experiences, including representatives from Connecticut's Department of Energy & Environmental Protection, Radical Advocates for Cross-Cultural Education, local farmers working to engage youth in food justice initiatives, students from other Connecticut universities, and Wesleyan faculty members. One of the central questions explored was how to keep momentum in environmental work. Whenever community engagement work stops, the harm inflicted on many communities continues. How do we stop these pauses? One solution could be to form collaborative partnerships and networks of people dedicated to environmental progress who can work together to address problems. This prevents the burden of action from falling onto a small group of individuals.
The event also featured a talk by Kimberly Stoner, who discussed the initiative to add an Environmental Rights Amendment to the Connecticut constitution. The proposed amendment in Connecticut reads as follows: "Each person of the state of Connecticut shall have an individual right to clean and healthy air, water, soil and environment; a stable climate; and self-sustaining ecosystems; for the benefit of public health, safety and the general welfare. The state shall not infringe upon these rights. The state shall protect these rights equitably for all people regardless of race, ethnicity, tribal membership status, gender, socioeconomics or geography. The state, municipalities, and any political subdivision thereof, shall serve as trustee of the natural resources of Connecticut, among them being its waters, air, flora, fauna, soils, and climate; and shall conserve, protect, and maintain these resources for the benefit of all people, including present and future generations. The rights stated in this section are inherent, inalienable, and indefeasible, are among those rights reserved to the people, and are equivalent with all other inalienable rights. The provisions of this amendment are self-executing."
This amendment would place environmental rights at the same level as freedom of speech and religion. The implications would be far reaching, inspiring the Connecticut government to take a more active role in protecting citizens from environmental degradation. It would also elevate the voices of those in underrepresented communities, most impacted by climate change and pollution.
Mobilizing Power also featured many workshop opportunities, in addition to the larger panel discussions, including Environmental Justice 101 with the Connecticut Coalition for Economic and Environmental Justice; CLCC Community Conservation Programming with the Connecticut Land Conservation Council; Food Recovery for Environmental Justice with Haven's Harvest and Food Rescue US; Community Organizing for Transportation Justice with Radical Advocates for Cross-Cultural Education; Funding Support for Community Organizers with Sustainable CT and SOW-CT; Sharing Your Narrative to Build a Strong Campaign with Ashley Blount of the Black Infinity Collective; Community Matchbox: Help Pilot a New Tool to Build Connections between Wesleyan and the Community with Rani Arbo, campus and community engagement manager at the CFA at Wesleyan; and Art as Resistance: Making Art to Drive Movements with FREE HART Closet.
Overall, Mobilizing Power: Community Building for Environmental Justice was a wonderful opportunity to bring together individuals from across Connecticut to celebrate the incredible advocacy work happening across the state. Although there is much work left to be done, this event left me feeling optimistic about the future. Through collaborative work, people can leave a positive impact on their communities, and foster more empathy, compassion, and equity.