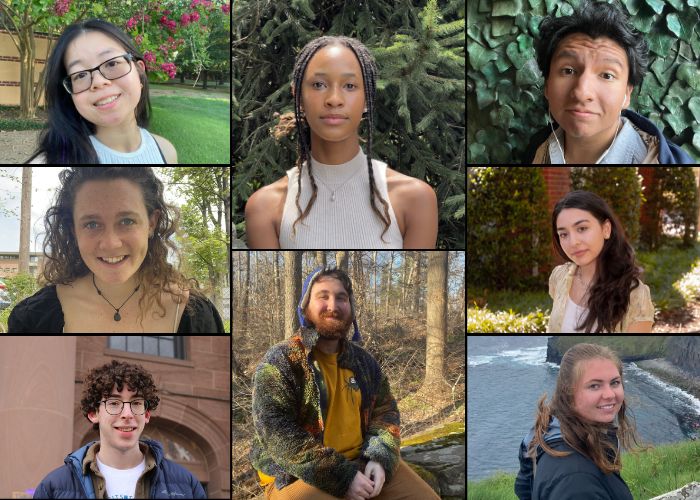 Every year, the COE awards fellowships to fund summer (and spring and fall) research opportunities for Wesleyan students across all majors and class years. Most recently, the COE awarded more than 40 fellowships to Wes students. Learn a little bit more about each, below! Applications for summer 2024, fall 2024 and spring 2025 Bailey COE fellowships will open in late December.
Alexandra Stubin '24 is majoring in molecular biology and biochemistry. Her COE fellowship will fund her summer experience in the Elling Laboratory, where she will collect data for her senior thesis. Her work addresses the problem of plastics choking our oceans, infiltrating our food, and polluting the land. Her research will investigate new methods of synthesizing sustainable polymers, which has the potential to advance the plastic recycling process.
Beatrice Campomori '25 is a art studio and art history double major, with a concentration in architecture. This summer, she will work under the oversight of Professor Christian Nakarado to focus on the development of the reuse of the buildings and site of the former Mt Pleasant Indian Industrial Boarding School, with the Saginaw Chippewa Indian Tribe of Michigan. This project intends to reconsider the way sustainability, resilience, and "green" architecture is defined by highlighting the value of indigenous cultures and material practices.
Caroline Lerch '25 is an American studies and history major. This summer she will be participating in a six-week archeological dig at Tel Shimron in Nahalal, Israel, where she will focus on the farming practices of land management during the Persian and Hellenistic periods. This will entail examining botanical evidence from the excavation site, and comparing it to the botanical profile of the rest of the Jezreel Valley. Her research will be supported by Professor Kate Birney and the Archaeology Department.
Charlie Pedorella '24 is a junior majoring in physics and astronomy. This summer he will continue his work in Professor Sher's lab at Wes and will be using her laser, confocal imaging, and temperature control chamber, in order to collect data for his senior thesis. His research will help address central questions regarding experimental solar panel materials, and will aid in advancing solar technology.
Dane Thompson '24 is a science in society major who will spend the summer investigating how the people living in the Land in Idaho conceptualize their relationship to the environment and the mountains around them. To facilitate this, he will be conducting interviews with a variety of participants who have experience interacting with the environment, as well as writing from his own perspective as he returns to the mountains he grew up in. He will also participate in a number of volunteer trail work trips in the Sawtooth mountains led by a local mindfulness nonprofit, The Flourish Foundation.
Daniel Stein '24 is a neuroscience and behavior major who will spend the summer working as a researcher in Professor Sonia Sultan's lab, testing the effect of parental drought stress on competitive performance of offspring in both greenhouse and field conditions. This research is extremely important in the context of climate change. As the frequency of drought is predicted to increase, ecologists are seeking to learn more about the ability of plants and animals to adapt to anthropogenic changes in their environments through individual plasticity, rather than the slower process of evolutionary change.
Debbra Goh '24 is an environmental studies and religion major. Her summer project seeks to explore the intersection of environment and religion, with a specific focus on the rise in popularity of indigenous knowledge practices as a response to and solution to the climate crisis. Indigenous knowledge systems are increasingly viewed as critical resources that will allow for an adaptation to climate change by fostering a more sustainable future. She will focus on the experiences of the Orang Laut, a community native to Singapore. Her research will inform her senior thesis.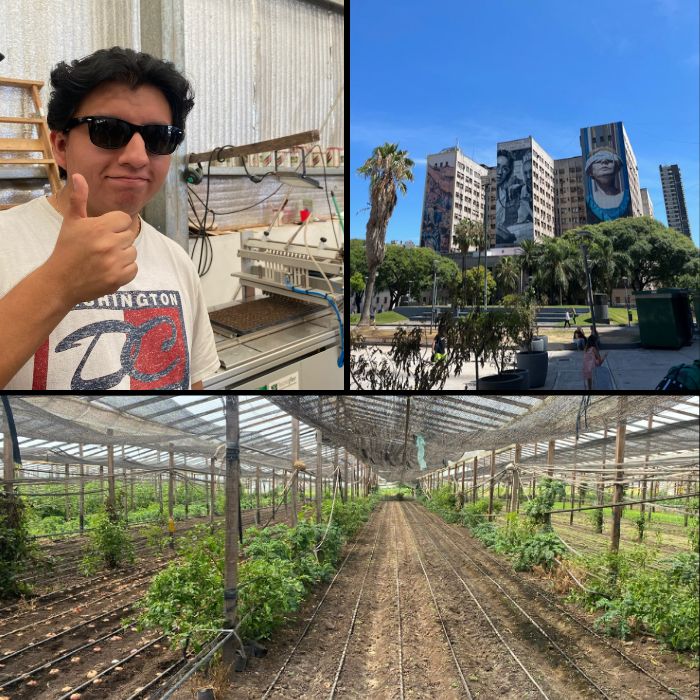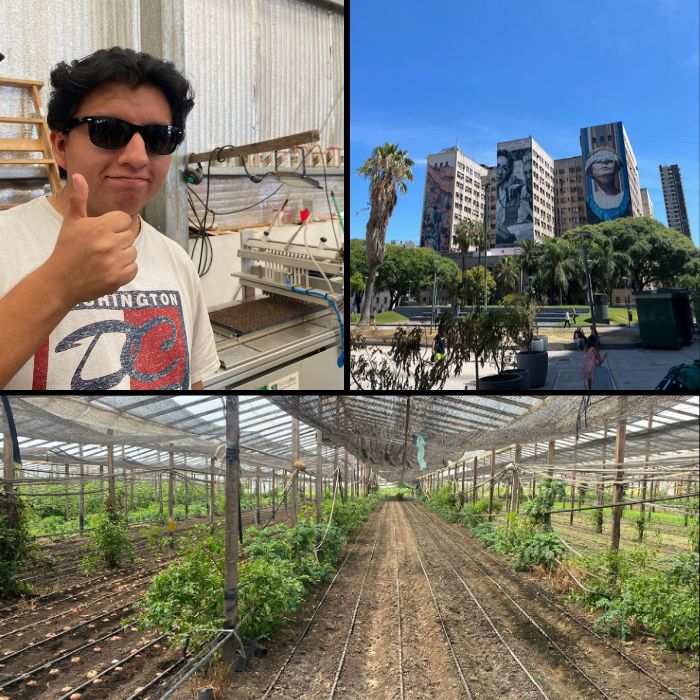 Dylan Campos '24 is an environmental studies and history double major, with a minor in global engagement. This summer he will engage in research related to his passion for the environment, sustainability, and food insecurity, and further his knowledge of public policy, cities, and agriculture, by traveling to Buenos Aires, Argentina, to obtain first-hand field and work experience that will contribute toward his senior thesis on food security in Buenos Aires. Read more about Dylan, a member of our ENVS class of 2024, on our coexist blog!
Hannah Podol '25 is an environmental studies and anthropology double major. Her project is an exploration of how people across the US can organically and beneficially connect with land to make social change, specifically through the lens of food justice. For the first part of her summer, she will live in Alaska, where she will work on an organic farm. Later, in Boston, she will work with the editor of Writing the Land to help publish a collection of anthologies written by poets about protected lands.
Idenya Bala-Mehta '25 is a molecular biology and biochemistry major. Her research is part of an interdisciplinary and ongoing collaborative project shared by Professor Coolon in the Biology Department and Professor Taylor in the Chemistry Department. The overall goal of this project is to study the mechanisms through which insect pests evolve resistance to chemicals in pesticides. By better understanding these mechanisms and how they evolve, they hope to reduce crop losses associated with insect pests and mitigate both the economic losses as well as the negative impacts reductions in food production can have on human health.
Naysa Abraham '26 and Hannah Phan '25 will work with KNOX Hartford, an ever-growing coalition of residents, volunteers, corporate partners, and community organizations that actively support all of Hartford's community members through horticulture and environmentally-centered programs.
Amara Leazer BLS will be working with Cultivating Justice, a youth-led organization meeting community-identified needs around food security, land access, environmental justice, civic engagement, power building, and pathways towards agriculture for people underrepresented in Connecticut's farming community.
Abigail Jacobs '25 who will be working with Middletown Public Schools.
Jessica Luu '24 is a chemistry, environmental studies, and the College of Integrative Sciences major. This summer she will investigate the impact of morphology and composition of metal nanoparticles (NPs) on their nanoscale conductivity using Time-Domain Terahertz Spectroscopy (TDS) in the Personick and Sher labs at Wesleyan. Her research will be at the intersection of chemistry and physics. Understanding NP conductivity may inform their applications to improve solar cell efficiency, as well as for chemical catalysis to decrease energy consumption in the chemical industry.
Jocelyn Wang '24 is a computer science and College of Integrative Sciences major. Her summer work will focus on identifying the distinct ecological population distribution within bacteria species and West Nile virus by creating or applying software solutions. She will be working in Professor Fredrick Cohan's lab. She hopes to study genetic differences among populations of organisms exposed and unexposed to environmental contaminants, in order to identify populations that are more vulnerable to contaminants and develop strategies to mitigate their effects.
Kiran Kling '24 is an environmental studies and government major. This summer he aims to work with one of several initiatives that are modernizing Tanzania's kelp farming industry in the face of a changing climate. During his time with seaweed farmers on the Tanzanian Island of Zanzibar, he hopes to learn about policy initiatives that could best enable the growth of the industry and to investigate solutions to enable Tanzanians to produce valuable secondary products from raw seaweed. He hopes to utilize his research to write a senior essay or thesis.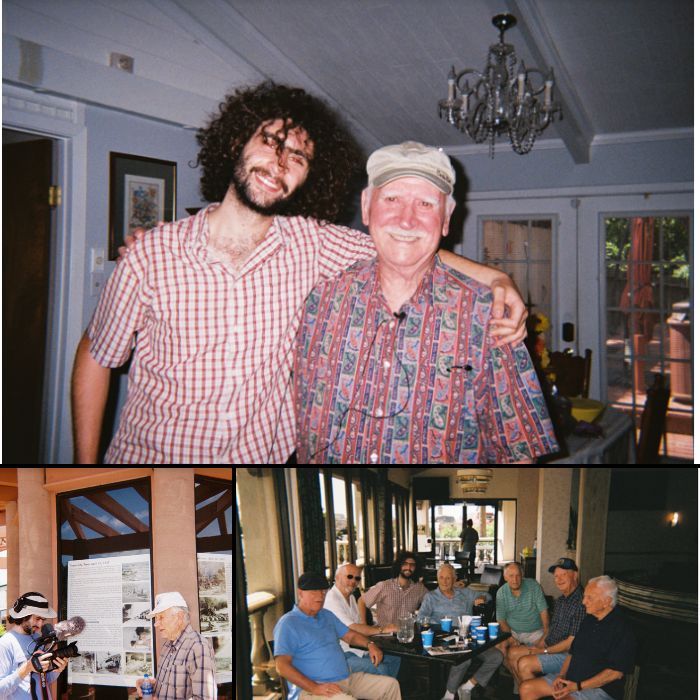 Arlo Weiner '24 is a history major. This summer, he will combine his interest in history with his love for film by conducting historical research and producing a short documentary on the 1947 Texas City refinery disaster. The film will explore collective memory, and the way that people reflect upon environmental disaster. During his work, he will be accompanied by a survivor of the 1947 disaster who will help him facilitate interviews and assist him with his research on the town. Read more on our coexist blog!
Joshua Kleiman '24 is philosophy and environmental studies major. This summer he will spend significant time researching different forms of community-oriented environmental activism. He hopes to use research to learn more about different conceptions of community, modes of activism, and various community-oriented projects. He is interested in working in the field of environmental law, and this course of research will inform him regarding strategies for fighting against environmental injustice.
Lea Schaffer '24 is a biology and environmental studies major. Her project will be a research publication complementary to Professor Nakarado's Brook Hill Shed project. Her research will serve as a case study of communicating how to incorporate non-human habitat in new constructions as they impact the surrounding ecosystem. The goal of this project is to construct coexistence with the surrounding ecosystem, including carpenter bees, ants, mice, possums, and birds. A booklet summarizing the research through photography, analytic drawings and writing will highlight the findings of designing with ecological research in mind.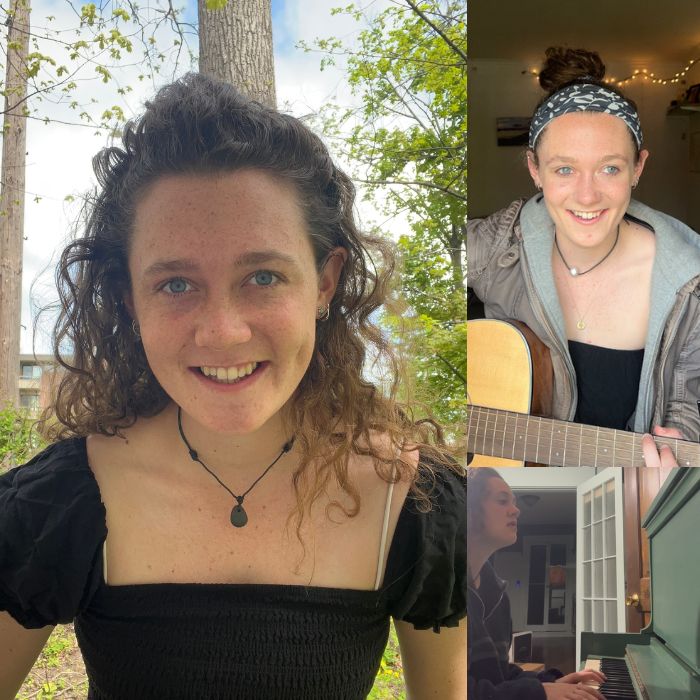 Maggie Monaghan '24 is an environmental studies and American studies major. Her summer project is a continuation of the writing process of her original musical, We're Not Really Strangers. She is exploring how entertainment has been used as a tool to explore capitalism and environmental justice. Her work centers these themes, and she hopes to turn the theoretical readings she has engaged with into humor, music, and compelling characters that provide a unique lens into key issues. Read more about Maggie, a member of our ENVS class of 2024, on our coexist blog!
Maya Lopansri '25 is an earth and environmental science and environmental studies major. She plans to work with Professor Helen Poulos in summer 2023 in the Chisos Mountains of Big Bend National Park, TX, to evaluate the effects of the 2021 South Rim 4 Fire on forest stand structure, tree species composition, and fuel loadings throughout the mountain range. This research will contribute toward understanding a broader network of vegetation plots across the U.S.-Mexico border, and collecting data used to evaluate landscape and regional vegetation change in response to climate change in increasing wildfire activity in this region.
Melanie Cham '24 is an earth and environmental science major. Her current project is through the University of Washington and under the mentorship of Wesleyan's Professor Dana Royer, who studies fossil plants to estimate carbon dioxide throughout the Cenozoic era. Cham's research will focus on a portion of the Cenozoic era when temperatures drastically increased, the Miocene Climatic Optimum, which can serve as an analog for modern-day global rates. The work will specifically examine the photosynthetic rates of plants within Pacific Northwest vegetation during this time period.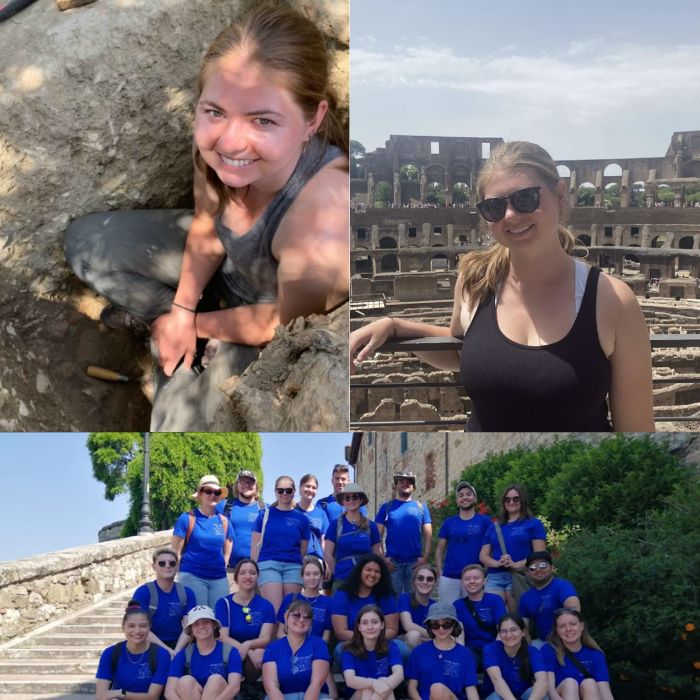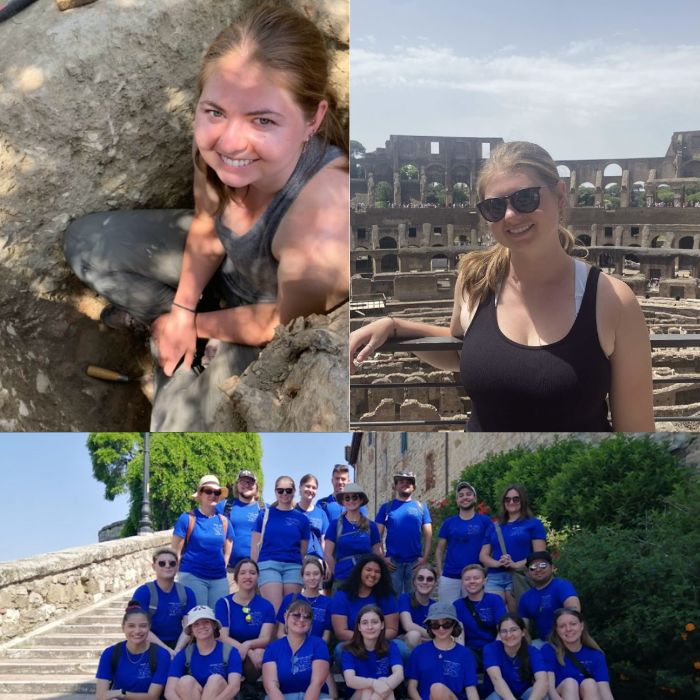 Natalie Angstadt '25 is an archaeology and neuroscience & behavior major. For her summer research she plans to participate in an archaeological dig at the Trasimeno Archaeology Field School with the Umbra Institute in Perugia, Italy. The archaeological site is located in the ruins of a Roman Villa on Lake Chuisi. The research objectives of the project are to better understand the human-environment relationship at the settlement, and to examine the role played by the Clinis River in spurring development. Read all about Natalie's experience on our coexist blog!
Nicole Steigerwald '24 is a biology and neuroscience and behavior major. Her proposed project will test to see if more adult parasitoids of caterpillars will be attracted to white oak branches than house caterpillars but not phloem-feeders compared to branches that have both caterpillars and phloem-feeders. Phloem is the vascular tissue in plants, which carries sugars and other compounds downward from the leaves. She is working under the mentorship of Professor Michael Singer.
Shelagh Coombs '24 is a junior studying earth and environmental science. She has experience working in the field of environmental geochemistry and oceanography as a student researcher. She will draw from her experience researching the internal loading of Phosphorus in West Hill Pond, and from her research engaging in data collection regarding sediment cores from the Northern Atlantic Ocean. She will examine sediments located at a drilling site in the Northern Atlantic in order to create a more detailed picture of the ocean's role in aggravating climate change.
Sloane Dzhitenov '24 is a film, environmental studies, and economics major. Through her College of the Environment fellowship she hopes to author a film that will combine personal documentary, narrative, and landscape film techniques to address key problems within the human-nature relationship. She plans to specifically address the issues of water scarcity, desertification, and environmental degradation. The final product will be a heartfelt elegy for the environments that we are slowly but surely killing with our current ways of living.
Ulysses Conrad '27 is a prospective classics major. His research project involves investigating ancient agriculture of provinces between the years 0 AD to 300 AD. He will examine Tel Shimron, an archaeological dig site that holds thousands of years of buried history, by accessing a number of key lectures from environmental scientists, botanists, and archaeologists. He plans to use this insight to inform his work this summer at the Jezreel Valley of Israel at the Tel Shimron archaeological dig site.
Ben McMahon '24 is a biology and environmental studies major and Jewish studies minor. He plans to examine the tritrophic interactions involving white oak, phloem feeding insects, caterpillars and ants, and the ecological impact the different trophic levels have on one another. This project will complement the research conducted by Professor Singer, by providing novel insight into the effect ant predation has on the caterpillar community that feeds on and is hosted by white oak.
Olivia Andrews '24 is an art history major with a minor in film. For her research she plans to delve into the migration of both people and ideologies around the landscape from Cape Verde to Cape Cod. Olivia's summer fellowship project mainly centers around her great-grandfather, Tony Andrews, a black farmer who emigrated from Cape Verde by boat in 1926 and founded the family's farm in Cape Cod, Massachusetts. Read all about Olivia's project on our coexist blog!
Asher Dwoskin '24, Vy Pham '26 and Gabe Diaz '26 stewarded the land at Long Lane Farm.
Sophia Neiblum '27 is a prospective earth & environmental sciences and biology double major. She hopes to draw from her experience working on a marine research project investigating the relationship between coral reef cover and boat activity during her Seamester study abroad program. With the support of the College of the Environment, Neiblum will work as a Seabird Research Intern for the Alaska SeaLife Center, where she will work with researchers to analyze seabird populations.
Varia Voloshin '24 is a College of Social Studies and studio art double major. This summer she will conduct interviews in New York City to illuminate a diverse range of perspectives regarding sustainable fashion. Voloshin's research aims to address the large environmental impact created by the fashion industry. As the demand for clothing continues to increase, this research will help create awareness about strategies for a more sustainable fashion industry.

Elizabeth Laurence '25 and Rebeca Trevino '24 will be working with Forklift Danceworks in Austin, Texas.

Zack O'Connor '27 is a first year prospective film and environmental studies double major. His proposed research project will take place on Martha's Vineyard, off of the coast of Cape Cod, Massachusetts. He plans to create a documentary film which will follow the research of Dr. Luanne Johnson, director of BiodiversityWorks. The film will highlight the catastrophic impact of White Noise Syndrome, a fungus which has decreased the population of Northern Long-eared bats by over 95% in the Northeast.
Sun Boonbhati '27 is a prospective government major. This summer he will study the trend of environmental practices and preparedness for green transition in developing countries, with a case study of Thailand. For his project he will interview CEOs and stakeholders in the Thai manufacturing sector to see the patterns of their current environmental practices, and their perspectives on the prospect of Thailand's green transition.
Tina Huang '24 is a biology and history major. Her summer project will investigate cross-feeding in microbial communities involved in plastic degradation. Although there has been previous research which has identified strains of bacteria which are capable of utilizing and degrading plastics, there is still limited research regarding the capacity for bacterial communities to work together to degrade plastic through cross-feeding. Tina Huang will conduct her summer project through the Cohan Lab at Wesleyan.