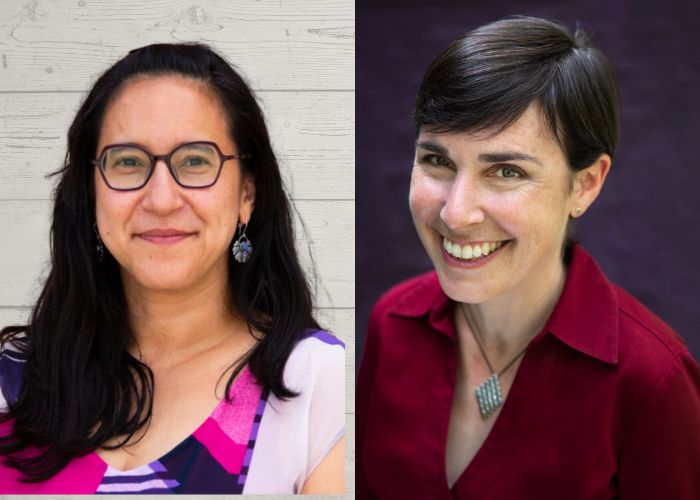 Looking for environmental studies (ENVS) courses to take in spring 2024? Check out these NEW offerings by Christine Caruso, our NEW assistant professor of the practice in the Bailey College of the Environment (left), and Janice Nimura, our NEW Menakka and Essel Bailey '66 Distinguished Visiting Scholar in the Bailey College of the Environment for 2023-24(right)! All four courses count toward elective requirements for the ENVS major and minor and ENVS234 also counts as a Core 1 elective for the ENVS major. Course info, and profiles of the professors, below!
3 New Courses Address Fundamental Issues of Environmental Justice and Health Equity
In the Spring 2024 semester, Christine Caruso, assistant professor of the practice in the Bailey College of the Environment will be offering three new courses that seek to address fundamental issues of environmental justice and health equity. Food justice is both a critical dimension of environmental justice, and a lens into understanding social processes that influence health outcomes. Looked at together, these courses seek to provide students with a solid foundation to prepare them to work for environmental and food justice in their communities. ENVS 234/A Tale of Three Food Systems: Accessing Food in the US aims to provide a solid foundation to understanding key elements of the food system that shape the way we eat in our everyday lives as well as explore the structural factors that produce food insecurity in the US. ENVS 323/It's All Happening in the Cafeteria: The (In)justice of School Food provides a deeper dive into food justice through the space of school food and the millions of people in the US that are impacted by the policies and practices that shape the National School Lunch Program (NSLP). The NSLP, along with other institutional food programs also present a large-scale buying power that contains the opportunity to meaningfully change the larger food system by demanding substantive changes in how food is procured and distributed. This approach, also referred to as Values-based Procurement, looks at the impacts of purchasing practices across the food-chain, not only on the eaters, but also the workers across the system, along with the environmental implications. From this perspective, we can investigate the capacity for the NSLP, along with other institutional food (e.g. campus food procurement) practices in shaping an environmentally and socially just food system by insisting on environmental standards, such as Farm-to-School, as well as creating high-road jobs for food workers from the farm to the cafeteria-kitchen. Last but not least, ENVS 293 Environmental Justice: Community-based Participatory Research introduces students to the skills and techniques of working with community members facing environmental and food justice challenges to build an evidence base to both better address these issues, or evaluate their activities in support of their funding needs and program goals, as well as advocate for legislative changes in support of their communities. Contact Christine Caruso at ccaruso@wesleyan.edu for more information!
History of Women Writing about the Natural World – and Crafting Your Own Nature Writing
Janice Nimura's ENVS272/Knowing Their Place: Two Centuries of Women Generating Wonder in the Natural World will allow students to explore the history of women writing about the natural world. This class runs in conjunction with Professor Nimura's newest book project, which specifically focuses on Rachel Carson along with the women who came before her. Professor Nimura, a finalist for the 2022 Pulitzer Prize for Biography for her book, The Doctors Blackwell, is a master archival researcher who crafts deep and nuanced stories about 19th-century women whose histories have gone untold. In this course, students will craft their own personal nature writing and discuss topics such as how gender affects perspective on the natural world and what it means to know a landscape, inspired both by current writers, such as Robin Wall Kimmerer and Terry Tempest Williams, and those of the past, such as Mary Treat and Susan Fenimore Cooper. Contact Janice Nimura at jnimura@wesleyan.edu for more information!