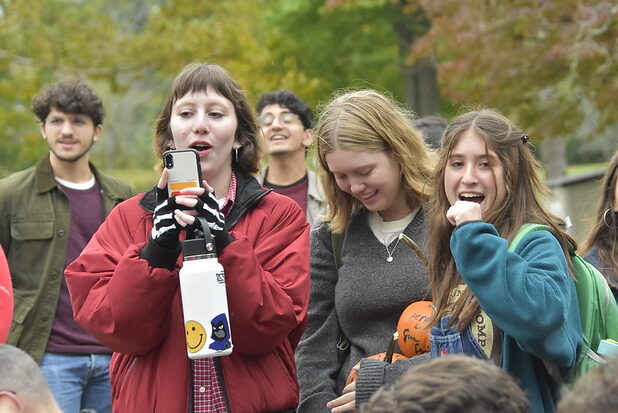 The leaves are turning, the air is crisp, and the smell of apple cider is wafting. You know what that means… time for Pumpkin Fest 2023!
Long Lane Farm is an organic student-run farm that provides healthy and fresh foods to the Middletown community and Wesleyan facilities. Long Lane's Pumpkin Fest tradition dates back to 2004, and has a legacy of being a highlight of the Wesleyan fall semester. This year's event, held under mostly gray skies on Saturday, October 14, was no different! Sponsored by the Bailey College of the Environment, with help from the Office of Student Involvement and Bon Appetit, and organized and hosted by Long Lane Far, the day was a massive undertaking that came to fruition perfectly! Even the afternoon rain didn't stop hundreds and hundreds of people from flooding in and enjoying the day!
To set the mood, there were live bands playing throughout the festival. The line-up began with the incredible Laurie Kenney who debuted three songs from her new, and first ever, album Every Apple Does Go Bad Eventually. She was followed by the bands Gert, Joshua Kleiman from Sleeping Through Breakfast, and Waste Management.
The food was incredible. There were plenty of veggie burgers grilled fresh for everyone to enjoy, along with heaps of toppings to add on and pumpkin pie. Large coolers of apple cider, hot and cold, of course, lined a table and patrons could be seen sipping away happily. In addition to the free refreshments, there were drink and food booths from Middletown vendors, including 860Kombucha and a variety of healing and energizing specialty teas crafted with honey from Connecticut bees offered by It's Kelewele 31.
After attendees had stuffed themselves to the brim, there was a wide variety of fun fall activities for the whole family to enjoy. A pumpkin patch occupied the back of the festival, where participants could grab their very own gourd to paint. In addition, Long Lane farmers provided tours of the farm premises for festival goers in between face painting, tie dying, and more!
Guests were able to peruse a variety of booths selling handmade goods such as crocheted hats, hand-beaded necklaces, and authentic crystal jewelry. A number of Middletown businesses made an appearance, such as Back Again Board Game Cafe, and EEJL world, which has a retro game store and offers instructional tufting classes. Student organizations, such as SewWhat, the Green Fund, and the American Civil Liberties Union were all present at the event, answering questions and promoting their organizations.
Thank you so much to everyone who came out for day! Pumpkin Fest was an amazing kickoff to the fall season! Can't wait to see you all again in 2024!