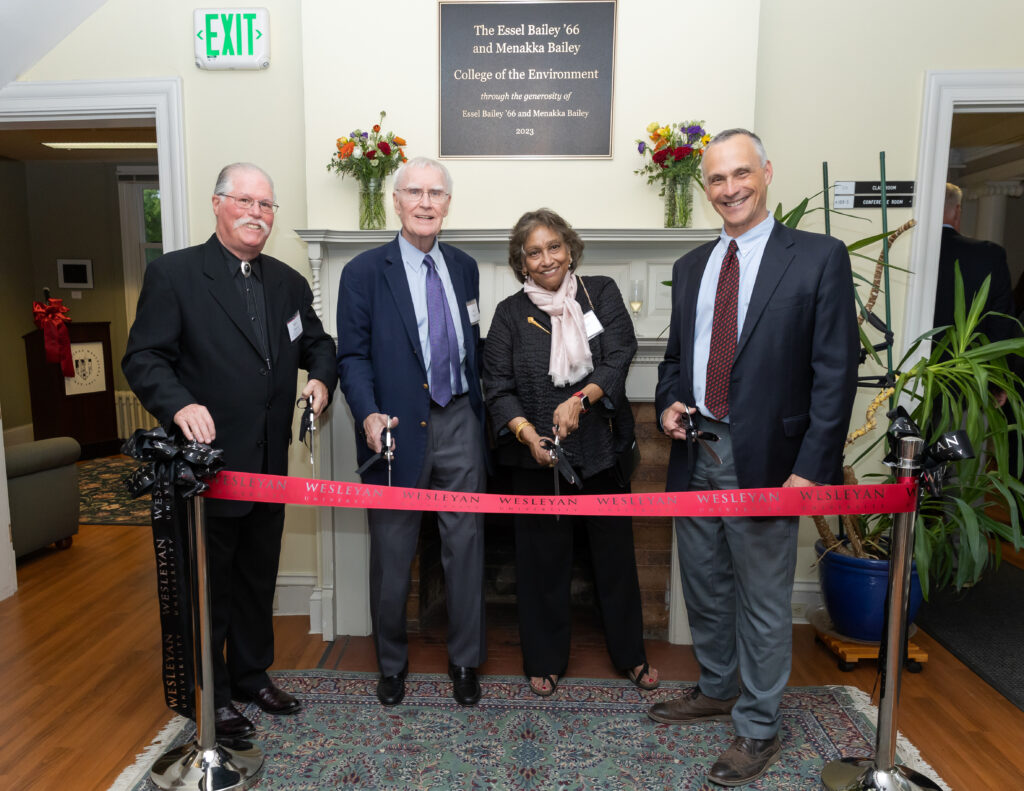 This spring, President Michael S. Roth announced that Wesleyan University's College of the Environment (COE) had been renamed in honor of Essel '66 and Menakka Bailey, long-time Wesleyan supporters whose passion for the environment and the work of the COE had greatly enriched the experience of Wes students and faculty. Wesleyan hosted a ribbon cutting and dedication event to celebrate the Bailey COE, Wesleyan's first named college, at the start of Reunion and Commencement festivities.
"The generosity of Essel and Menakka Bailey has created opportunities for Wesleyan students and faculty to work towards creating a world that is environmentally just, where people are food secure, and where we can protect the critical resources of the planet," said Professor Barry Chernoff, founder and director of the COE.
From facilitating student research opportunities to supporting faculty collaboration through the COE's Think Tank, the Baileys have demonstrated a steadfast commitment to better understanding and addressing the world's pressing environmental problems. Their generous support will also make possible the COE's move into state-of-the-art spaces in Shanklin Hall once renovations there have been completed.
Essel Bailey credits his time at Wesleyan for sparking his deep and abiding love of nature. In a recent issue of Wesleyan University Magazine, he explained: "Wesleyan afforded me the opportunity to view the world beyond the Midwest and to see something of the world. For anyone who has traveled and visited other parts of the world, you see a beauty in nature, and it breeds a sensitivity to environmental issues that inevitably raises questions about how we approach nature and conservation."
Photos from the ribbon cutting and dedication, below!