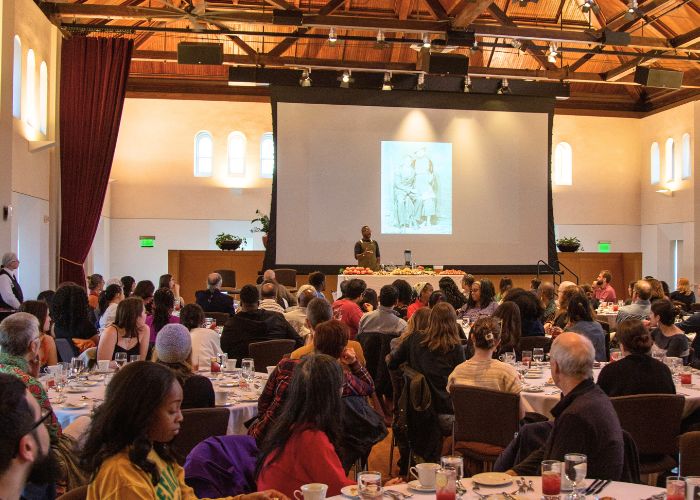 On Wednesday, March 29, the College of the Environment hosted "An Evening With Bryant Terry," inviting members of the community to a cooking demo, dinner, Q&A, and book signing with Terry, a vegan chef, activist, author, and community-builder. The sold-out event was executed by Bon Appétit staff, headed by Michael Strumpf.
Large round tables laden with rows of polished silverware and pressed white tablecloths filled the spacious room. At the front was a stage and a table covered with a cornucopia of seasonal vegetables and fruits. A makeshift kitchen consisting of a hot plate and assorted utensils sat behind. The magnificent Beckham Hall was dressed to impress.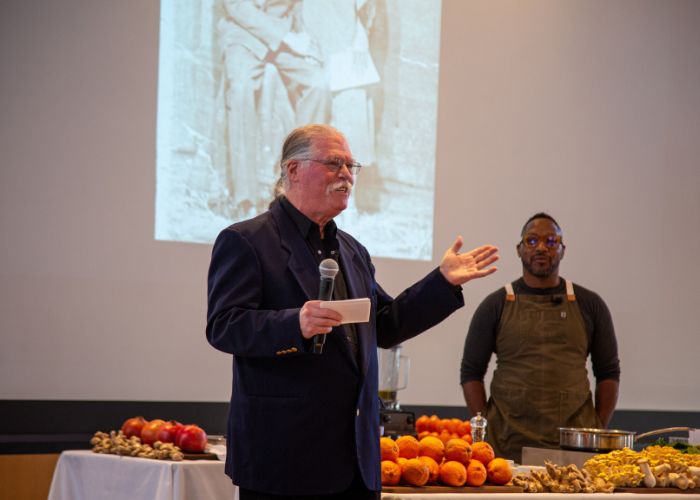 Director of the College of the Environment Barry Chernoff began the proceedings by introducing Terry to those who had managed to secure one of the 125 tickets to the coveted event, which had sold out weeks in advance.

Over the course of the dinner, Terry debuted several recipes from his new book, Black Food: Stories, Art & Recipes from Across the African Diaspora (2021), pairing each dish with a song he associated with the food. Despite all of his many accomplishments, Terry remains incredibly humble, giving credit to his mentors, like Alice Waters, and acknowledging his place in history.

"People have been doing this work for decades well before I did, and I think it's always important for me to recognize that I'm standing on the shoulders of so many who've come before me," Terry said.

Terry started his cooking demonstration with a dish of curried tofu and mustard greens. From the moment he began, it became clear that for Terry, cooking is not just a practice but an act of radical protest and cultural remembrance. He sang songs he heard in his grandmother's kitchen growing up, reflecting on the sights and smells of her Southern farmhouse. It was there that he learned to love the land he was raised on and value his connections to agriculture.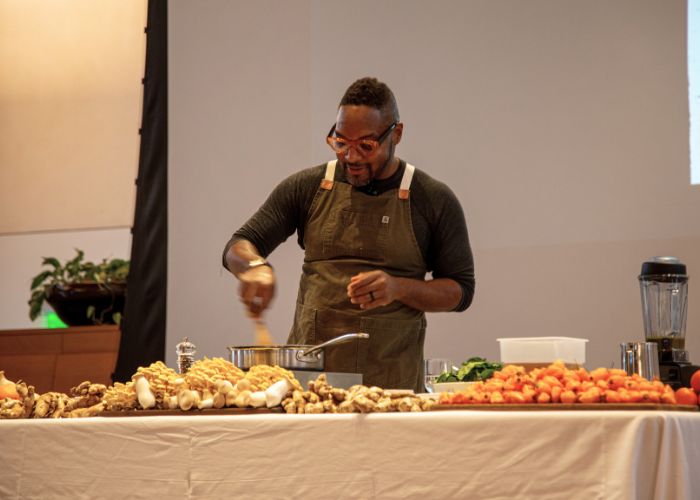 "I'd say my paternal grandfather spending time in his garden was one of the main things that helped me feel connected," Terry said. "I used to hate being in the hot sun and weeding his garden and shelling corn peas and shucking corn and all that…but I understand now, especially as a parent, that my grandfather was imparting skills that would be life changing. And so I do credit my grandparents for so much of the work that I'm doing."

Between cooking tips—never forget to press your tofu—he explained the importance of cooking with fresh and local produce as well as the barriers that low income and people of color in the United States often face when trying to access these resources. As the delightful odor of fried garlic and mustard seeds graced our nostrils, he explained what originally brought him to cooking: the Black Panther Movement. He was inspired by their free breakfast and lunch programs and, notably, their critiques of the American food system.
"How can we help support people who just need their basic survival needs?" asked Terry. "I think about the Black Panther Party for Self-Defense, which is a big inspiration for my work. They were clear that until you meet the basic needs of people living on the margins, who cares about revolution? Who cares about changing the system when I can't even feed my baby? When I don't have a vehicle to go to the doctor?"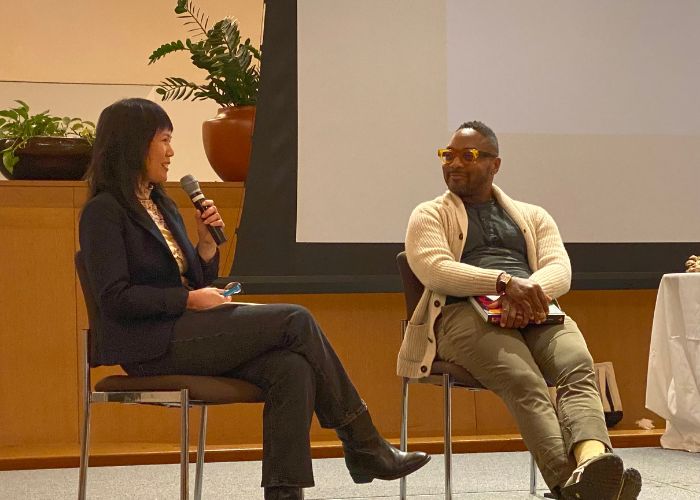 In his work, Terry seeks to emphasize healthy diets that are based around community organizing and farming in a way that connects people back to their land. Terry ultimately wants to connect complex justice initiatives back to a simple pleasure that we can all share: eating.

"I felt like the conversations often started with the very heavy intellectual ideas around food or public policy," Terry said. "I always argued that we needed to start where we can meet everyone, which is something that's more practical, more sensual, you know: everybody loves to eat."
So, down to the meal, served with a Q&A between Terry and Associate Professor of English Marguerite Nguyen, a member of this year's COE Think Tank. First up was the curried tofu, infused with mustard seeds and mixed with stewed greens. With a sharp, bitter, spicy, and creamy flavor profile, this vegan concoction was delectable and was one of best bites I've had on campus this year. Soon after, plates of fennel and citrus salad were placed on the table in front of me. Complete with dates and a citrus vinaigrette, the dish was crisp and refreshing. This was followed by a second appetizer of citrus and garlic-herb braised fennel. Beneath the fennel was an intensely flavored sunchoke cream that had been mixed with plantain powder and had the consistency of grits. Diners were treated to a bean burger made of whole royal corona beans mixed with tomatoes and broccoli rabe, and topped with a parsley persillade. While the combination of flavors proved to be somewhat bitter, I appreciated the heartiness of the plant-based burger as well as its garlicky herbaceous spread. As we all know, there is always room for dessert, especially when it comes in the form of an oatmeal lace cookie and vanilla bean ice cream. Five sets of cutlery later, the meal had finally come to a close.

With that, my stomach was full and my mind was abuzz with Terry's radical ideas on food culture in America. Students, faculty, Middletown residents, and guests alike sat together talking about the meal they had just shared and the knowledge they had just learned. COE professors and Middletown residents alike were captivated in conversation about food justice and sustainability. The whole experience was a practice in community, and food was what had brought us together.