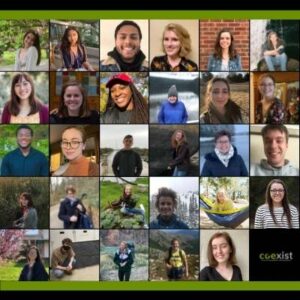 Every year, the COE awards fellowships to fund summer research opportunities for Wesleyan students across all majors and class years. Introducing our 33 COE 2021 summer (and a few fall) fellows. Read more about their projects, below!
Nick Bowman '23
archaeology
My research will focus on the recreation of ancient cultural and environmental conditions in relation to the cultivation of ancient medicinal plants by drawing on archaeological site reports, coring and shoreline data, geological maps, soil samples, and other source material to contextualize Professor Birney's chemical findings.

Belle Brown '22
environmental studies and government
This summer, I will work as a multimedia intern for the Rodale Institute in Kutztown, Pennsylvania, using social media, videography, and photography to share information about organic agriculture. In this position, I will continue to pursue my passion for sustainable agriculture, while also gaining invaluable experience in using multimedia to spread a message that grows increasingly urgent as the climate crisis intensifies.
Erin Byrne '24
As an intern for Forklift Danceworks, I will be helping Allison Orr bring her ongoing community-based dance projects to Wesleyan. Forklift's project at Wesleyan will build community around caring for this campus environment that we all share and the people who maintain it: Physical Plant, custodial staff, and students.
Eve Cavanagh '23
environmental studies and English
This summer I intend to reimagine how Toronto's ravine systems may better serve its community through a series of collaborative fantastical art projects. I will write an accompanying literary analysis on how the fantasy genre allows us to consciously redefine narratives surrounding land-use in Toronto, Ontario.
Maddie Clark '22
environmental studies and government
Rosemary Ostfeld has founded an online platform for small farms committed to using sustainable practices, such as USDA Certified Organic or Northeast Organic Farming Association Farmer's Pledge farms, to make their produce more accessible to their buyers through pickup locations and online sales. My research is geared towards finding those farms in different states that would be eligible and interested in participating on the platform.
Shirmai Chung '22
environmental studies and government
I will be conducting research on whether and perhaps how the COVID-19 pandemic has facilitated or accelerated the erosion of democracy around the world, either remotely (due to restrictions posed by the pandemic) or in Middletown, Connecticut, under the supervision of Professor Jim McGuire, faculty of the Government department.

Brionna Colson-Fearon '22
biology and psychology
My project is a qualitative study looking at food apartheid in Baltimore, Maryland and the role urban farming plays in increasing access to healthy food in the city. This research is a part of my ongoing interests in obesity and public health outcomes of African American communities in urban contexts. Read more about Brionna's project here!
Ally Detre '22
environmental studies and earth & environmental science
My research project will include working remotely with Professor Helen Poulos on data entry and analysis and participating in on-site resampling of a 30-mile stretch of river in Big Bend National Park, Texas with Big Bend National Park with Rio Bravo Restoration and GIS analyses with Marie Landis. Read more about Ally's work here!
Michael Eustace '22
environmental studies and studio art: architecture
I plan to Wwoof at two farms existing in extreme landscapes in the mountains of France for 6 weeks at each farm to learn how they have managed to adapt to the land, nurture the land and farm sustainably, how they seamlessly integrate their dwellings into the surrounding environments, and how they attempt to have as little of an impact as possible on the surrounding ecosystems.
Zelda Galdenzi '22
biology, psychology and neuroscience & behavior
My research project will seek to identify hypothalamic mechanisms that underlie increased susceptibility to breast cancer caused by exposure to phthalates at adolescence. This is relevant to the ongoing research of Professor Melόn's lab because the lab is focused on the interaction between hormones and neurotransmitter systems, like GABA, and their role in impacting women's health. The focus of the project is not just to study breast cancer, but relating it to what the lab studies–the brain as well as binge drinking during adolescence which is studied in other contexts in the lab. 
Kaleo Goldstein-Coloretti '24
Grey Simon '24
Jane Hollander '23
English
We will be working at Long Lane Farm this summer.

Jordan Green '23
environmental studies and psychology
I will be working alongside Professor Helen Poulos in the Chiricahua Mountains in Arizona to help install sap flow sensors in the Rhyolite Canyon to measure diurnal, monthly, and annual plant- and site-scale transpiration rates. In the wake of the 2011 Horseshoe Two Megafire, we will be using the data from the sap flow sensors, to evaluate the current moderate-resolution remotely sensed Evapotranspiration product's ability to accurately investigate the effect that wildfires have on plant community structure and water relations in Arizona pine-oak forest.
Chloe Johnson '22
environmental studies and biology
The Sultan lab studies how plants respond developmentally to their environmental conditions. In their 2020 greenhouse experiment, they examined the effects of both parental light conditions (sun vs. shade) and progeny light conditions on development of Polygonum persicaria individuals across the lifecycle. This summer, I will participate in an expanded greenhouse growth experiment of these transgenerational environmental effects that will include a grandparent generation
Annie Kidwell '23
dance & art history
I will investigate how Forklift Danceworks' work with community art-making, mobilization, and connection draws people closer to the space they are in. My hope is to use this as a way to see deeper into the ecology of spaces that are made up of the interactions between people and place. Naturally occurring spaces, urban environments, and remote locations all have impressions left on them from previous human movements, including the absence of such movements. The tangible history of a space is intertwined with the memories of past and present populations. I will look into ways that this memory can be activated. The work that ForkLift does with communities is naturally rooted in places of work and play (trash collector routes, swimming pools, baseball fields, etc.), which makes it perfect to tie into ideas of ecological webs and interactions.
Megan Levan '22
environmental studies and South Asia studies in a global context (university major)
My research this summer will center on two questions: 1) Is entomophagy a viable sustainable diet option in India, and 2) How are edible insect-based products being promoted by companies and received by consumers in countries that are not known for entomophagic practices (ie. the U.S. and India, among many others)? Diets of the future will need to be supplemented with other available protein sources, and my research will explore how insects fit into the picture. Read more about Megan's project here!
Fletcher Levy '23
biology and earth and environmental science
My project will involve inventorying the paleontological material present on the 4th floor of Exley Science Center in the Geology Department of Wesleyan University. In addition, through organized trips to the Special Collections and Archives of Olin Library, I will determine the provenance and taxonomic determinations associated with the material in this collection. The most well preserved and scientifically valuable specimens will be digitized using the Environmental Archaeology Laboratory's Artec 3-D scanner. Read more about Fletcher's project on News@Wes!
Juliette Lilly '22
environmental studies and the science in society program
Nora Markey '22
environmental studies and English
We are interested in the land and food systems of Hawaii, particularly how indigenous Polynesian beliefs about the land are employed agriculturally in several places. We have identified a few organic farming communities looking to host workers and we hope to spend a few weeks living and working at each of these farming communities. Juliette and I completed a term-long research project regarding the food systems of Kaua'i together in the Environmental Studies Sophomore Seminar, and thus have had a long-term interest in this place and topic.
Mikaela Marcotullio '23
environmental studies and anthropology
I will be working with Forklift Danceworks as an intern in Austin, Texas, this summer. I have been working with Forklift for two years now and I believe that our creative and collaborative process breeds a type of paradigm about community that breaches human-exclusive spaces. When we understand our environment as an ecology, groups of factors that are equivalently influential and influenced by everything else, we can better address our modern environmental issues.
Emmett Nunes '22
environmental studies and government
At the heart of this project is the same truth that has compelled the work of countless individuals before me and will doubtless continue to compel countless more. It is that human life on the planet is demonstrably unsustainable, and environmental collapse looms closer every year. Yet on an individual, national, and global level, most humans do not seem motivated to do anything about it. Problems on a scale such as this require political solutions, but the same apathy which prevails amongst the populace broadly is reflected in the actions of governmental systems. My work ultimately aims to investigate ways we might address this crisis of inaction and by extension the problem of climate change using the notion of authenticity.

Elizabeth Ouanemalay '23
biology
My project aims to understand how organisms respond to climate/environmental change though evolutionary observations. The project will look at the impact of acid rain on B. subtilis spores by taking soil samples of the rhizosphere in Middletown, CT.
Josephine Park '22
molecular biology & biochemistry and neuroscience & behavior
My project will be focusing on the environmental toxin cis-chlordane, and its role in ALS. Cis-chlordane has been identified as a risk factor for developing ALS, particularly in those with a genetic predisposition. Currently, there is an effort to identify how cis-chlordane is specifically changing motor neuron activity. This research connects with the ongoing research in the lab, as motor neuron activity is the key element of ALS onset. Identifying how this toxin affects motor neurons preferentially could lead to more discovery in other types of toxins that are risk factors for ALS.
Abi Pipkin '22
environmental studies and government
I am interested in the question of land management in the United States given that all land is owned either by individuals, the state, or the national government. This summer I will be looking at the Great Smoky Mountains region of Eastern Tennessee and Western North Carolina to learn more about how the privatization of land affects human stewardship of natural resources. For each of the identified regions, I will compile a comprehensive report on the history of land stewardship and consult EPA records on water quality, air quality, soil quality, and tree cover for each area. Then, I will travel to these locations and conduct interviews with the people who "own" or are responsible for managing the land. Read more about Abi's podcast project here!
Joel Rader '23
environmental studies and film
My research project will identify, analyze and highlight key elements of community resilience to climate change impacts in Culebra, Puerto Rico. The project, culminating in a published documentary film, will be conducted in collaboration with Para La Naturaleza (PLN), a grassroots environmental organization in Puerto Rico, and focus on PLN's Culebrita Lighthouse initiative.
Jack Root '22
physics and astronomy
This summer I will be working with Professor Sher to study the behavior of electrons in solar cells. More specifically, I will use time-resolved terahertz spectroscopy and pump-probe measurements to determine the lifetime of solar cell materials (i.e. how long electrons stay excited in the solar material). In doing so, I hope to better understand and improve the lifetime of solar cells, in order to improve solar panel technology.
Sophie Scobell '22
biology and East Asian studies
Sophie Scobell, along with Aashni Parikh '21 Fatima Ejaz, '22 and Helen Lei '23, spent the summer in the Chernoff Lab, setting out to sequence what will be only the fifth fully sequenced fish genome. Read more about Sophie's project here!
Annie Thompson '22
biology
The Sultan lab's focus on plant phenotypic plasticity and its transgenerational effects have large implications for how biologists look at the process of evolution. Plasticity allows organisms to adapt to environmental changes within an individual lineage without selective change. It also points to evolution acting on an adaptative response system rather than on specific plant traits. Previous work in the Sultan lab has shown that altering parental conditions like sun, shade, soil moisture, and competition can change the phenotypic expression of fitness-related traits in offspring including time till germination, root and aboveground mass, and reproductive output.  This summer, we will continue an experiment started last summer by adding a grandparent generation and testing for the developmental integration of grandparent, parent, and present light conditions in 6 different genotypes.
Sarah Timbie '23
environmental studies and biology
Ecological systems are composed of incredibly complex and detailed interactions between different organisms. These species interactions are the focus of study in the Singer Lab. While some of these interactions can be direct, such as an animal eating a plant, many are also indirect, like the interactions between animals that share a common food source but do not contact each other. This research project will explore the interactions between caterpillars and phloem-feeding insects as mediated by their common food plant, the white oak.
Shaya Tousi '22
environmental studies, English & French studies
My research project will involve collecting climate refugee testimonies and examining the differences between the interviews and the accounts typically given to government officials or seen in literature. I will endeavor to solidify some of the nebulous conceptions associated with climate refugees by examining the interviews in depth for modes of self-representing and how they translate into external perceptions of climate refugees, conceptions of "home" and "host" countries among climate refugees, and others. The interviews I plan to conduct will function outside of the typical narratives of refugeehood upheld by the United Nations High Commissioner for Refugees (UNHCR), which are shaped by their necessity to prove that they have experienced "reasonable fear" for their well-being in order to be granted refugee status.

Mohammed Ullah '22
chemistry
I will conduct research regarding the synthesis of a probe that can be used to detect lignin peroxidases in the digestive tract of lignin depolymerizing organisms.
Liz Woolford '22
theater and government
My research project focuses on developing my theater capstone project: The Party at the Edge of the World, an investigation into the intersection of performance and environmental activism.  Ultimately, I am setting out to create a performance experience that will offer audiences a visceral and experiential access point to environmental destruction. The project will culminate next fall in a devised and site-specific/immersive piece that is currently being incubated in a student forum I am teaching this semester. Read more about Liz's project here!