Congratulations to the class of 2021! Read on for more about some of our 31 class of 2021 ENVS majors!
Sanya Bery: My thesis  title is A Walk in the Neighborhood: Exploring the Crucial Role That Small Municipalities Play in the Face of Climate Change. Super excited to announce that I will be joining the University of Michigan-School for Environment and Sustainability's master's program, with a concentration in Sustainability and Development in Fall 2022. Thank you so much to everyone who has helped me reach this point in my life. I'm thrilled for the adventures that this coming gap year holds and for all to come in the future!
Liana Biasucci: My capstone is an essay called How to Build Back Better: Greening the Recovery from COVID-19, about using government stimulus packages to advance climate mitigation in the US and combining economic goals with environmental ones.  Next year I'll be working in DC doing sustainability consulting. What I've learned most from ENVS is how multifaceted environmental problems are and that to have true solutions we need to look at all impacts of policies and actions.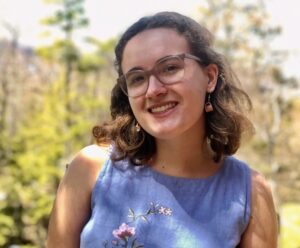 Lizzie Edwards: My senior essay title is Politics of Thirst: Privatized Water, the Shadow State, and Citizenship Claims in Jordan. My essay examines the different water realities of residents of different socio-economic classes within Jordan. I argue that water has become a key medium in which state responsibility is being privatized and relationships to the state are being negotiated. I will be a member of the CBYX for Young Professionals cohort for 2021-2022 academic year! This fellowship is a fully-funded public diplomacy program through the U.S. government and German government that is offered to 75 Americans every year. I will be studying German intensively for two months, taking college classes in Arabic and migration studies (most likely in German) for a semester, and interning in the field of refugee resettlement for five months. I hope to learn firsthand how organizations in Germany are welcoming refugees and immigrants as well as combatting anti-refugee and immigrant sentiment. From being an ENVS linked major, I've learned how to more adeptly discuss environmental issues in an interdisciplinary space. My advice for future ENVS classes is to take classes outside of their comfort zones. 
Phoebe Landsman: In my project, Combatting Politicization and Polarization: Re-Framing Climate Change to the American Public, I researched ways to re-frame climate change to appeal to the American public and combat the stagnancy surrounding climate policy in the United States. After graduation, I will be working for an immigration law firm in Boston! I love that everyone comes into the ENVS major with different interests and approaches to environmental studies. I have truly learned so much from my classmates and teachers.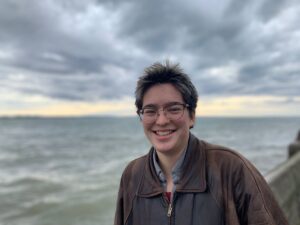 Franny Lin: My senior project title is Farming the Green Space: Soil Fertility on Andrus Field. In order to better understand the challenges and creative problem solving that go into building an urban farm, I studied the soil quality on Andrus Field. While some work would need to be done, I found the outlook to be generally positive for growing vegetables in the space. Post-grad, I'll be heading up to Maine to work another season on Willow Pond Farm, a diversified livestock, vegetable, and orchard operation. My time in the COE andatWesleyann taught me the importance of just showing up to things and meeting people. There are so many people doing fantastic work on campus and in Middletown. I have made many friends and had many great experiences just by showing up to events with an open mind, looking to learn new things and get to know some folks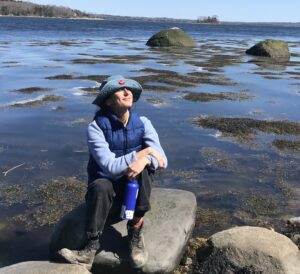 Rebecca Lopez-Anido: My senior project title is Shifting Transcriptomes in Changing Waters: Ocean Change Consequences on American Lobsters in the Gulf of Maine. Utilizing RNA-Sequencing data, I examined how ocean warming influences gene expression in developing American lobsters. I also explored how sequencing technologies can enhance fisheries' adaptive capacities amidst dramatically changing oceans. Next year I will be working as a research assistant in the Lyons lab at the Scripps Institute of Oceanography in San Diego, California.
Maggie O'Hanlon: My senior project title is The Emergence of a Progressive Climate Change Frame in the United States from 2018-2021: How Progressive Language has Shifted the Landscape of the Democratic Party. In my project, I analyzed the climate change framing of progressive federal politicians in the United States since 2018. I performed frame analysis on the language they used and explored the ways that this language has both reflected and influenced divides within the Democratic Party. My advice for upcoming ENVS majors: Take advantage of all of the knowledge of faculty in the Environmental Studies department! Each ENVS faculty member I've gotten to know possesses such wisdom from years of work and growth. Let them lead you on your own journey and don't be afraid to contribute to their growth in return.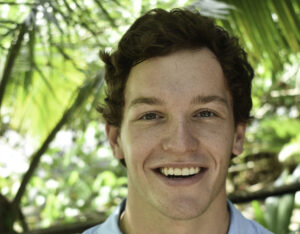 Andrei Pinkus: For my capstone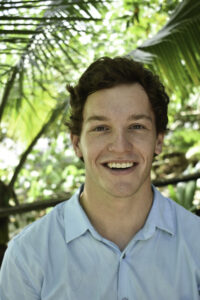 project, I wrote a senior essay on Indigenous tourism in the Navajo Nation. For this project, I interviewed several Navajo tourism business owners and learned about their experiences of success, as well as the significant systemic and circumstantial challenges they face. I'm excited to announce that I'll be kickstarting my career in the environmental field as a Resource Assistant for the US Forest Service in Washington, DC! If I could share any advice with future ENVS majors, it's to take advantage of all the resources the COE and Wesleyan have to offer while you can.
Gabe Snashall: My senior thesis is called, Smallholding for Whom?': The Effect of Human Capital Appropriation on Smallholder Palm Farmers, an examination of the effect of transnational contract farming agreements on smallholder farmers of palm oil in Indonesia. This fall I'll be starting graduate school at Yale University for a Master in Environmental Science (MESc), and working towards a Ph.D! And hopefully getting in some quality fieldwork this summer! 
Our 31 class of 2021 ENVS majors are: Sanya Bery (GOVT, ENVS), Liana Biasucci (ECON, ENVS), Benjamin Cahill (HIST, ENVS — Cod and Castor, Competition and Coexistence: The Human-Environment Relationship in Acadia and Québec), Liz Colannino (GOVT, ENVS), Lia Di Bitonto (ANTH, ENVS), Alissa Dobrinsky (PSYC, ENVS), Lizzie Edwards (ANTH, ENVS), Michael Freiburger (COL, ENVS), Harper Gambill (SOC, ENVS — Seeds of Change: The Degrowth Movement and Strategies Towards Cultural Change), Marguerite Humphrey (GOVT, ENVS), Syed Hussain (GOVT, ENVS), Yuke Kirana (E&ES, ENVS), Phoebe Landsman (GOVT, ENVS), Frances Lin (E&ES, ENVS), Jamee Lockard (PSYC, ENVS), Rebecca Lopez-Anido (BIOL, ENVS), Ronald Meehan (GOVT, ENVS), Maggie O'Hanlon (GOVT, ENVS), Andrei Pinkus (GOVT, ENVS), Kush Puri (E&ES, ENVS), Cole Reistrup (E&ES, ENVS — Tin Contamination in the Mattabesset River: An Aftermath of Berlin, Connecticut's Tinware Industry and the Yankee Peddler Era), Tamara Rivera (BIOL, ENVS), Eli Roche (GOVT, ENVS), Cameron Scharff (PHIL, ENVS — Salvaging and Decolonizing Sustainability: Non-Ideal Improvements Oriented Towards Increased Ecological and Social Justice), Fiona Skerrett (BIOL, ENVS —  Causes, Consequences & Resolution of IUCN Red List Data Deficiency in Marine Species), Gabriel Snashall (GOVT, ENVS), Griselda Solis (AMST, ENVS), Grayson Sussman Squires (CSS, ENVS), Jolie Villegas (BIOL, ENVS), Isabella Whiting (GOVT, ENVS — Rupture, Reconciliation and Resilience) & Catherine Xi (CSS, ENVS).