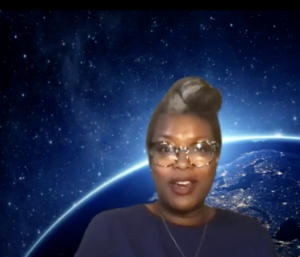 On April 17, 2021, the College of the Environment welcomed Ingrid LaFleur for her lecture "How to Think LIke an Afrofuturist." LaFleur is the founder of The Afrofuturist Strategies Institute (TASI) and a globally recognized curator, design innovationist, pleasure activist, and Afrofuturist committed to exploring and implementing forward-thinking solutions across multidisciplinary industries including but not limited to art, technology, education, social enterprise, and finance. Her extended biography can be read on her website.
LaFleur began the lecture by grounding her afrofuture thinking in the lives and guidance of her parents, whom she says were her original afrofuture teachers, and African spiritualism. She described the power of being in touch with one's ancestors, and the comfort found in the astral plane, especially the way that "The spiritual technology that [my parents] taught me has connected us across dimensions."
In the next section of the lecture, LaFleur dove into individual aspects of Afrofuturism, including the ways in which it is "intersectional, multi-temporal, and interdisciplinary . . . unapologetically [centering] the Black body" and "a new origin point of identities." For LaFleur, these descriptors all focus on how afrofuture thinking expands perspectives and histories and offers a "utopia…within dystopia." On the topic of multitemporality, LaFleur explained the nonlinear and queer nature of Afrofuturism, saying, "The past is…forever here, informing us, forever guiding us…we're in a constant dance with the past. And every single moment of every single day, we are creating our futures." Her work, she emphasized, is "all about creating equitable futures, about futures that no longer create harm."
To work towards those goals, LaFleur drew attention to the fact that "white bodies, for centuries, have been told to spiritually disconnect from other people based on the color of their skin, and [that] has broken something in them," arguing that without healing those spiritual disconnects, there is no way for white people to work toward the future envisioned by Afrofuturism. However, afrofuture thinking requires shifting those perceptions of the Black body in constructive ways: "By humanizing the Black body, you humanize yourself. There's no way that you can dehumanize someone and not dehumanize yourself."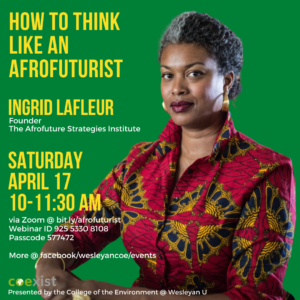 She also described how Afrofuturism centers the womb and uplifts Black women as living archives, asserting that "the Black woman must be loved and supported…there is no afrofuture without the Black woman." In conversation with spiritual technology and ancestral guidance, LaFleur emphasized how these ways of thinking "can help shape a new destiny and create a new present reality." A key characteristic shared between all of these aspects of afrofuture thinking is their connection to decolonization, and each carries a critical role in the 9 Pillars of Afrofuturism, which are LaFleur's answer to the question, "What are the elements necessary for Black bodies to truly thrive?" They range from the intimate (radical love and pleasure) to the societal (cooperative economics), and are centered on the idea of evolving beyond, rather than simply revolving around, colonial histories.
The talk concluded with LaFleur inviting listeners to imagine the possibilities of Afrofuturism, asking what America would look like with the principles of afrofuture thinking applied to various aspects of life. As a parting thought, LaFleur encouraged everyone to "project the positive," noting that optimism can sometimes feel more tangible than abstract hope. Considering the toolset that afrofuture thinking provides us, LaFleur is confident in the manifestation of the Afrofuture.