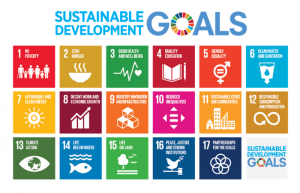 The College of the Environment is proud to announce a new partnership with the US branch of the United Nations Sustainable Development Solutions Network (SDSN). Launched in December 2018, the UN-SDSN cooperates with financial institutions, the private sector, civil society organizations, and UN agencies to effect sustainable development throughout the world.
"Our collaboration with the United Nations Sustainable Development Solutions Network will create real-world opportunities for Wesleyan students to contribute to environmental justice issues in the United States and abroad," said College of the Environment Director Barry Chernoff, Robert F. Schumann Professor of Environmental Studies. "Representatives from the participating universities are now developing concrete plans for interdisciplinary inter-university teams to work in communities across the US.  We will be rolling out team membership opportunities for the next academic year."
The US branch of SDSN operates out of Columbia University's campus to implement sustainable development goals (SDGs) agreed upon by world leaders as part of Agenda 2030.  These sustainable development goals are diverse in scope, and contain provisions not only for environmental justice but for other pressing issues such as poverty and gender equality. Among the agreed-upon environmental goals are:
In addition to supervising US implementation of the SDGs, the UN-SDSN also monitors the the United States's adherence to the Paris Climate Accords. Though President Trump has announced that the US will pull out of these agreements, the White House will still abide by the decisions made at Paris during the four-year withdrawal process that ends in November 2020.
In partnering with the network, Wesleyan joins the ranks of academic institutions including MIT, Harvard, Carnegie Mellon, and Brown, as well as organizations including Tesla and the National Science Foundation. Public figures involved in the initiative include Congresswoman and presidential candidate Tulsi Gabbard and Congresswoman Alexandria Ocasio-Cortez, who spoke at the branch's launch last December.