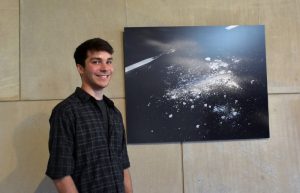 Kudos to art & art history and environmental studies double-major Paul Franceschi '19, who showcased his senior thesis work, "Frontcountry Principles," as part of an exhibition at Zilkha Gallery here at Wesleyan, earlier this month.
"One of the more expected ways to engage with the environment through images might be to highlight some kind of devastation that humans have wrought upon the natural world," says Franceschi. "In my work I'm trying to identify a more subtle but possibly just as worrying impulse: a covering-of-tracks, a hidden curation and regulation of space, a totalization of the landscape. Rather than focusing on a conflict between the natural and human worlds, in my photos I'm trying to frame a kind of virtual reality of landscape, where images of the environment are illusory, malleable, and almost uncanny."
Franceschi is also one of four environmental studies seniors to be inducted into Wes U's Gamma Chapater of Phi Beta Kappa this academic year. Read more about the ceremony on News@Wes.