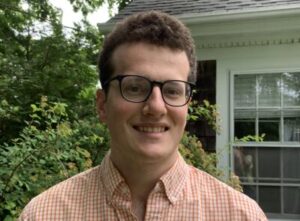 Luke Green is an assistant producer for NPR's All of It, hosted by Alison Stewart. He graduated from Wesleyan with a BA in environmental studies and history.
Why did you choose to be an ENVS linked major here at Wes? How did ENVS tie-in with your history major and other interests?
I chose to be an ENVS linked major because I was extremely concerned about climate change, especially given how around the time I was choosing my major was when the Trump administration was enacting horrific policies when it came to environmental and public health. Majoring in ENVS was a response to that. I also was involved in a few environmental clubs on campus, so it seemed like a natural progression in my academic and extracurricular interests. I originally was skeptical about how ENVS related to my interest in History, but I realized that humans have been interacting, struggling, and even been destroyed by environmental change before, so I became interested in that history.
What was your ENVS capstone project (title, brief description) and why did you choose to explore that topic?
My capstone project was an essay called, The History of Zoning in Middletown: How the Past can Inform the Future. It was a history of Middletown's zoning code, land use regulations, and environmental change, starting with the city's first code in 1927, and ending in the present day to see how the city of Middletown used its land in the twentieth century. Ultimately, I was curious to see how a city's zoning code reflects how a city values its space, and, in turn, its citizens. I got the idea in the fall semester of my senior year, when I was stressed about what my project was going to be. So many of my fellow ENVS students already had great projects, were so smart, and I felt like I hadn't discovered what my interest was. But then I thought about the hours I'd spent with Professor Stephen Devoto, who was the chairman of the Middletown Zoning Commission, as well as a Wes biology professor. Professor Devoto showed me the tremendous importance of a zoning code when it came to practical changes to help a city make smart, environmentally conscious decisions that can have a lasting impact. He showed me that thinking small can result in big changes. I decided to turn that extracurricular interest into something academic. It was fun because I had the opportunity to learn more about Middletown, a place I'd spent so much time, and be exposed to the city's archives in Olin and Russell Library. You're not really a history nerd unless you're reading old dusty municipal zoning codes for fun!
You've been involved in radio since you were a student at Wes. Tell us about your time as a production director and DJ at WESU and how that experience helped you move into your post-grad career in public radio.
My time at WESU is the only reason why I'm working for NPR today. It was a great opportunity to not just serve Middletown residents but work alongside them. WESU was a space for me to explore my growing interests in music, culture, creativity, and storytelling. It gave me the opportunity to take risks, get better at editing and production, and find my own voice. I used those skills to get my foot in the door!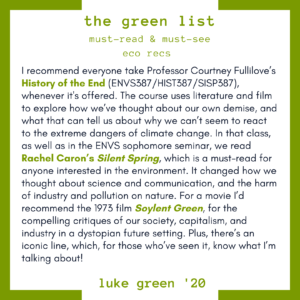 You are currently the assistant producer for All of It on NPR. Tell us about the show, your role in it, and why the show is important, in your opinion!
The show is a daily arts and culture interview-based show that airs on WNYC in New York City. My role as a producer is to do all the behind-the-scenes work to make the show function: writing interviews, conducting research for host Alison Stewart, booking guests, pitching ideas, and other administrative tasks. I think the show's important because we provide entertaining, informative, and accessible conversations with people who are making neat stuff. What's better than that?
What are some of your favorite past guests and/or segments (and why)? Note: Please provide links to those shows, if available.
One perk of my job is that I get to work with some famous people in a variety of industries. I'll give three segments I enjoyed working on:
I wrote an interview

for drummer and frontman Dave Grohl, of Nirvana and Foo Fighters, about his new memoir. I got to sit with Dave on zoom, which was a crazy experience!

We had the directors on for a new documentary

,

"Attica"

, about the 1971 prison uprising in Attica, New York. I felt foolish that I had never heard of the event, and if you watch the documentary (which I recommend everyone does), you leave feeling angry but not surprised by the systemic racism that still chokes this country. I'm glad we featured the film on the show.

A new exhibition recently opened at the Guggenheim Museum in Manhattan on the work of the 20

th

century Russian painter

Vasily Kandinsky

. I had never heard of him, but when I booked the curator and went to see the show, I was blown away. His paintings make you want to sit and stare at them for hours. Now he's my favorite artist. I recommend everyone look him up!
What are you working on right now–and what are you most excited about?
As I write this, I have three interviews to write. One on a new book about the life and work of the hip-hop producer J Dilla, another on a documentary about The Automat, a beloved restaurant chain in New York in the early twentieth century, and a debut novel by David Sanchez called, All Day Is A Long Time. I'll say I'm most excited about potentially being able to write an interview for the musician and artist Janelle Monae in April!


As an assistant producer, you do everything from pitch and report stories, write and edit scripts, to book guests and do research for your host. What's your favorite role/part of the process and where do you see yourself in five years?
My favorite part of the work I do, and maybe just in life, is to listen to people. I love hearing their stories, their thoughts, and being able to ask them questions. In the next five years, I'd like to do more original storytelling and audio editing, whether it's for a public radio station, podcast, or (this is just a dream), the BBC. As much as I love being tuned into pop culture, I do want to tell stories about people, history, and problems, like climate change. I'll admit I feel a little silly being featured in this newsletter because my work barely focuses on the environment and climate change at all, but I haven't lost my interest in focusing on that as part of my career!
What advice do you have for Wes students considering an ENVS linked major?
I would encourage them to do the linked major, because it's a unique opportunity at Wesleyan to be able to focus on an interest, be it sociology or biology or African-American history, while also being able to set that interest within an ENVS framework that affects us all. The major challenges you to look at things with a multidisciplinary approach, and makes you appreciate people's different backgrounds, interests, and beliefs. Our differences are why massive problems like climate change are so hard to solve, but also, climate change must be solved with diversity in every sense of the word. Plus, the faculty are supportive, bright, and open to your ideas.