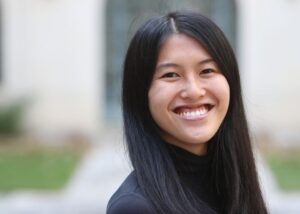 Jessica Gay '21 is working toward her MS in Community and Regional Planning at the University of Texas at Austin and as the Community Development and Revitalization Intern at Texas General Land Office. She graduated from Wesleyan with a BA in environmental studies and biology.Why did you choose to be an environmental studies (ENVS) linked major here at Wes?
I chose to become an ENVS major because I developed an interest in environmental issues while at Wes, especially after taking a conservation biology class for my biology major. I really liked how the ENVS major looked at the environment in a holistic manner.
What was your ENVS capstone project, and why did you choose to explore that topic?
My ENVS capstone project was an honors thesis entitled "Critical Examinations of Sustainability: An Exploration of Environmental Gentrification in San Antonio and Austin, Texas," and it analyzed the phenomenon of environmental gentrification with a focus on the cities of San Antonio—my hometown—and Austin. Green development projects and environmental cleanup efforts in areas that have historically lacked these features can subsequently cause these areas to become more desirable and raise property values, which is associated with displacement of existing residents. I chose this topic because it was something that I had never really heard of prior to doing some research for a paper in one of Joseph Siry's classes, and its complexity really grabbed my attention.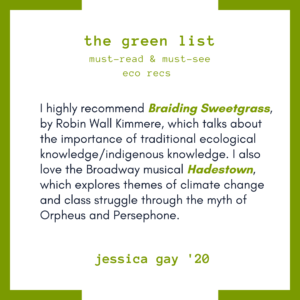 Was there a class or a professor who piqued your interest in community planning as a professional path?
The same professor I mentioned above, Joseph Siry, who also served as my thesis advisor, was instrumental in my pursuit of urban/community planning as a professional path. If it was not for his architectural history classes, I would have never even known that this field existed!
You are currently working toward your MS in Community and Regional Planning at the University of Texas at Austin and as the Community Development and Revitalization Intern at Texas General Land Office. Tell us about the program and the organization and your role in it!
I'm currently in my last semester of the Master of Science in Community and Regional Planning program at UT Austin's School of Architecture. I've interned at the Texas General Land Office since June 2021 through a partnership they have with UT Austin. The General Land Office is a state agency that, in addition to a variety of other large tasks, manages federal disaster recovery grants such as community development block grants (CDBG). I work on the State Run Housing Team, which administers housing assistance and reimbursement programs for homes that have been damaged in natural disasters like Hurricane Harvey. My main role is reviewing and approving applications for these programs.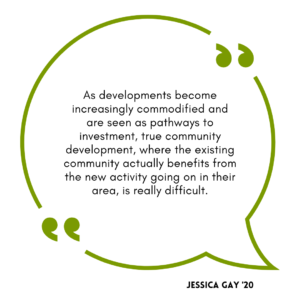 What are the biggest challenges/most important issues in community development today, in your opinion?
As part of my master's program, all second-years have to write something called a professional report, which can be considered a mini thesis. Mine is focused on community land trusts, which are a really innovative approach to long-term affordable housing provisions. I might be biased due to my own personal research interests, but I think the biggest issues in community development today have to do with its proximity to the larger structure of neoliberal urban development. As developments become increasingly commodified and are seen as pathways to investment, true community development, where the existing community actually benefits from the new activity going on in their area, is really difficult.
What advice do you have for Wes students considering an ENVS linked major?
Take advantage of the fact that the ENVS major is really broad, and take classes in departments that you wouldn't normally consider!