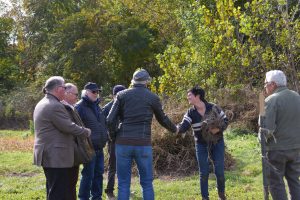 On October 26, 2018, foundation advisors David and Ford Schumann and foundation trustee Timothy Crowley joined COE Director Barry Chernoff, the Robert F. Schumann Professor of Environmental Studies, and Antonio Machado-Allison, the Menakka and Essel Bailey '66 Distinguished Visiting Scholar in the COE, on a tour of Wesleyan University's student-run Long Lane Farm. 
The tour was followed by an on-campus stop at the sophora tree planted in honor of Robert F. Schumann '44, and a reception at Wesleyan's Fries Center for Global Studies, with keynote presentations by COE alums Danielle Pruitt '15, founder of Oh, Buy the Way, a socially conscious e-commerce company focused on environmental products; Jennifer Roach '14, cofounder of Summer of Solutions Hartford, a food justice and youth leadership development program in Hartford, CT; and Evan Weber '13, cofounder of Sunrise Movement, a group of young people working to stop climate change and create millions of jobs in the process.
The Robert F. Schumann Institute of the College of the Environment was established in 2017 with a $2.5M gift from The Robert F. Schumann ['44] Foundation. The goal of the Institute: to integrate approaches to learning, research, and communication about environmental issues in ways that extend the COE's educational programs within and beyond Wesleyan.