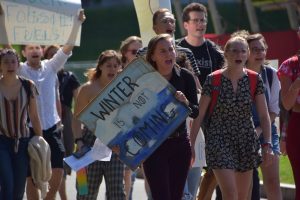 Wesleyan students organized various events for a day of climate action on September 20, 2019, as part of the week-long Global Climate Strike.
Events kicked off with a Climate Rally outside of Usdan, featuring speeches by students, staff, and other members of Wesleyan's community. Students from Wesleyan's Climate Action Group and other environmental groups spoke about the ongoing sustainability and activism efforts around campus and the next steps in the movement. Staff members and Middletown residents, including Professor Anthony Hatch, Chair of the Science in Society Program and COE faculty member; Ben Florsheim '14, Middletown's Democratic mayoral nominee; and Nur Fitzpatrick, Middletown resident and activist, also spoke about the importance of the Climate Strike and environmental activism at a local level. The rally was followed by a march around campus. Click here for more photos from the Climate Rally and March.
At 4:30 pm, Professor of Physics Brian Stewart presented his annual Climate Rant on the subject of Tipping Points. He contextualized the talk within the day's events on campus and the climate action movement on a global and historical scale. Professor Stewart also posted a comprehensive introduction to the Climate Strike events on the Middletown Eye, a community news blog. His post details the science behind climate change as well as both governmental and public responses to the topic.  
Later that afternoon, staff and students met at the front steps of Olin Library for a candlelight vigil, which ended on the corner of Church and High streets. 
Related reading about the events: