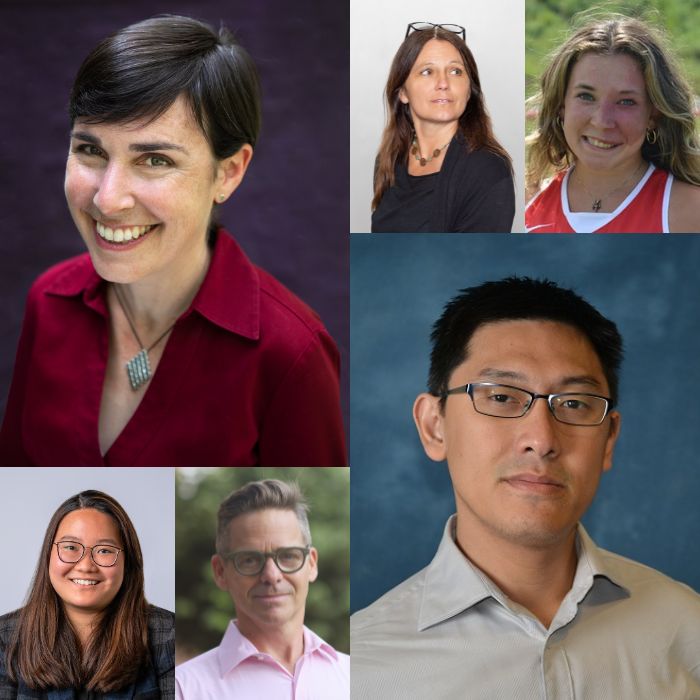 Each academic year, the COE invites a small group of Wesleyan faculty and undergrads plus a noted outside scholar to join together in a yearlong discussion on a critical environmental issue. The Think Tank features a new theme, and new fellows, each year. This year's COE Think Tank features (from top left): Janice P. Nimura, the Menakka and Essel Bailey '66 Distinguished Visiting Scholar in the Bailey College of the Environment; Katja Kolcio, associate professor of dance; Ella Doherty '24, a biology and environmental studies major; Debbra Goh '24, an environmental studies and religion major with a minor in the College of East Asian Studies; Andrew Curran, William Armstrong Professor of the Humanities; and Ying Jia Tan, associate professor of history. The group will spend the academic year exploring the theme of "Reimagining Civilization in the Anthropocene."
The term "Anthropocene," coined by Paul Crutzen and Eugene Stoermer in 2000, suggests that humankind has altered and ruptured the Earth System, causing the Earth to move out of its current geological epoch into "a less biologically diverse, less forested, much warmer, and probably wetter and stormier state." The socio-economic trends and Earth System transformation brought about by the "Great Acceleration" that began in mid-twentieth century have created a set of unprecedented conditions straining the capacity of the Earth's ability to regenerate resources. The 2023-24 Bailey College of the Environment Think Tank will look at this phenomenon from a variety of points of view, examine the history of how humans have envisioned their power to disrupt and dominate nature, and how this process is linked to: 1) the re-imagination of various notions of civilization; 2) the human species itself; and 3) the evolving world order itself.
The Think Tank fellows are all deeply interested in how new modes of artistic expression and novel technologies can help address or at least highlight the inequalities brought about by ever-increasing desire for greater material wealth. Their objectives and preoccupations for the year at the Bailey COE are simultaneously historical, creative, sociological, and environmental. In this multi-disciplinary conversation between the humanities, social sciences, and natural sciences, they hope to deepen their own knowledge of the Anthropocene as a historical, cultural, and environmental event.
Janice P. Nimura, the Menakka and Essel Bailey '66 Distinguished Visiting Scholar in the Bailey College of the Environment, is the author of The Doctors Blackwell: How Two Pioneering Sisters Brought Medicine to Women–and Women to Medicine, a finalist for the 2022 Pulitzer Prize in Biography, as well as Daughters of the Samurai: A Journey from East to West and Back, a New York Times Notable Book. She is a fellow of the Society of American Historians and the recipient of a Public Scholar Award from the National Endowment for the Humanities. As a visiting scholar and member of the Think Tank, Nimura will be exploring Rachel Carson, often hailed as the mother of second-wave environmental activism, and the women who came before her. Her research topic will be the theme of the second half of this year's Where on Earth Are We Going seminar on Saturday, October 28 from 10:30 am to noon.
Andrew Curran is a writer-scholar fascinated by the early-modern notion of natural history, especially as it relates to theories of climate and the nascent science of anthropology. His writing has appeared in The New York Review of Books, The New York Times, The Guardian, Newsweek, Time Magazine, The Paris Review, El Païs, and The Wall Street Journal. He is also the author or editor of five books, most recently Who's Black and Why?: A Hidden Chapter from the Eighteenth-Century Invention of Race (with Henry Louis Gates, Jr.). While at the Thank Tank, he will complete work on a book entitled The Race Makers that has numerous chapters dedicated to early modern climate-theory. He is particularly interested in how seventeenth- and eighteenth-century thinkers envisioned humankind's relationship to a changing climate (a climate that they sought consciously to change).
Ella Doherty '24 is a senior pursuing a dual major in biology and environmental studies. Originally from New Hampshire, Ella dedicates her summers to serving as an outdoor educator at the NH Audubon. On campus, she excels in varsity field hockey, as well as taking on roles as a Dean's Peer Tutor and a group leader for Take Flight, a program designed to aid freshman athletes in their transition to college life. Ella possesses a distinct passion for exploring the convergence of Geographic Information Systems within the realms of conservation and sustainability. She recently studied environmental policy and agriculture while abroad in Northern Ireland and hopes to continue that research back in the States.
Debbra Goh '24 is a senior majoring in environmental studies and religion with a minor in the College of East Asian Studies. On campus, Debbra works in the Wesleyan Sustainability Office, where she created WesThrift, Wesleyan's free thrift store. She also leads the Wesleyan Green Fund, is a student representative on the Sustainability Strategic Plan Committee, and is one of the coordinators for the Environmental Solidarity Network. Born and raised in Singapore, Debbra's senior thesis interrogates the myth of development in Singapore, examining how state policies on land use have affected the religious practices and traditional ecological knowledge of the indigenous Orang Pulau and Orang Laut communities.
Katja Kolcio, Ph.D. RSME, is associate professor of dance specializing in somatics, and faculty in Environmental Studies and Russian, East European and Eurasian Studies, and College of Education Studies. Kolcio's research focuses on somatic resilience and psycho-social wellness through the integration of individual, social and surrounding environments. Her current regional focus is Ukraine and her project Vitality Project Donbas is a collaboration with Ukrainian NGOs Development Foundation/Community Self Help. Working since 2015, they have developed workshops in somatic resilience for war relief workers in Ukraine. They were commissioned in 2018 to develop a program in somatic resiliency for soldiers, working closely with the National Guard, Ukrainian Armed Forces, and veterans. This program has been developed into a field manual and a book, The Force of Breath: Skills for Psychological Recovery, published in Ukrainian language by Lesya Ukrainka Volyn National University, Rivne, Ukraine (fall 2022). Kolcio is working with co-authors Marta Pyvovarenko (Ukraine) and Jennifer Rose (Wesleyan) on a translation of this book for an English-speaking audience.
Ying Jia Tan is a historian of science and technology with allied interests in environmental history and the history of cartography. He teaches traditional and modern Chinese history, as well as courses on maritime East Asia, cartography, and the Anthropocene. His book Recharging China in War and Revolution, 1882-1955 (Cornell University Press, 2021) explores the politics of Chinese power consumption as electrical industries developed during seven decades of revolution and warfare. He will travel to Taiwan on the Center for Chinese Studies grant during parts of the fall semester to conduct research on the history of plastic industries in Chinese East Asia.