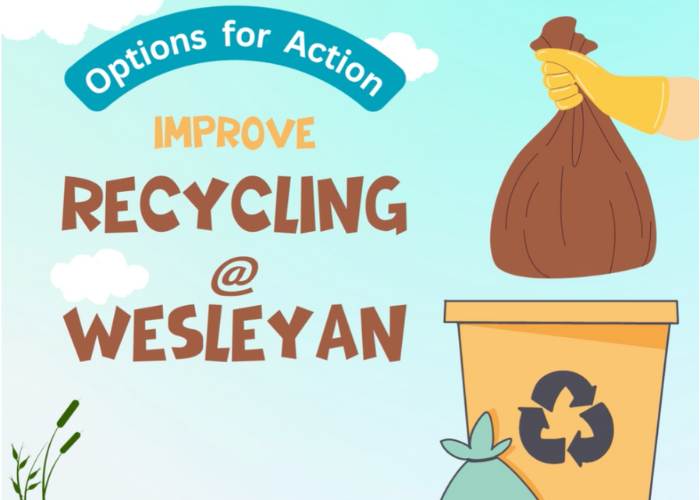 Visiting Assistant Professor of Environmental Studies Kate Miller is excited to use her class to connect students to actions to influence environmental change.In fall of 2021, she launched an "Option for Action Project" in her Introduction to Environmental Studies class (ENVS197). Through this project, students create tangible action plans for addressing environmental problems that affect them. This year they are sharing their proposed solutions with the whole Wesleyan community through a social media campaign which will run now through the end of the semester.
As the entryway class to the Environmental Studies linked major, Miller facilitates exploration of a wide diversity of environmental topics with students, including problems as well as root causes and possible solutions.
"In Introduction to Environmental Studies we explore large-scale dynamics and problems such as climate change, environmental contamination and toxins, environmental injustice and the impacts of conventional agriculture," Miller says. "So it can sometimes be challenging to discern the role of the individual."
Project (above) by John Modelfino '23, Liam Farrel '26, Juliet Brack-Ashkin '25, Emmett Gardner '26 & Alex Justh '26.
This is exactly why Miller created the Options for Action assignment. Students work in groups to explore an environmental issue that they, as students, have some power to directly impact. In addition to explaining the issue, they are challenged to vet and describe feasible actions that students can take today to address the problem.
Political Action, by Claire Grant '26, Akiva Lind '26, Katherine Currie '26, Rami Hayes-Messinger '26 & Chingun Tsogt-Erdene '26.
"Students get to take a deeper dive into a particular issue related to course content and then vet solutions that are not only environmentally sustainable, but economically and socially sound," Miller said.
Students choose topics by participating in a problem brainstorming exercise in class and then dividing into groups based on interest. Miller's teaching apprentice, Safiya Sekkm-Miles '25, reflected on her research topic from the previous year.
"For my project, my group focused on non-transportation energy use and housing; therefore we mainly focused on sustainable alternatives to heating and cooling systems," said Sekkm-Miles. "I learned a lot from this project and was able to apply some of the things I learned about heating and cooling systems outside of class."
Topics this semester include food waste, water use, sustainable diet, repair and repurpose, recycling, Wesleyan's Sustainability Plan, hygiene, transportation and more.
Students produce an 8- to 10-minute presentation of their findings for their classmates. In the past this has been accompanied by a pamphlet or poster which hypothetically could be distributed to the public to spread awareness. This year, working with Safiya, Miller has devised a way to spread awareness to the issues students research. Each group is creating an Instagram post to share with their classmates and share their wisdom with the larger Wesleyan community, increasing the project's reach and ongoing impact, and encouraging positive environmental action. The College of Environment and the Sustainability Office will be posting these solutions on their Instagram accounts from mid-April through the end of the spring 2023 semester.
"What is great about this year's project is that the students' work will not just end in the classroom," said Sekkm-Miles. "Instead, the projects will be featured on blogs and Instagrams, living there forever."
Professor Kate Miller can be reached at kmiller02@wesleyan.edu
TA Safiya Sekkm-Miles can be reached at ssekkmmiles@wesleyan.edu
The author Lia Franklin can be reached at lfranklin@wesleyan.edu