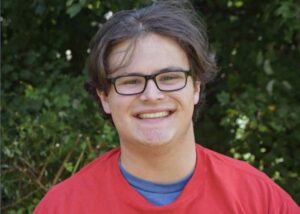 Isaac Ostrow '26 recently returned from Egypt, where he met with international climate activists and attended the 2022 UN Climate Change Conference of the Parties (COP27), thanks to support from sources that included the Robert F. Schumann Institute of the College of the Environment.
From Isaac: Thank you to my generous supporters, Wesleyan University's College of the Environment and Temple Isaiah, for making this opportunity a reality. The views I express here are mine and mine alone, and do not necessarily represent those of the Jewish Youth Climate Movement (JYCM), Hazon, Wesleyan University and/or its College of the Environment, Temple Isaiah, or any other individual, group, or entity.
Hello to all of those following my journey!
I flew from Boston to Tel Aviv on Saturday, November 5, 2022, before taxiing to a hostel in Jerusalem. That evening, we met with a dozen or so Israelis from Nitzana, a gap-year and high school program for Israelis of all backgrounds with an emphasis on preparing underprivileged Arab-Israelis for work in sustainability and agriculture. That night, we all ate dinner and explored Jerusalem together, and I continued to travel with the delegation during my time abroad.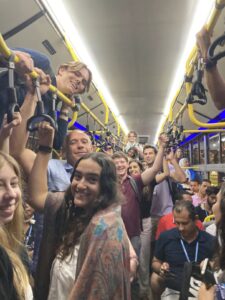 November 6, 2022
This morning, we woke up to an incredible breakfast at the hostel. After a brief team-building exercise, we traveled via bus to the Dead Sea, where we learned about the processes that cause sinkholes and freshwater streams. After learning about clay and mud, we literally got stuck in it, wading in the mud from a natural pond all the way to the Dead Sea, where we were amazed by the phenomena associated with this "saturated solution situated between Israel, Palestine, and Jordan," as it is described. After cleaning off in a hot-spring fed freshwater lake, we took a bus to Ein Bokek, a beach attraction on the Dead Sea. Rinsed off and caffeinated, the delegation set out for Kibbutz Ketura, a commune guided by the Marxist philosophy of "from each according to their ability, to each according to their need," where we were welcomed with a communal meal before gathering around a campfire to reflect on our travels. Our conversations included marveling at the enormous task set before our small group, and sharing our excitement about the week ahead, even though we all understand how demoralizing and slow climate work can be. Introspection complete, we sought out opportunities to meet the kibbutzniks, and danced until the final two members of our delegation, Sophie and Naomi, joined us from their layover in Ireland.
November 7, 2022
This morning we toured the kibbutz before meeting with representatives of the Arava Institute, a higher-education community that focuses on both environmental studies and sciences as well as on fostering peace and understanding between Israelis, Palestinians, and international students, all of whom are accepted into the semester-long program in roughly equal numbers.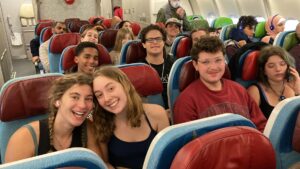 After learning about the sustainability accomplishments of the alumni, attending a lecture, and eating lunch with current students, we took a bike tour of the kibbutz's agricultural enterprises, which consist of 2,000 date palms and a controlled research environment for desert-viable plants. Weary from our adventures, we piled into a bus and departed across the Negev desert region toward Nitzana, an educational youth village and community settlement in southern Israel. When lightly jolted awake by the bumping along of the bus, we were surprised to find ourselves in the middle of the desert. After going tracking in the desert and finding some critters, we stargazed and reflected on what the stars might've meant to humans many millennia ago. We then had the opportunity to peer through a telescope to view Jupiter and the Moon, before gathering around a campfire until late into the night.
November 8, 2022
Our sandy night's sleep was cut short by the opportunity to go sand surfing at sunrise–which I did, fairly unsuccessfully! We then left our tents and headed to Nitzana, which hosts educational, medical, and social centers for five Arab-Israeli villages that would otherwise have very little access to such resources in the remote Negev desert. There, we met the various animals that live in Nitzana's sanctuary before traveling to a solar field, where we learned about different means of harnessing solar energy as well as the advantages and disadvantages of each. After a bus ride toward the border with Gaza, we crossed a suspension bridge to an overlook where our guide explained an intergovernmental effort involving Hamas, the Palestinian Authority, and Israel to utilize industrial water runoff for agriculture. A sculpture at the top of the clay mound provided a comfortable spot from which to enjoy the scenery.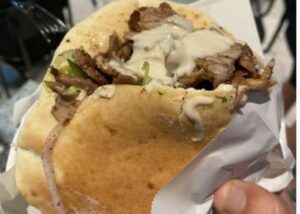 Later, we traveled to Tel Aviv where we ate at a vegan restaurant and enjoyed some authentic street food. (Shoutout to Rabbi David!) Too soon after we got back to the hostel, we departed for TLV for our flight to Sharm El-Sheikh to attend the 2022 United Nations Climate Change Conference of the Parties (COP27).
November 9 and 10, 2022
Our first full day at COP27 was today!
I should start with yesterday's experience, which is when we first encountered the 30,000+ strong conference crowd. COP is divided into two distinct zones: the Blue Zone and the Green Zone. The Blue Zone is what everybody associates with COP: world leaders from all different spheres of human endeavor gathering to listen to panels, ask questions, and network in anticipation of negotiations, climate diplomacy, and business decisions. This part of the conference is very crowded. In fact, when President Biden spoke on Friday afternoon, the line to claim tickets snaked around the warehouse-sized building. Institutions that attend COP receive anywhere from five Blue Zone passes to an unlimited number for UN member states. When our delegation's trip to COP27 was first proposed by Israeli politician Alon Tal, we were assured that we would have Blue Zone passes. When that assurance faded with time, we pursued the State Department and went so far up the food chain of our collective networks that at one point we were in contact with White House officials. In the end, the Blue Zone badges never materialized, which meant that we were barred from negotiations, high-profile panelists, and keynote speakers, and missed out on the opportunity to network with many powerful and connected individuals.
Instead, our delegation has been relegated to the Green Zone: a beautiful, artistic, and elaborate backdrop to photo-ops, with two auditoriums hosting the Youth Forum panels. At the outset, a dedicated Youth Forum sounds beneficial, but we've concluded that separating it from the Blue Zone reduces its effectiveness both by keeping youth out of the Blue Zone and preventing these engaging, inspiring, and relevant youth panelists from being seen and heard by world leaders who spend most of their time in the Blue Zone.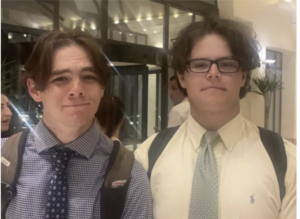 Despite the flawed system, we made the most of our day. I was able to provide feedback about our thoughts on the separate Green Zone to a Bahraini coordinator of the Dubai-hosted COP28, and I am cautiously optimistic that our experience at COP27 will not be shared by those who follow in our footsteps. After lunch at a nearby hotel, I returned to catch the tailend of a panel about decarbonizing the transportation industry. Those of you who know me well will know that this is absolutely right up my alley! I was able to speak briefly with an executive from Volvo about sustainable fuels in the long-term commercial and individual product line-up—a conversation that provided valuable context to my pursuit of a sustainably fueled future. I also had the opportunity to speak with a person who hadn't had the chance to ask their question as the session ended. I asked what question he would've asked, and discovered in conversation that he had attended high school in Massachusetts, near to me, and had worked in agricultural anthropology with NGOs and nonprofits for decades. This weekend, I will have the opportunity to meet with his family friend (Wesleyan '14!) who is attending with the US State Department in the exclusive Red Zone.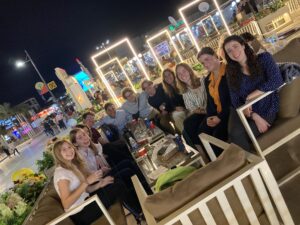 November 11, 2022
Our Shabbat dinner included our delegation, several Israelis, the current and former CEOs of Hazon, the Israeli Climate Ambassador, and the Israeli Ambassador to Egypt. After the distinguished guests spoke, Jakir, the coordinator of the dinner, opened the floor to anybody willing to share. In front of a coalition of adults who support our youth delegation, I took the opportunity to articulate our frustrations about the separation of the Youth Forum as outlined above. It was a truly exciting and meaningful experience to follow an Ambassador in addressing a large dinner party, and it is one that I will not soon forget. I look forward to tomorrow!
November 12,2022
Saturday in the Green Zone focused on sustainable agriculture, including water resource allocation, carbon capture and sequestration, and drought-resistant bioengineering. Many panels in the Green Zone centered around the voices of women and people of color, a testimony to how far our institutions need to come in including diverse voices not just at the conference, but in the central locations where power is held. One panelist expressed that water should be a focal point of policy for COP28, which is set to take place in Dubai in the United Arab Emirates. For COP27, however, these critical discussions were relegated to the Green Zone, which felt even emptier than it had before.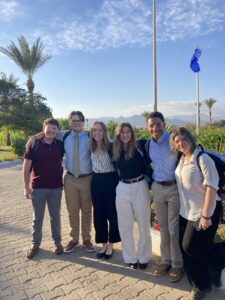 This separation raises many questions for me, including: What is the purpose of having two separate zones? In discussions with the rest of my delegation, it's clear that while we are disappointed that we weren't able to obtain Blue Zone passes, the Green Zone holds valuable panels that are isolated from the main conference for no good reason. It is therefore my conviction that there is a systemic flaw in the structure of the United Nations COP program that must be rectified if the loud and progressive voices of youth are to be heard on sufficient scale to take decisive climate action. This separation follows a familiar pattern to youth activists worldwide: Our presence is sorely needed in the international halls of power as a matter of self-preservation, but we are barred from entry into these circles until we arrive in assembly with entities that do not explicitly share a youth voice. For instance, many delegations from universities were granted Blue Zone passes, but neither the JYCM nor several other youth-only groups were permitted to hear from or speak to the powerful.
There was no COP Programming on Sunday, but our delegation had the opportunity to snorkel in the Red Sea. In the natural beauty of the surroundings of Sharm El-Sheikh, I came to a disappointing conclusion: Had we stayed at a nicer resort, closer to the conference, with Blue Zone passes, our takeaways would have been very different. 
Takeaways from the trip are varied. From a climate standpoint, I have mixed emotions. On one hand, I had the opportunity to network with some incredibly experienced, knowledgeable, and powerful individuals from NGOs, UN Member States, and activist groups like my own. I am grateful for the food I ate and the beds I slept in, and for the opportunity to experience an incredibly bustling, overwhelming international conference on a topic that I fight for. However, I would be complicit in the large-scale greenwashing of the climate conference if I suggested that the structure of this conference is set up to fight the climate crisis. The glaring, obvious issue of air travel (including our own) and private air travel for tens of thousands, including more than 400 private planes and thousands of fossil fuel industry representatives, has been much covered, and rightly so. I believe, from what I encountered in the press and on the ground, that there is an even greater problem than the United Nations' failure to platform youth and make changemakers accessible to them.
The ostensible focus of COP27, as you may know, was implementation. The big-ticket negotiations centered on loss and damages: Will wealthy, industrialized countries pay for the damage their carbon emissions are causing in the global south? The fact that "no" is an acceptable response, is appalling. Still, there were some provisions made for this change: Yesterday it was announced that $4 to $6 trillion dollars per year was necessary to fight climate change, and major government and financial institutions would be subject to a reassessment of their functioning strategies by the next COP. Though this is a necessary and positive step, the fact remains that there has been nothing satisfactory in terms of international, unilateral fossil fuel corporate restrictions. No grassroots movements to decarbonize were allowed to make their voices and solutions heard prominently, and what few were granted access to COP were bunched in by security officers or relegated to delivering panels in the Green Zone.
We still have work to do. As Americans with investments and voices in institutions, we still have the ability to call for divestment from fossil fuels and to pressure politicians to sign onto even the most polarizing of climate legislation, because the time for compromise is long gone. Talk about this climate conference with your friends, classmates, coworkers, or congregants. Contribute your voice to a call to action so loud it can no longer be ignored. We are starting the call, but we are not there yet.
Madeline Canfield, a JYCM staff member, often reminds me that no historical movement has failed when three percent of the population it concerns are active supporters of the movement—contributing their time, money, work, or platform to the effort. Are you part of that three percent that we need for a solution—or aren't you?