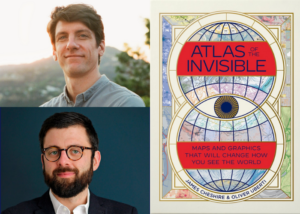 On February 2, 2022, the College of the Environment hosted Atlas of the Invisible: Maps and Graphics that Will Change How You See the World, via zoom, featuring speakers James Cheshire and Oliver Uberti. Cheshire is a professor of geographic information and cartography in London, and Uberti is a designer who helps scientists translate their data into memorable visuals. The duo authored a book of the same name, Atlas of the Invisible (W.W. Norton, 2021), filled with data maps that visualize important issues and tell valuable stories about our planet. The Chicago Tribune called the book, "A cartographer's dream, and often revelatory."
Cheshire opened the talk by  focusing on what is meant by the term "invisible." He explained it as certain patterns that have affected Earth in the past and are affecting it in the present that are hidden from us. When these maps are drawn, labeled, and designed, this data is able to resurface and be brought into our view. This extraordinary ability not only makes these maps fascinating, but also necessary to interpret the impact of historical events and patterns, to view and analyze the evolution of our society, and to gauge our prospects of change for the future.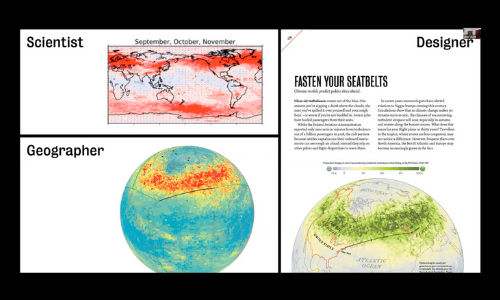 A variety of examples were given throughout the talk. One from the future (pictured, right) illustrated the predicted risks of encountering turbulence while on an airplane from 2050-2080, with turbulence levels varying depending on location and projected to increase significantly due to climate change. An example from the past illustrated the bombing of Cambodia during the Vietnam War, showing where bombs were dropped.
Uberti discussed the creative process he and Cheshire use while making books. He emphasized the coherence and visual aesthetic the map collections must share.  He also described some of their prominent inspirations for graphic design, including the visual beauty of Victorian Era maps, combined with the organization and clarity of 20th-century maps. This mix of inspiration creates a balanced mix of visual and data-based graphics. With this, data is visually represented to reveal important trends that communicate important truths about how humans continue to impact the earth.  
Atlas of the Invisible is the duo's third collaboration. Where the Animals Go: Tracking Wildlife with Technology in 50 Maps and Graphics (W.W. Norton, 2017), offered a data-driven portrait of how creatures like ants, otters, owls, turtles, and sharks navigate the world, while London: The Information Capital: 100 Maps and Graphics that Will Change How You View the City presented 100 portraits of an old city in a very new way.