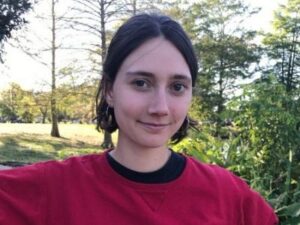 Maggie O'Donnell '19 is the research and program associate at The Climate Museum in New York City, where she coordinates new aspects of the Museum's online presence including the Online High School Internship Program and the Climate Ambassador Card. Maggie was a religion and environmental studies major and art history minor at Wesleyan and a member of our 2018-19 COE Think Tank.
Was there a particular class, professor, or experience that you feel changed the course of your direction at Wesleyan? How did the ENVS linked major connect with your primary major?
I was a religion major with the environmental studies linked major, and then I did an art history minor. My first semester on campus, I took Seeing a Bigger Picture: Integrating Environmental History and Visual Studies, with Professor Jennifer Tucker, and an introductory religion course, both of which I hadn't planned to take. I actually still have a bunch of books from Professor Tucker's class, on my shelf.
Certain classes really shifted my perspective, but it was mostly the way that classes were able to speak to one another that did that. The College of the Environment, in being a linked major, made you go into other classes with this interdisciplinary framing. As soon as I knew I wanted to write a thesis, I went into Environmental Studies classes, religion classes, and just classes in general with this mindset of, what are the connections between the different things I'm interested in, and how can I pull those into these classes or into a term paper? 
Another specific class I really loved was Professor Paul Erickson's The Economy of Nature and Nations. I purposefully wrote my term paper on something I didn't really know anything about—Iberian cartography. Everyone else in the class had super interesting projects as well. And when you get a good group for a seminar class, I feel like nothing can beat that.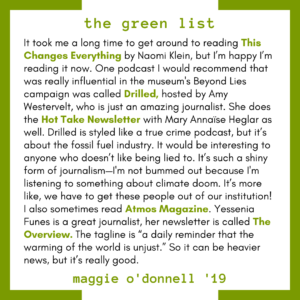 I absolutely agree! You mentioned that your approach to your classes changed when you decided you wanted to write a senior thesis. What was your thesis about?
I wrote my thesis on hospice chaplains and how they perform their work within a medical industry that, generally, places them on the periphery or discounts their labor within hospice settings. Hospice is a space that can sometimes turn the goals of medical care on its head. Things are very different from your average medical space. It ended up not being super environmental based, but I can tell the longer story of how it has come to matter to me. My advisor was Justine Quijada in the Religion Department, who at that time was also a fellow in the 2018-2019 COE Think Tank alongside me. That was really great, because I got to bring in chapters from my thesis and workshop them with professors and students and my thesis advisor all in the same room. 
I had the opportunity to conduct fieldwork research…a lot of interviews. I think working on an emotionally fraught subject was a learning experience for me. I mean, it's sad to think about hospice care for a year! But it ended up being really interesting because right when I was finishing my thesis, I had this interview for an internship with the Climate Museum, and these themes about hope and loss and care were resonant with how I felt about the climate crisis.
Can you speak more about that idea of emotional resilience and how it relates to your work at the Climate Museum and your approach to environmentalism more broadly?
Interviewing at the Climate Museum was an exciting marriage between my thesis and the museum's mission, which is all about bringing people together to experience the broad range of emotions on climate, and then channeling those emotions towards taking action through arts,science, and dialogue. These emotions and thoughts were starting to percolate as a result of my thesis, but were able to grow and take on a different direction through my work at the Climate Museum.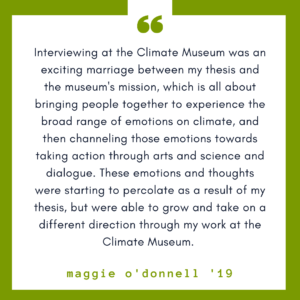 I have always felt like the best medicine for those types of distraught or hopeless feelings about the climate crisis is to channel them towards taking an action towards sustainability. For me, I felt like I was trying to have an impact on campus, and then being able to move from that into a job where I was able to do work that was opening up spaces for people to feel the broad range of emotions you can feel on climate issues. I feel like I was hitting the threshold of, OK, I'm trying to do a lot of individual behavior changes in my own life and motivate individual behavior changes in other people's lives, but now I'm thinking more collectively and systemically at the Climate Museum. Once you have spaces like museums, where people can ask their questions and express their emotions and feel like they can funnel that towards action, you're like, wow, I'm not alone. You're no longer an isolated island worrying about climate change. There are other people out there who are also worried, who maybe need a person who's going to, for example, call their Representative at the same time as you every week.  
You mentioned the 2018-19 COE Think Tank, which had the theme, Ecocentrism: Valuing the Other. Do you see any echoes between that theme and the values involved in your work with the Climate Museum, or between the cultures of the COE and the Climate Museum more generally?
There was a super diverse group of thinkers in the Think Tank. Professor Fred Cohan was in the Think Tank, alongside Professor Marcela Oteiza from the Theater Department and it was so cool to have them in conversation with another. It's a little bit intimidating to be sitting at a table with a bunch of professors, but it really helped build my confidence. 
One of the things that's nice about working at the Climate Museum is that it's similar to my experience at the COE with how flexible and adaptable we are as an institution. We don't operate on the type of curatorial calendars that large institutions do. Because of that, we can really respond to what people are thinking about at the moment. There's also the interdisciplinary component, not as a box that you check off, but as the point from which you start your work. It's thinking from the outset about bridging the arts and the sciences and bringing people together in conversation over questions that maybe they have very different perspectives on, but can build off one another. That happens a lot at the Climate Museum. We bring in people for Ask a Scientist days, but we also do a lot of arts installations. At Wesleyan, so many of the COE courses I took were interdisciplinary, both in terms of the material that was being taught but also the types of students who were in the classes. You could have these conversations with people who really spanned educational backgrounds and fruitful discussions came as a result of that huge breadth.
What is your day-to-day work like at the Climate Museum? How did you get involved there?
A lot of my work is on either side of our exhibitions or programming. I'll work on the research or public campaign pre-exhibition, and after the campaign is launched, I'll work on the public programming side. How do we bring people and groups in? How do we make what we've created more accessible? The Yale Program for Climate Communication conducts this study, and I think the most recent number was that 66% of Americans are worried about climate change—so a majority, which is already surprising to most people—but only 6% talk about it often. That leaves 60% of people who are worried but not talking about the climate crisis. That's our target audience. How can we invite them into conversation? Because once you're talking about it, then you're almost ready to take action.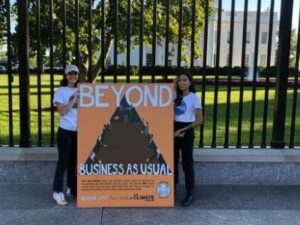 I was very lucky to intern there right after graduating. I rejoined the museum to work at their new exhibition that was going to launch in 2020, but of course that didn't happen, and so my job shifted a lot. I was able to work on online programming through most of the pandemic. And now I work on in-person and hybrid programs in addition to online ones. Currently, I'm working with many college students on the Climate Museum's Beyond Lies campaign. Just yesterday we were in DC with  three big posters outside the White House, getting people to sign postcards to Biden and Schumer on fossil fuel disinformation and the need to deny fossil fuel companies a seat at the climate policy drafting table. If you scan the QR code on the posters, you get resources for calling your representative and talking to them about the widespread issue of fossil fuel companies having influence on our climate policy. One of the big things we're trying to do at colleges is have people bring the posters to campus and hang them up. We have a student at the University of Tampa who's going around with her environmental club and hanging up these posters all over, using them as conversation starters. It's been an exciting campaign.
What advice or thoughts would you give current Wes students considering the environmental studies linked major or minor?
It was exciting to take advantage of those community opportunities that the COE offers. I know my COE cohort was really working on building out that community, because everyone does have their foot in another department which is sort of unusual. It can be a little bit harder to build the cohort community, but it's exciting once you get out into the world to know that there's these other interesting, smart COE alumni doing cool work and feeling connected to that network, feeling like it carries on, is important, especially as you're trying to figure out what the climate sector or the environmental sector look like. It was helpful to me to see what other people were doing—I loved the Senior Colloquium [ENVS391/392]!
When I was first applying to the Climate Museum, I remember feeling like, oh no, I'm not qualified enough for this! But that's the whole beauty of a liberal arts degree: Jobs are attracted to applicants from liberal arts colleges because of the specific mindsets, skills, and experiences you bring.