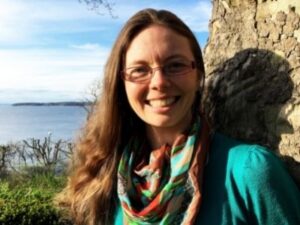 Rachel Lindsay '05 is an ecological designer, artist, and local food advocate. She is a worker-owner at Regenerative Design Group, a small firm based in Western Massachusetts. Rachel holds an MS in ecological design from The Conway School and a BA in anthropology from Wesleyan. As a Wes student, she was one of the founders of Long Lane Farm!
You received your BA in anthropology from Wesleyan in 2005. How did you become  connected to environmental efforts at Wesleyan?
Even though I majored in anthropology, I had a half a foot in Environmental Studies and another in the Art Department while I was a student. I took Introduction to Environmental Studies with Suzanne O'Connell, talked my way into an upper level Ecology class with Michael Singer even though I didn't have the prerequisites, and participated in lots of environmental extracurricular groups. I've always been a generalist — I value approaching problems from multiple angles and am happiest in a highly interdisciplinary educational and professional setting.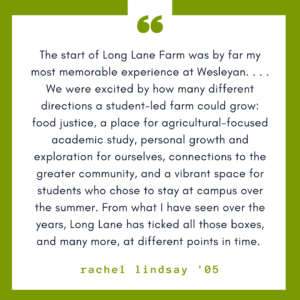 As one of the founding members of Long Lane Farm, what are your memories of that process?  What prompted students to organize a farm collective, and how has the farm evolved since you were a student?
The start of Long Lane Farm was by far my most memorable experience at Wesleyan. The idea grew out of a collective of students that were part of a small student garden on Washington Street. One of the members organized a student-led forum to discuss agriculture, food justice, and our relationship with the land. I believe that forum was listed in the English Department, and the focus was exploring the societal, cultural, and spiritual importance of gardening and growing food. During the class, conversations shifted to how much Wesleyan students would benefit from the opportunity to connect with a piece of land capable of producing a meaningful amount of food for themselves and the Middletown community. We were excited by how many different directions a student-led farm could grow: food justice, a place for agricultural-focused academic study, personal growth and exploration for ourselves, connections to the greater community, and a vibrant space for students who chose to stay at campus over the summer. From what I have seen over the years, Long Lane has ticked all those boxes and many more, at different points in time.

Was there a particular class, professor, or experience that you feel made an impact on or changed the course of your direction at Wes?
My junior year I took a cross-listed American Studies and Anthropology class that was co-taught by Colleen Boyd and David Shorter, both Mellon postdoctoral fellows at the time, that was transformational. It was one of the only opportunities at Wesleyan at the time to study Native American history and world-view, and I deeply connected with the perspective they brought to how culture is inseparable from the environment that both sustains and is impacted by the people who make up that culture. In my professional work I draw constantly on the concept of this dual relationship.

Did you complete a senior thesis or capstone experience?
I completed an interdisciplinary thesis in the Anthropology and Art departments. I wrote an ethnography of the Ferry Street Garden, a community garden in the North End of Middletown that was founded and run by the North End Action Team, and created an art exhibit based on my fieldwork experience there.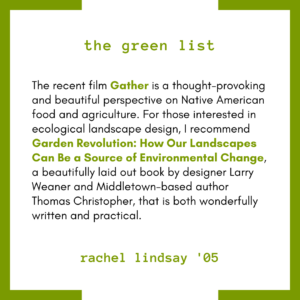 Did the environmental courses you took at Wes impact your post-graduation experiences and goals? Do you feel that there was a natural progression from your course of study to your current  job?
Not a straight progression! The environmental courses I took helped me to know I wanted to work in applied environmental or agricultural science and not in an academic or research setting. After working to grow the first two seasons of Long Lane Farm, I decided to pursue agriculture and worked first at several organic CSA farms in Western Massachusetts, and then received a Fulbright grant to help improve sustainable agriculture resources in Nicaragua. That grew into several years of work with Fair Trade Cooperatives, before I returned to the US and got a Masters of Science in Ecological Design from the Conway School in Massachusetts. As a cooperative business owner at Regenerative Design Group, an ecological landscape design and planning firm, I've finally found my happy place at the intersection of agriculture, environmental science, and culture.

Tell us about your current work in ecological design as an worker-owner at Regenerative Design Group in Greenfield, Massachusetts. How do ideas about equitable land ownership and food security factor into your process?
My current work is constantly changing and shifting. Our projects might last as short as one half-day consultation, or as long as a decade of ongoing partnership with a homeowner or institution. We have worked with private landowners, educational institutions, and nonprofits to design wide ranges of ecological landscapes, including estate farms, homesteads, urban farms, and wetland restorations.  As worker-owners of our company, we all have a strong commitment to equitable land ownership and food security, but the pathways for how to incorporate that into our work while running a profitable business and providing quality jobs for ourselves isn't always straightforward. We have sliding scale rates for non-profit and social justice oriented projects, and prioritize projects that contribute to food security. We have a long-standing relationship with the Urban Farm Institute in Boston, and have supported them in their great work on several inner city projects.

What advice or thoughts would you give current Wes students considering the environmental studies major or minor? 
Go for it. We cannot divorce ourselves from our environment, and we can only benefit from understanding it better. The world ahead is not limited by our BA degrees,  and no matter which profession you end up pursuing, your contribution to your field will likely be enhanced by a greater environmental understanding.