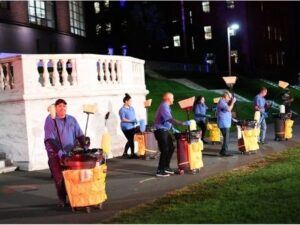 On October 14 & 15, 2021, Forklift Danceworks presented WesWorks, a performance celebrating the skilled movement and telling the often unheard stories of the people whose work sustains the daily lives of the Wesleyan campus.
WesWorks (2021) featured the movement and stories of Wesleyan U employees as directed by Forklift Danceworks of Austin, Texas, led by Artistic Director Allison Orr, Distinguished Fellow in the College of the Environment and Visiting Assistant Professor of Environmental Studies, with Forklift choreographer and programs manager Gretchen LaMotte '18.
Forklift Danceworks productions are built on a core belief that all people are inherently creative. Through their performances, Forklift Danceworks seeks to create opportunities for more informed civic dialogue, deeper understanding of the jobs essential to urban life, and greater connection between citizens and across communities.
Building on seven years of Forklift Danceworks engagement with Wesleyan, WesWorks was developed through a series of residencies and intensive course collaborations over the past year and a half. The multi-site outdoor performance invited the audience to witness the virtuosic and skilled work of Facilities staff as performed by the workers themselves, and to celebrate their indispensable place at Wesleyan.