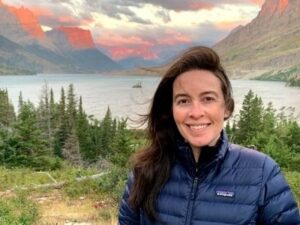 The COE shares faculty from across departments and programs at Wesleyan, including government, history, art, dance, computer science, English, philosophy, environmental science, biology, African American studies, physics, classical studies, chemistry, Science in Society, theater, religion, economics, archaeology, and more. 
Jennifer Raynor is assistant professor of economics at Wesleyan. Her research focuses on natural resource management, with an emphasis on measuring the unintended consequences of rules and regulations.  In fall 2021, she is teaching ECON210/Climate Change Econ and Policy. She joined the faculty of the COE in spring 2021. 
You are an assistant professor of economics here at Wesleyan. How did you get interested in that field of study?
I majored in economics as an undergrad. I took principles of microeconomics as a requirement for another major. It blew me away! I learned about externalities, or the costs we impose on third parties that are not captured in the price we pay for goods. When we don't have to pay for these costs, we naturally decide to consume too much. This describes how–and, more importantly, why–environmental degradation occurs. It also helps us understand how to create the right incentives that encourage people to make more sustainable decisions.
What's your research area of focus within economics?
My research focuses on natural resource management, with an emphasis on questions like: What the are the economic benefits of healthy ecosystems? How do natural resource users respond to environmental policies? How might these behaviors undermine conservation objectives?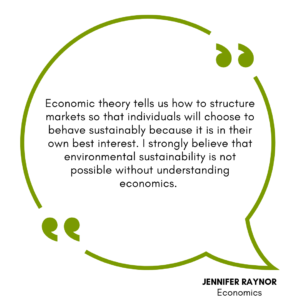 How does environmental studies intersect with economics, in your experience?
The presence of externalities in markets is the reason why the environment is being degraded. Economic theory tells us how to structure markets so that  individuals will choose to behave sustainably because it is in their own best interest. I strongly believe that environmental sustainability is not possible without understanding economics.
Tell us about the course you're teaching this semester, ECON 210/Climate Change Economics and Policy!
ECON 210/Climate Change Economics and Policy explores the economic causes and consequences of the "mother of all externalities": climate change. We will analyze how: 1) misguided market forces lead to too many greenhouse gas emissions, which is driving climate change and 2) how governments can better structure markets to provide a solution. We also examine the pros and cons of different policies and their effects on the economy.
The COE includes faculty from across Wesleyan. Why did you want to join the COE faculty?
Basically the same reasons I wanted to join the Think Tank! It will allow me to engage with scholars and students in related fields that otherwise would be outside my network. Since my research is fundamentally interdisciplinary, these interactions will help me build better models and possibly meet new coauthors. It will also open opportunities for others to incorporate economics principles into their analyses.
To my knowledge, I am the only economist in COE. My involvement will help to expose ECON students who are passionate about the environment to the ENVS major. I'm also excited for the opportunity to show students that economics isn't just the source of many environmental problems–it is also the solution!
Learn more about our current and past Think Tank themes and fellows!