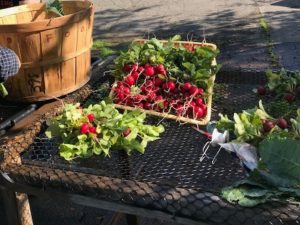 Just coming up on the solstice, the official start of the season, and summer is already well underway at Wesleyan's Long Lane Farm. After a busy springtime of sowing seeds and preparing plots, the first vegetables of the season are finally ready to harvest. And the first full harvest of the season means it's time for of one of my favorite tasks at Long Lane—bringing our delicious produce down to the North End Farmer's Market!
A typical market morning begins earlier than most of our other days here at the farm. We start harvesting around 6am so we can make sure all of our produce is harvested, washed, bundled, transported, and set up for display before the market starts at 10am. Breaking up into teams helps us accomplish everything as quickly as we can. While some farmers work to cut lettuce or pull turnips, others rinse greens and scrub roots at our wash station. Meanwhile, other farmers weigh and label all of our produce, and gather up all of the other necessary market supplies: table and chairs, folding tent, and the Long Lane banner with our signature purple eggplant on it.
After a fast-paced and full morning preparing for the market, we tote everything down to Main Street and set up our stand on the sidewalk outside of It's Only Natural Market. At our first stand of the season we had bright bundles of rainbow chard, crisp red radishes, and fresh kale. Pretty soon we'll have some of my absolute favorite summer crops— garlic scapes and golden cherry tomatoes!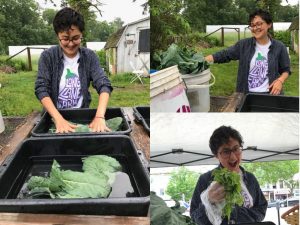 Long Lane is one of a few local farms who sell at the North End Farmer's Market, which gives us the opportunity to get to know other growers from the Middletown area. Market season also helps us build community with Middletown residents in the North End, as we get to know customers, vendors, and the folks at N.E.A.T. who run the market. The mission of the market aligns closely with our mission at Long Lane, as we both are committed to making fresh, local produce accessible and affordable. An important aspect of the market is the Double Dollars program that N.E.A.T. coordinates, which provides a dollar-for-dollar match to shoppers eligible for food benefits (WIC/SNAP/Senior Vouchers). Working a typical shift at the market connects student farmers to the friendly market community, while giving us a chance to listen to some live music, practice the marketing and customer service side of small farming, and (hopefully!) enjoy some sunshine.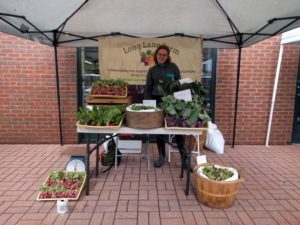 Look for Long Lane Farm in front of It's Only Natural, every Friday this summer, from 10 am to 4 pm. Or visit the Long Lane farm stand at 243 Long Lane every Tuesday this summer, from 2 to 6 pm!
Anna Marie Rosenlieb '20 is an anthropology major pursuing minors in religion and dance. Lizzie Edwards '21 is pursuing a double major in environmental studies and anthropology. Anna Marie and Lizzie's summer at Long Lane Farm is being funded in part by the College of the Environment's Summer Research Fellowships Program. Photos by Lizzie Edwards.