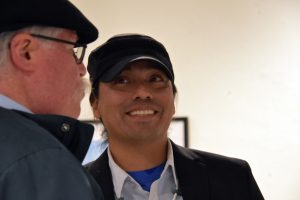 On February 22, the COE hosted a screening of the 2016 documentary short film Shash Jaa': Bears Ears, followed by a Q&A with Navajo-Hopi filmmaker/director Angelo Baca. A post-showing reception featured a photo exhibit of the Bears Ears region by Fiona McLeod '19.  Shash Jaa' details the efforts of the Bears Ears Inter-Tribal Coalition against the reduction of Utah's Bears Ears National Monument by 85 percent after President Trump's 2017 executive order. It is a continuation of the film Into America: The Ancestors' Land, directed by Baca & Nadine Zacharias, which examined natural resource extraction in southeastern Utah.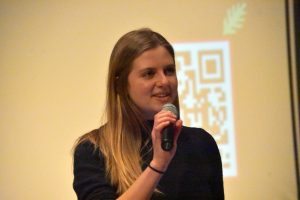 According to Baca, the goal of Shash Jaa' is to introduce the audience to the cultural importance the landscape holds to the Indigenous people of that region–offering viewers the often minimized, and sometimes ignored, Indigenous viewpoint on the preservation and management of their culturally significant lands.
"Conservation efforts in this country have always left Indigenous peoples in the dust … they haven't seen them as equals in terms of traditional knowledge about land management," said Baca. "Conservation in the popular sense today has been to section places off, with no interruption from man. However, the opposite it actually true … Indigenous people have always been in contact with [their land] and management."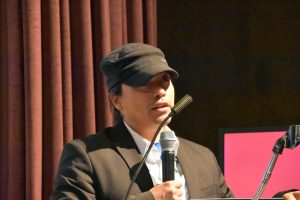 During the post-screening Q&A with the audience, Baca touched on some of the work necessary on both the local and national level to reduce discrimination and further sustainable land management practices, cautioning that the outcome at Bears Ears would set the tone for future endeavors in conservation and protecting Indigenous rights. 
"There is a lot of opposition to alternative futures that are made possible through these types of initiatives: land preservation, education of Indigenous knowledge and methodology that can radically change land management, conservation, the way we think about our relationship with the world. A lot of folks aren't ready for that."
Acknowledging the success of conservation laws, national monuments, and public land designations, Baca reminded the audience that "in the end, it's still our land. It's still Indigenous land. And we're still there; we've survived many an apocalypse, and we're still there. And we're not going anywhere … in the end, it's still my home. And I'm not going anywhere."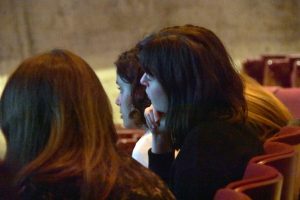 Baca's future plans include several more short films, with the next focusing on "the challenges that we're facing now, with reduction, the administration, the lawsuits, the gerrymandering, the discrimination, the historical battles … all the stuff that existed before [Bears Ears] was at the forefront."
The event was followed by a reception in Zilkha Gallery, recognizing the filmmaker and the Bears Ears: A Photo Exhibition by Fiona McLeod '19. McLeod captured the beauty of the Bears Ears region during her field research for her honors thesis. Read more about the photo exhibit in the Wesleyan Argus: McLeod 19's Photo Exhibit Captures a Contentious National Monument.