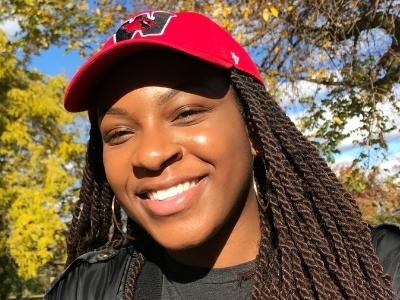 Brionna Colson-Fearon '22, is currently at Fordham University pursuing her PhD under the mentorship of Dr. H. Shellae Versey. Their co-authored paper, Urban Agriculture as a Means to Food Sovereignty? A Case Study of Baltimore City Residents, explores the role of alternative food networks and urban agriculture in food sovereignty and security, and highlights the community benefits of urban agriculture within marginalized communities. A psychology and biology major while at Wesleyan, Brionna was awarded a COE Summer Research Fellowship in 2021, which allowed her to explore urban farming in Baltimore. An experience that became the basis for the co-authored paper.
I would love to learn a bit about you! What is your background, and what was your time at Wesleyan like?
I grew up in the DC area. I'm from Maryland. I ended up at Wesleyan through the QuestBridge program. It's a program that helps low income students go to college with a scholarship, and it was an amazing opportunity for me. At Wesleyan I was a psychology and biology major and an African American studies minor. This project combines all of those different aspects of my interests together into one, which is exciting. 
I met my current mentor, Dr. H. Shellae Versey, when we were both at Wesleyan. Working with her really showed me that I can do research on whatever ideas interest me. She is into qualitative research, which I hadn't done before this experience. I love qualitative research, I love interviewing. She ended up switching universities, and is now at Fordham. I applied to Fordham to work under her because I didn't want to stop researching with her and I'm working with her now for my PhD.
What has your experience been at Fordham so far?
It's been a really great experience so far! I feel very lucky because going into PhD programs, your mentor is extremely important, and I love my mentor. She's amazing. In general, I think that everyone in the department is supportive and understanding. They have high expectations, but still want you to succeed. They let you prioritize your research.
How did you know that you wanted to go the PhD route? Did you know when you were an undergraduate or did it organically happen as you got more involved in your research?
Since I was younger, I always knew that I wanted to go as far as I could when it came to education. In undergrad I knew that I wanted to get some kind of advanced degree, especially because I wanted to major in psychology. While I was at Wesleyan, I was in the McNair Program–which is a program for students who want to pursue PhDs. You apply when you're a sophomore and then throughout your time at Wesleyan, and through the program you do preparation for applying to PhDs. That really contributed to me applying, my mentors, the program, and being in a community with other people who wanted to pursue a PhD as well. 
What is the main takeaway you hope people gain from your research?
Community supported agriculture is a very important way to improve food access to people in urban areas. There are a lot of gaps that are left grocery stores not being in areas, or stores that lack healthy food. Also, that problem is the result of intentional decisions that are made by higher ups in organizations that are depriving communities of fresh, healthy foods.  I think the main takeaway is the importance of community building with urban farms, and the importance of teaching children how to farm for themselves and to be self-sustainable.
What has your process been working with members of the community? How have you connected with people?
I started with a lot of cold emailing people who knew about the Baltimore food environment. They would connect me with others, various people called food equity advisors. They volunteer for the government, and inform them about what the food environment is looking like in a specific area. When it came to urban farmers, I would look up Baltimore urban farms and then find the directors or people who were farming, and they would connect me with more people. Working with them was amazing because during the interview process, they impart so much knowledge onto you. I also got to visit one of the farms with one of the directors. It was great to see in person how the community comes together!
What are some of the key ways that the COVID-19 pandemic has influenced food sovereignty that you've seen? What lessons can we learn from the pandemic moving forward? 
During COVID, there were some people who couldn't leave their homes, and so people came and would gift them food boxes of fruits and vegetables and deliver them to their door. That was really helpful because it was free food that they were giving out to people who couldn't leave their homes, which is amazing. The farms never stopped production and they always kept providing, even with the pandemic. They just did the work outside with masks and provided for the community. That was incredible to see. Even when people couldn't leave their houses, couldn't go to a grocery store, they were still getting this fresh, healthy food that they needed in order to survive. 
How do you think we could increase the number of community owned and locally run food networks?
In Baltimore there is abandoned space that no one is really using. I think it would be beneficial to use that space instead of just leaving it completely empty, giving the land to someone who wants to tend it, who wants to take care of it. I think these abandoned areas are mainly in communities that are food deserts.  Using this land could involve governments getting involved too. If it's public land, give it to someone so that it could become a publicly run farm.
What do you hope the future of urban agriculture will look like?
I just hope that it becomes more widespread. Hopefully the farms will become bigger and there will be more involvement so that they can service more people. Having these farms is a way to get fresher food than you can get in a supermarket. If you just could just go to your local farm and to grab produce, instead of having to go to the store where it's hard to travel this long distance to get to you, it would help with climate change and increase environmental sustainability.
Were there any challenges you came across during your research process? 
When working on this paper and the research, finding people to talk to was a challenge that we had to overcome. It was hard to find people who actually wanted to talk, who wanted to participate in research because there's a distrust of researchers coming into communities, which I understand. Building trust within these communities was a challenge that we had to overcome. I think it is helpful looking like them and being from a similar background, it makes it easier to gain their trust. It definitely was a challenge that we had to overcome. I tried to make it feel less like an interview so much, and focus on having a conversation. 
When you were talking to people, were there any specific stories that stood out to you?
I remember I was talking to this one farmer, his name was Farmer Chippy. With Farmer Chippy the interviews were supposed to be an hour long, but he talked to me for two hours. I loved talking to him because he was imparting to me with his wisdom about how to succeed in life and talking about his background, he grew up in Jamaica. He got his farming background there and now he's farming in Baltimore. He talked about the ways in which he pushes his children to pursue careers in agriculture or biology. He was great to talk to because he had all this knowledge that he wanted to share. I took a lot of what he said with me, when it comes to progressing in life and succeeding in life.
Do you think there's a way that learning about urban farming could be implemented into school curriculums that could make an impact? 
It definitely could. There are some schools that have school gardens. I think taking time to have students go outside and tend to the garden is a great way for them to learn about urban farming. They could also use that garden to create meals like in the cafeteria that they can eat for lunch. 
In one interview, this woman talked about how she goes into schools and she teaches children how to prepare different fruits and vegetables so that they can go home and show their parents. It influences their parents' eating as well, and eventually the whole family starts eating healthy food that has better nutrition. It's amazing teaching young people, because young people have such a big influence on older generations as well.
What have been the highlights of the process?
I've been working on food related work for the past three years, and it's been a long process, especially interviewing and finding people. Finally seeing it really come together this semester, when the paper was published, I saw all of this hard work has resulted in this paper that just feels like my baby in a way. Seeing people's interest in it is amazing, it makes me feel so fulfilled.  My mentor and I gave a speech about it at this ceremony a couple weeks ago at Fordham, and people had so many questions about the paper and were so interested in it. Seeing that has all been extremely fulfilling.
Is there anything that you're most proud of in your research? 
I love that the research that I do is very community oriented. I feel like it has a real impact on people's lives. Everything that I do, I want it to be social-justice oriented. There is this term that I learned about from my mentor, it's called a researcher activist. That's what I'd want to be. I want to do work that continues to impact deprived communities and shed light on their experiences.