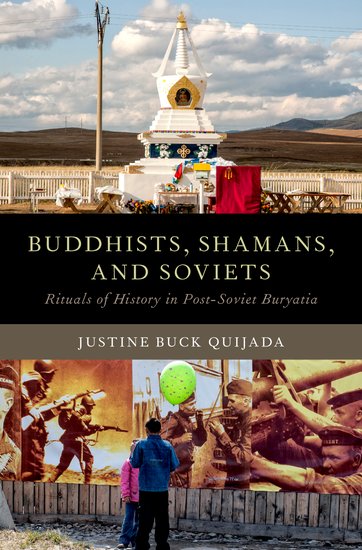 Congrats to Assistant Professor of Religion and COE fellow Justine Quijada, whose new book, Buddhists, Shamans, and Soviets: Rituals of History in Post-Soviet Buryatia, will be published in March by Oxford University Press.
In an early review, Laurel Kendall, chair, division of anthropology at the American Museum of Natural History says, "In Justine Buck Quijada's thoroughly engaging ethnography of contemporary Buryatia, a miraculously preserved Buddhist corpse counters the artificiality of Lenin's 'scientifically preserved' remains and the body of a Russian Orthodox saint visits the local Cathedral where celebratory bells drown out the drum beats inaugurating a new urban center for shaman practice. Simultaneously inhabiting the chronotypes of multiple historic pasts-indigenous, Buddhist, Russian Orthodox, Soviet-the rituals and celebrations of Quijada's subjects blur and blend and defy any attempt to effectively categorize them by religion, ethnicity, or nationality politics. The result is a provocative read for anyone interested in these subjects." –Laurel Kendall, Chair, Division of Anthropology, American Museum of Natural History
Click here to read more about Justine's work and to watch her presentation, "Is Animism Good to Think With?" from this year's Where on Earth Are We Going seminar.