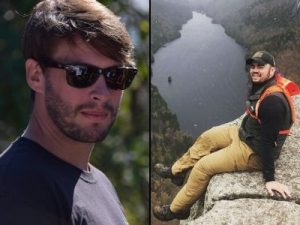 The Posse Veteran Scholars Program identifies talented veterans interested in pursuing bachelor's degrees, and places them at top tier colleges and universities, where they receive four-year full scholarships. Each year, Wesleyan accepts a "posse" of 10 veterans. Today, on Veterans Day, we honor all U.S. military veterans by shining the spotlight on two of our own: Gabe Snashall '21 and Michael Freiburger '21.
You're both Posse Veterans here at Wes, class of 2021. Why did you join the military and what was your role?
Michael Freiburger (MF): I joined the Army right out of high school. I didn't know what I wanted to do in life, and college wasn't an option, but I knew that I needed to get out of my hometown. I spent the majority of my service at Fort Bragg North Carolina (5 years), and two years station in Germany. I deployed to Afghanistan twice and worked as an Explosive Ordnance Disposal Technician – Bomb Squad.
Gabe Snashall (GS): I joined right after graduating from High School in Fresno, California in 2011. At the time, the unemployment rate in my hometown was +18% and rising, so everybody I knew was leaving to either go to college, the peace corps, or the military. For me, the better option seemed to be a military program that offered college credit, a year or two of formal military training, and, of course, a decent amount of travel experience. Broadly speaking, I chose the military option for the opportunity to focus on and explore what I wanted to do in life, what I wanted to study, and where I wanted to go to school. I found that opportunity with the Naval Submarine Service and left my hometown a short two weeks after signing paperwork. That decision took me to Chicago for bootcamp and Connecticut for Submarine School. I was then stationed on the USS Pittsburgh (recently decommissioned) from 2011-2016, and was deployed to the Middle East, the North Pole, the Indian Sea, the Arctic Sea, and the Caribbean. In fact, I think we sailed the globe over three times while I was on board. On land, we would port in Scotland, Spain, the UAE, and Norway. On 'The Pit', I officially served as an Electronics Technician (ET)—specializing in satellite telecommunications, cryptographic operations, and radar and periscope maintenance. Unofficially, my peers knew me as "Snooki," a nickname that was a reference to, and mostly making fun of, the loud and annoying way I would persuade submarine officers to accept my work requests or proposals. I won't go into detail here, but the highly chaotic working world on a submarine brings out the most competitive side of all who work on board—so it's an anything goes world, really.
How did you find out about the Posse Veterans program?
MF: I found out about the Posse Veterans program while I was processing out of the military. I was pretty fortunate that Posse representatives were at Fort Bragg the same week I was in mandatory exit briefs. I was lucky enough to meet with the program that week and began the process that brought me here to Wesleyan.