Introduction to Environmental Studies/ENVS197 examines the technical and social causes of environmental degradation at local and global scales, along with the potential for developing policies and philosophies that are the basis of a sustainable society. This semester Dr. Helen Poulos, adjunct assistant professor of environmental studies, is teaching the course. Poulos is a plant ecologist who examines the influences of natural and anthropogenic disturbances on local-, landscape-, and regional-scale plant distribution patterns. She recently received a $300K research grant from NASA.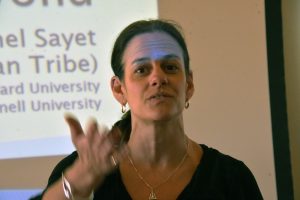 What are the class components of ENVS197 and how do those components tie-in with the COE's focus on interdisciplinary study?
Helen Poulos (HP): The course is an intro/survey course, so we cover topics spanning the sciences, humanities, and social sciences. The idea is to cover the breadth of the field of study. The final project, however, is designed as a way for students to dive deeper into one environmental issue that really interests them. The final project options this semester include working with Wesleyan Physical Plant and Forklift Danceworks, making an artist book, or writing a Green Fund proposal. All three options are designed to provide students with unique opportunities to engage with environmental issues through a particular lens. For the Physical Plant project, students shadow Physical Pant workers for three hours each week and have biweekly group meetings with my course assistant, Tamara Rivera '21 and Gretechen LaMotte '18 of Forklift Danceworks (via Skype). For the artist book project, students workshop their projects with Suzy Taraba from Special Collections and participate in two bookbinding and printmaking workshops with Alexander Osborne, visiting assistant professor of art. I also lead two workshops on grant writing for students who select the Green Fund proposal option.