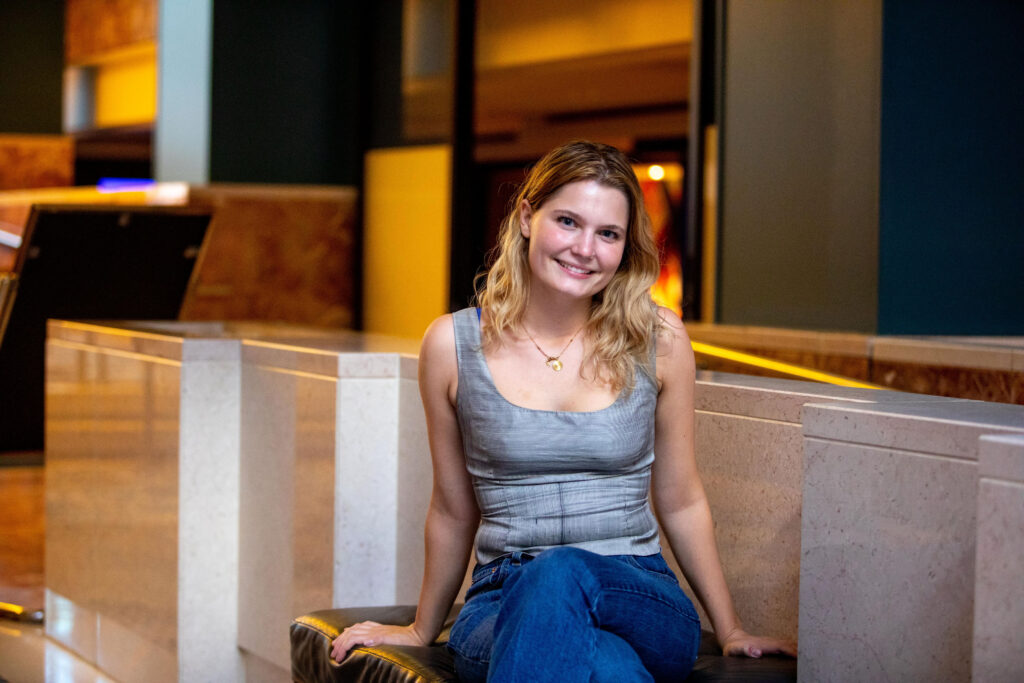 Annika Shiffer-Delegard '23 is a senior English and environmental studies double major. Her thesis project explores the fascinating topic of herbal abortifacients through historical and media studies lenses. The research is a thesis in environmental studies that Annika hopes will shed light on the intersection between the environmental justice and reproductive justice movements. To support Annika's research, the College of the Environment provided funding for Annika to travel to the UK to conduct archival research at Oxford University and the Royal Academy of Physicians.
The inspiration for Annika's senior thesis dates back to the spring of her freshman year when, in Professor Laura Ann Twagira's Revolutionary Women class, Annika came across the concept of herbal abortifacients: using plants to cause abortion, a practice used by indigenous women in Suriname to induce abortion so that their children wouldn't be born into slavery. "Ever since, I just had a little twinge in the back of my brain, thinking I need to study this. It really felt like the most interesting thing ever to me," says Annika.
Annika's fascination with the subject matter reflects her interest in plants as well as her abortion advocacy work. On campus and beyond, Annika had extensive experience working in abortion advocacy and founded Wesleyan's Reproductive Advocacy and Legislation, an organization with a focus on abortion legislative advocacy.
Annika's interest in herbal abortifacients and idea of self-managed abortion prompted her to reach out to Professor Twagira, who accepted her proposal and became her thesis advisor. From the get-go, Professor Twajira emphasized the importance of working with primary sources early on in the thesis process. However, Annika quickly discovered that primary sources on her topic are extremely limited in the US. Luckily, a family friend who is a botanist asked Annika if she knew about a plant species called Aristolochia Comitatus, commonly known as birthwort, that was used as an abortifacient by Catholic nuns in 16-century Oxford. Annika followed up on the tip and discovered an incredible depository of sources in the Wellcome Collection and the library at Royal College of Physicians in London. This exciting development started the idea of a thesis research trip to the UK during winter break of her senior year.
When Annika brought the idea of the trip to Barry Chernoff, director of the Bailey COE and chair of Environmental Studies, he asked Annika to submit a proposal for her project and agreed to sponsor her trip.
In London, Annika focused on studying medical recipe books and the herbarium, some of which date back to the 15th century. The research provided Annika with a more detailed understanding of the development of self-managed abortion using herbs and subsequently helped her to refine her thesis to focus on charting the history of herbal abortifacients from the 1600s to contemporary times through the lens of media.
"These case studies provide evidence for the past and current use of abortifacient plants, as well as the importance of their use. Further, these cases demonstrate one of the many intersections between the environmental justice movement and the reproductive justice movement. The intended impact of this thesis is to restore collective respect for abortifacient plants, so that further research may be performed on their use in the future," says Annika in her thesis abstract.
When asked about the potential for continuing her research post Wes, Annika expressed interest in continuing studying herbal abortifacients in a different cultural context. In particular, because she grew up in Minnesota around indigenous communities, Annika is interested in learning more about the history of herbal abortion and herbal medicine in an indigenous context.