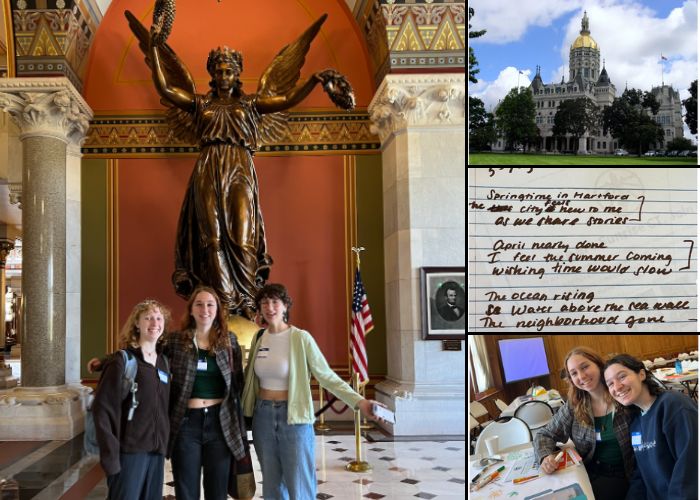 Last April, I had the opportunity to attend Youth Advocacy Day at the Connecticut Capitol Building in Hartford. This event was hosted by several Connecticut environmental organizations including the Sierra Club, the Connecticut League of Conservation Voters, and Sunrise Connecticut. I attended the event with Sunrise Movement Wesleyan, a student organization committed to environmental advocacy through engagement with politics. The purpose of the day was to facilitate discussion between young people invested in environmental issues and Connecticut legislators. The day saw a large turnout of students, specifically high schoolers, invested in environmental progress.
During the event, these students had the chance to share their hopes for future environmental initiatives, primarily in the Hartford area. An issue that many of the students shared concerns about was the need for an efficient, reliable, and environmentally friendly public transportation network. One student shared that his 20-minute commute to school would sometimes take more than an hour, due to an unreliable bus system. Some areas of Hartford remain unwalkable; with underdeveloped sidewalks and few bike paths. As a result, more people utilize cars, leading to poorer air quality. Asthma was another issue that was mentioned by the students, as poor air quality leads to higher rates of asthma and other respiratory issues. The state of Connecticut currently had an asthma rate of 10.6 in 2020, placing it among the worst 10 to 12 states in asthma cases. The five largest cities in Connecticut—Bridgeport, Hartford, New Haven, Stamford, and Waterbury—make up 40 percent of asthma cases, while only accounting for 18 percent of the population. In addition, student advocates also spoke to legislators about the incorporation of more green spaces into Hartford, for the community to enjoy.
Representatives from the Connecticut League of Conservation Voters also spoke at the event, sharing how the process of passing bills in Connecticut operates. Bills can be proposed both by legislators and constituents, and move through a system of checks and balances. They are sent to a committee that drafts the bills and holds public hearings for citizens, state agency representatives, and legislators. They are analyzed for financial impacts and constitutionality before moving to the floor, where they will be voted on by the two houses of the Connecticut legislature. They are then sent to the governor, who can veto the bill, take no action, or sign the bill into law.
One of the bills discussed during the event was CT's Environmental Justice Bill, SB 1147, which protects families living in Environmental Justice communities from more pollution. The bill allows for Connecticut's Department of Energy and Environmental Protection (DEEP) to review potentially polluting facilities to analyze if they pose public health risks. The bill will also ensure that EJ communities are given time before the permit is approved to speak to legislators and potentially develop a political response to the project.
In Connecticut, Environmental Justice Communities can be understood as distressed municipalities as designated by the Connecticut Department of Economic and Community Development, or census block groups where 30 percent of the population lives below 200 percent of the federal poverty level. These communities often lack the resources and political connections to prevent the development of polluting facilities, and therefore face disproportionately high rates of pollution and environmental degradation.
Since the event, the Environmental Justice Bill was passed. The passage of this bill indicates that Connecticut legislators may be more likely to engage with environmental policy, even in cases which previously may have been seen as extreme.
The day also incorporated a moving poetry reading by Alycia D. Jenkins, an environmental advocate and author. We were encouraged to compose our own poetry, inspired by why we appreciated the environment, ecological problems in our mind, or about the conference itself.
At the end of the event, there was a legislative panel for discussion and questions hosted by Representative Michel (Democrat from Fairfield County), Representative Palm (Democrat from Middlesex), and Representative Mushinsky (Democrat from Wallingford and Wesleyan alumni). During this Q&A they emphasized the importance of civic participation in the legislative process. They also shared that although young people and students, specifically high schoolers, are typically less engaged in politics, their voices tend to be much more salient. When young people show a vested interest in a political issue, legislators take notice. The day left us feeling optimistic that many members of the Connecticut congress are interested in implementing new environmental policy and collaborating with constituents to promote a more sustainable state.
For students interested in learning more about environmental and political advocacy on campus be sure to follow @sunrisemvmtwesleyan on Instagram for more information.
More on asthma and air quality in Connecticut:
* How Have CT's Adult, Child Asthma Rates Changed?
* Air Quality Can Effect Health. Climate Change Is Worsening Both.