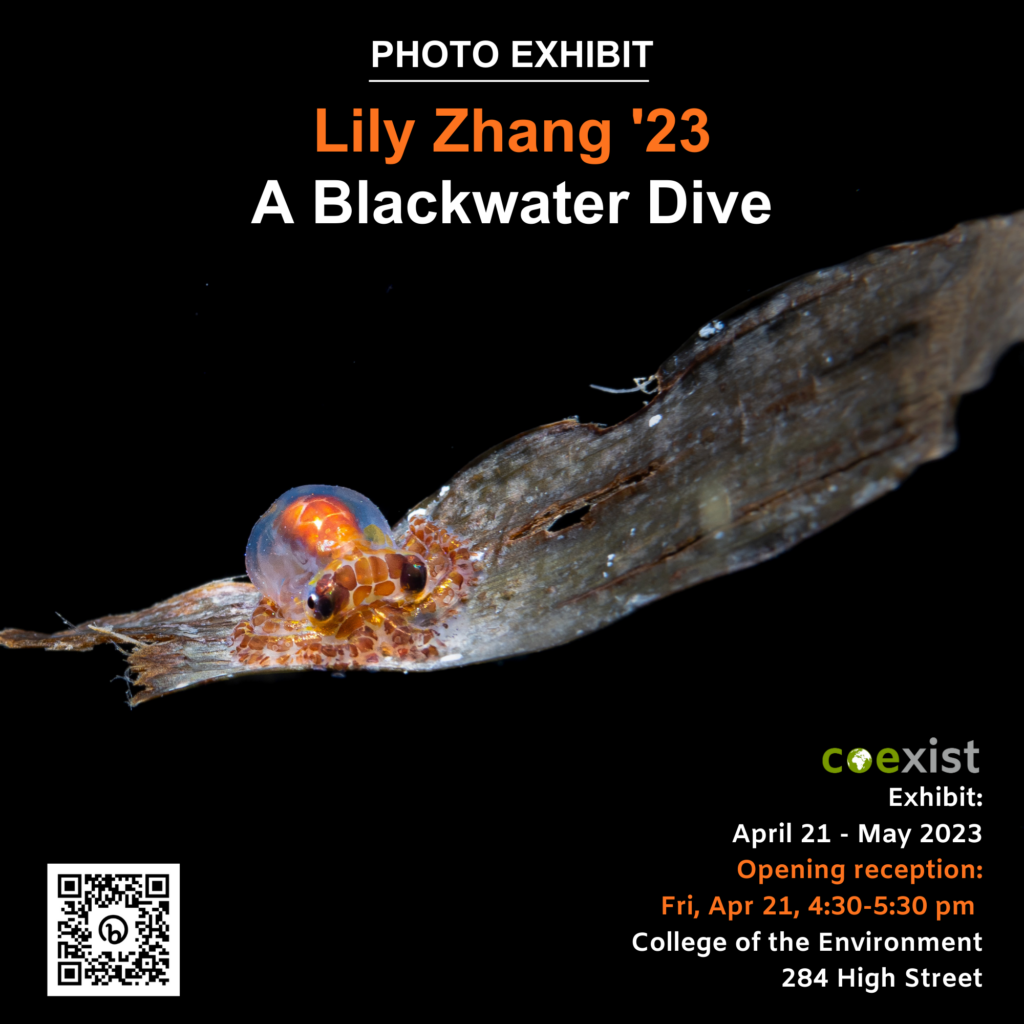 Music and environmental studies major Lily Zhang '23 is the winner of the 2023 Elizabeth Verveer Tishler Keyboard Competition here at Wesleyan. When she's not playing the piano, Lily enjoys scuba diving and freediving and is an enthusiastic amateur blackwater photographer. The opening reception for her COE photo exhibit, A Blackwater Dive, will take place at the College of the Environment, 284 High Street, on Friday, April 21, from 4:30 to 5:30 pm.
Lily Zhang '23 was born in Qingdao, Shandong Province, a coastal province on the east coast of China, which might explain the deep connection she feels to the ocean. "When my family moved to Beijing when I was in high school, I missed the ocean," says Lily, a music and environmental studies major who is currently applying to grad schools for marine biology. "So when I had the opportunity to learn how to scuba dive, I was so excited!"
Lily started scuba diving the summer she graduated high school. "During my first dive, in Thailand, I saw all the coral and the small fishes and fell in love with the experience of being underwater," says Lily. "It's so quiet; the only thing you hear is your own breathing."
A photographer since middle school, Lily combined her love of photography with her love of diving and, literally, took the plunge into blackwater diving photography.
Blackwater diving is a form of scuba diving that takes place at night, typically in the open ocean. Blackwater photographers must not only master the art of scuba diving, but also the art of this specialized type of photography, which requires an understanding of how to find and approach subjects, as well as the camera settings and equipment needed to focus on and capture those subjects.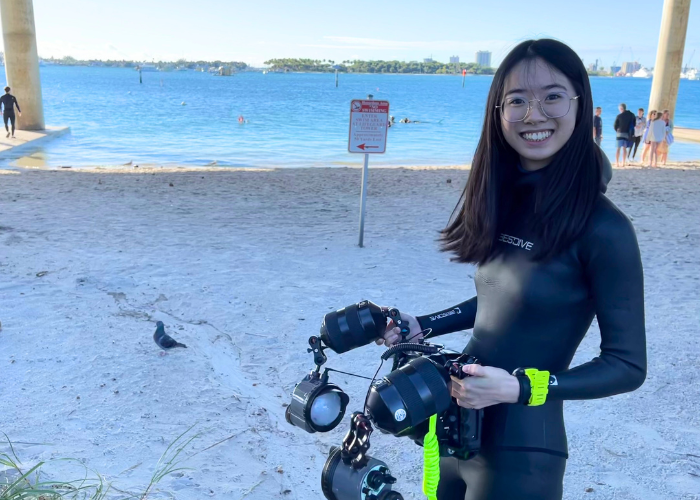 At the end of 2019, Lily traveled to Anilao, Philippines, to complete a blackwater photography workshop with blackwater photographer Fan Zhang and embark on her first blackwater dive. "It's so beautiful and quiet. You meet deep sea creatures that you would never see. It's actually very romantic," she says. Since that time, Lily has completed two more blackwater dive trips, to varying degrees of success.
"On my second dive, in Florida, I forgot the correct camera settings," she says. "But even though the photos didn't turn out, I met the photographers who wrote the guide to blackwater photography in Florida, who shared their experience with me. So it was a lesson learned."
In summer 2022, Lily traveled to Hawaii for her most recent blackwater photography opportunity. "It was a very touristy spot, and we were all tied to the boat," she says, "But I was able to take some beautiful photographs there."
On Friday, April 21, Lily's photo exhibit, A Blackwater Dive, will be the inaugural event in the COE's new ongoing series showcasing the talents of our coexist community. The exhibit will include 25 of Lily's photos, complete with species identification, dive location, and date. The opening reception will take place on Friday, April 21 from 4:30 to 5:30 pm at the COE, with a brief presentation by Lily and the opportunity to view Lily's photos and enjoy light refreshments. The exhibit will be on display through May.
Lily's senior piano recital will take place on Saturday, April 22 at 5 pm, at Crowell Concert Hall, where she'll perform several pieces, including an original composition inspired by her diving journey.