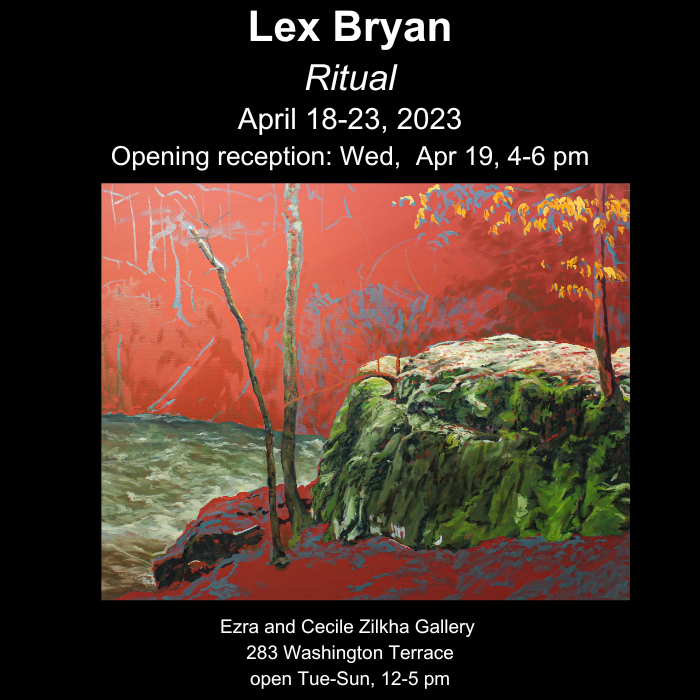 Ritual, a senior capstone exhibit by art studio and environmental studies major Lex Bryan '23 will take place from April 18-23 at the Zilkha Gallery here on campus. An opening reception will be held on Wednesday, April 19 from 4 to 6 pm.
What inspired you to do your project?
My thesis, in its current state, is actually the result of me coming to terms with the fact that I truly am a landscape painter at heart. Though the culture seems to be changing somewhat, landscape painters are often looked down upon by today's "high art world," and much of the landscape art that is being exhibited nowadays has strong activist or educational undertones. It took me a while to realize that I was allowed to make art about something I love, with no grand ulterior motive. I have always been struck by moments of peaceful beauty while walking in nature and have always gravitated towards the peace and beauty that the act of painting affords me. They are both rituals I love to engage in—hence the title of my show, Ritual—and I feel very grateful that I could spend this year exploring them.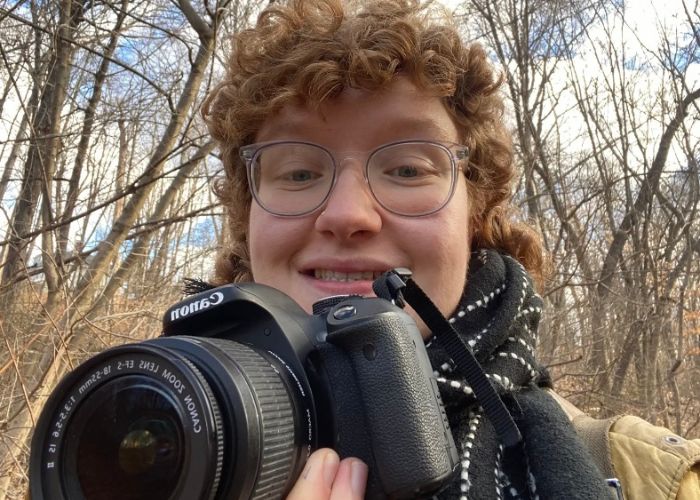 What has the process been like completing these projects and how did you go about doing it?
The process has been surprisingly fluid, and I have so appreciated that. Instead of sticking to my proposal, I spent my senior fall making a million experiments, which I then promptly scrapped when I came back from break! Initially, my landscapes were small tightly painted collages of leaves and dirt, but I realized after living with them for a while that they needed more life, more emotion. Overall, the development of my thesis required a lot of introspection, a lot going back to my original notes and goals, a lot of meetings with my advisor, and a lot of slow walks in the woods. I've ended up with something that feels so much more authentic to me, and I've learned a great deal about my artistic practice along the way.
What is one challenge you faced?
Technically speaking, working without a specific end-product in mind was new to me! In all my studio classes at Wes, and in my own time, the art I make is either working from life, or copying a photo. Instead of filling up the whole canvas, I learned the value of highlighting certain parts of the landscape, such that the painting reminds me of what first caught my eye when I was in that space. Making art about nature that elicits emotion has been one of my main goals from the start, and I think figuring out how to achieve that well will be a life-long process.
Anything else you would like to add?
For future thesis-ers: Have as much fun as you can with your project! Don't get stuck on creating something complicated and revolutionary if it doesn't excite you–use your senior year to dive deep into something you love.