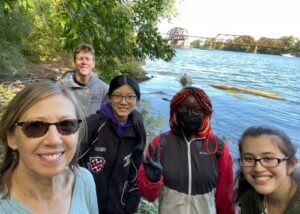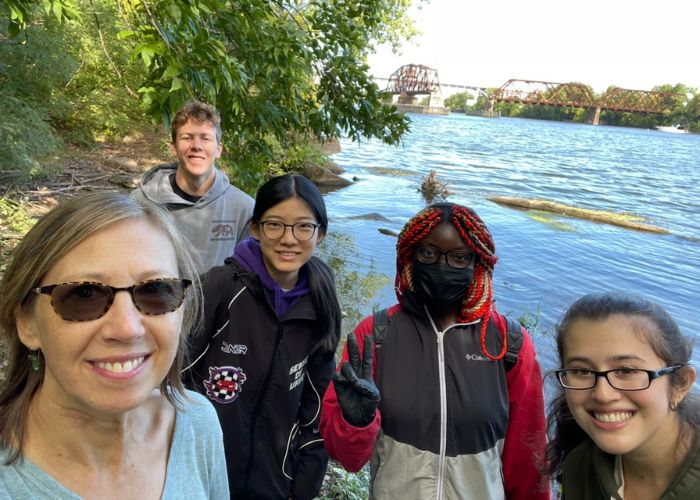 Students from Visiting Assistant Professor Kate Miller's Introduction to Environmental Studies/ENVS197 course participated in two local service events as part of the class this semester: the Source to Sea Clean-Up, organized by the CT River Conservancy, and the roll-out of a Food Waste Collection Pilot Project, sponsored by the City of Middletown's Department of Public Works and Recycling Program. 
At the Source to Sea Clean-Up, students met with Amy Vaillancourt from VHB, an environmental consulting firm with a long history of work in Middletown (including construction on the Wesleyan campus), and worked alongside volunteers from Wesleyan's Sustainability Office and Sunrise Movement, the CT River Coastal Conservation District, the Commission on Conservation and Agriculture, and Miller herself, to clean up trash along River Road, at Veteran's Memorial Park, and along the banks of the Connecticut River near downtown's Harbor Park.
"This event was a great experience and inspired me to do further community service. At first, I was unsure of how cleaning up an area flanked by two roads would be productive – it seemed like trash would always pile up there," said Dana Yesson '25. "Reflecting on it now, however, I realize that any amount of work is valuable and could possibly help mitigate trash from entering the river ecosystem."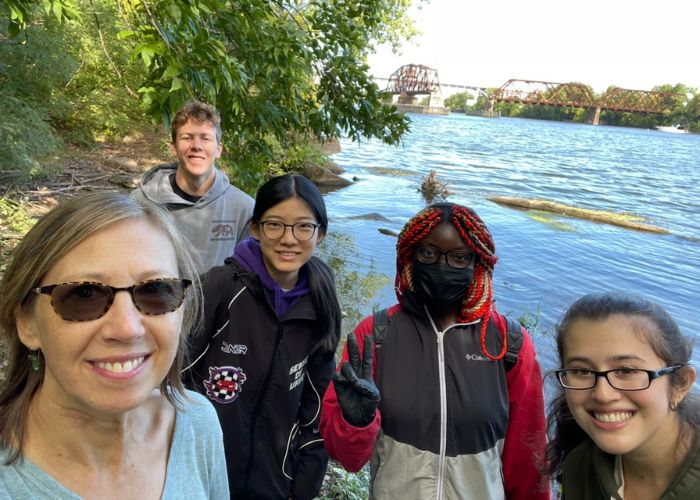 "Were it not for this event, I would never even have known that so many people were throwing full, sometimes unopened or half-finished products into the woods when they didn't want them anymore," said Anna Tjeltveit '23.  "I had assumed, on some level, that the simplest types of littering had mostly been eliminated and the largest problems came from difficult-to-avoid microplastics and industrial waste. However, over the course of the cleanup, I comprehended how many forests are still struggling under the weight of people's everyday purchases. "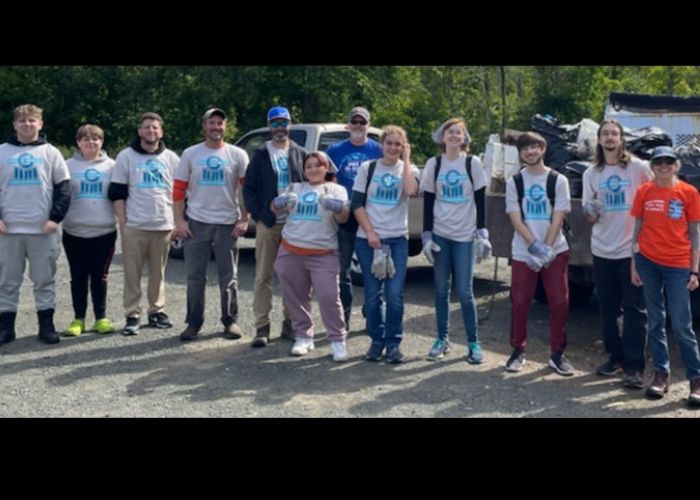 "I had fun at this event. It was both a nice way to get outside and a great way to make a change in the community," said Melissa Arenas'25. "I learned about the relationship and interactions between water and its surrounding land and how land pollution can easily turn into water pollution. I wonder how long the trash in the area we went to had been accumulating for and how it will be handled after we sent it to the garbage company. I am interested in doing something like this again. It was not hard and it felt very fulfilling afterward."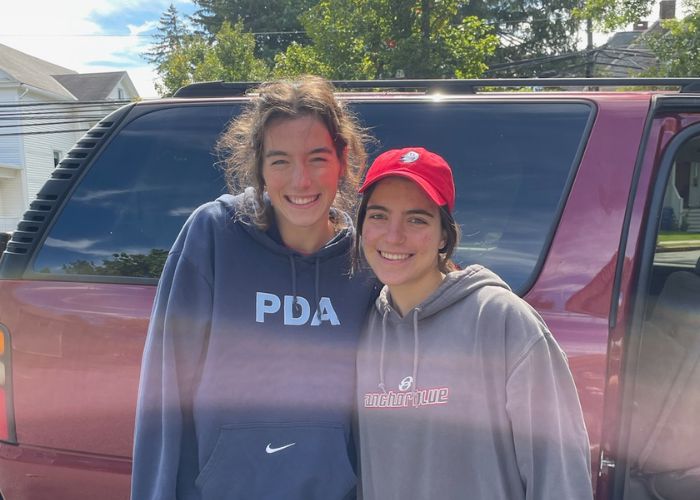 Miller's students also participated in the roll-out of Middletown's Food Waste Collection Pilot Project, which will collect food waste from more than 2,000 households and businesses in the downtown area for delivery to composting and biogas facilities. The program is funded by a grant from CT DEEP, to help develop models in the state for municipal food waste collection programs. Participating students had the opportunity to meet with Kim O'Rourke, Middletown's recycling coordinator, and work alongside community volunteers and staff from the City of Middletown and Zero Waste to help explain the programs' logistics to area residents and load and deliver boxes containing food waste disposal bags and educational information.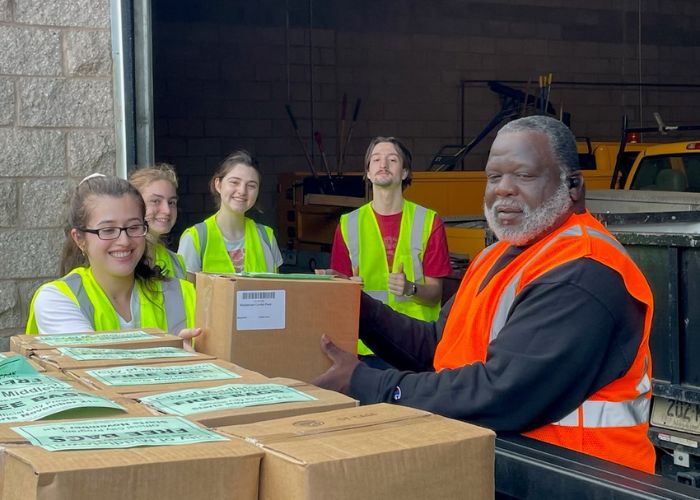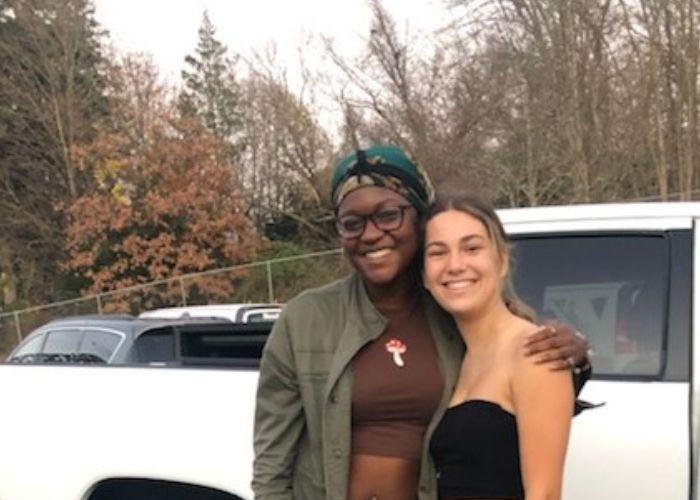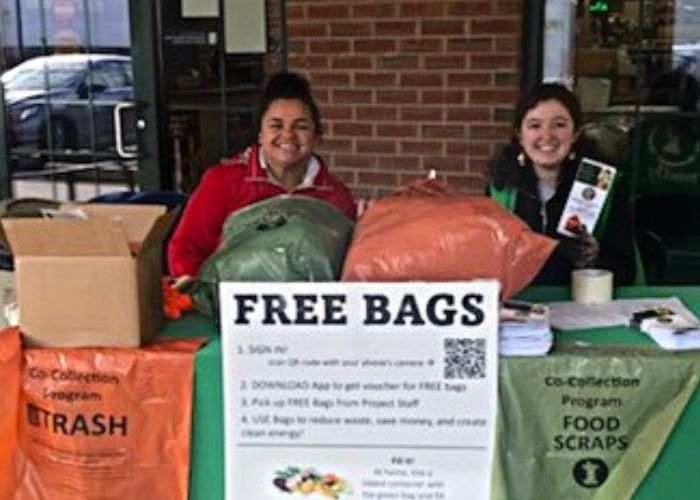 At the October meeting of the Commission on Conservation and Agriculture, members Brian Gartner and Jane Brawerman praised students' involvement in the clean-up and expressed a hope that they will participate in future events. Kim O'Rourke added  "We are so excited the students not only got to learn about our new Food Scrap to Clean Energy Pilot Program, but also actively helped in rolling out the program. They were instrumental in spreading the message to all the families in the sanitation district by distributing bags and staffing outreach tables. It's an effective partnership which I hope can continue."