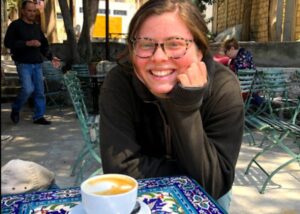 Every year, the COE awards fellowships to fund summer research opportunities for Wesleyan students across all majors and class years. SISP and environmental studies major Bella Barocas '24 spent the summer exploring regenerative agriculture in jewish community through farming at Zumwalt Acres in Sheldon, IL.
Tell us about your summer project!
For my COE summer fellowship experience, I lived and worked at Zumwalt Acres (ZA), a regenerative farming community based in Jewish values. ZA is an organization run by young people, dedicated to creating a model of socially and ecologically responsible agriculture in the Midwest. The main focuses at the farm include agroforestry, perennial crops, diversified annual row crops, and research on soil additives like basalt rock powder and biochar. I was the manager of one of our big vegetable plots, fondly called ATR, which stands for Across The Road, because it's located…across the road. I was also the co-market manager with my friend Daniel. Day to day over the summer, I was doing farm tasks including seeding, harvesting, packing, and plant care. Weekly, I was bringing produce to the local food pantry and selling at a local farmer's market. More broadly, I was working with my co-marketing manager on reevaluating our produce distribution channels to be more in line with our organizational values of food justice.
COE summer fellowships give Wes students the opportunity to explore enviro-related topics of interest. What did you hope to learn this summer…and what did you learn?
I went in imagining I would have a lot more time to think and write about the intersection between Judaism and farming, but instead I really experienced it hands on—as farmers tend to do! I have worked on several farms, but have only ever known how to follow directions. By spending enough time with the crops and the land, I was able to learn to read the plant's signs and understand how to best tend to them (along with learning about the power and vastness of Google for answering plant questions). In my work on the market side of things, I learned about pricing, packaging, and presentation of produce—and just how hard it is to make a living being a farmer in America. Through ZA's network, I learned about the landscape of regenerative farmers in the Midwest. And finally, through personal and communal exploration, I learned about my identity and place at this moment in American history as a Jewish farmer.
What was the most rewarding part of your COE summer fellowship experience?
Caring for plants at every stage, from seed to fruit…harvesting is the most rewarding part of the growing season 🙂
In your opinion, why do you think it's important to explore the intersection of religion and the environment
This is a really important question that I explored deeply over this summer.
On a personal level, doing environmental work can be really heavy because it is easy to lose hope and direction. I find it really helpful and fulfilling to have my work grounded in an ancient tradition, centered around community and agricultural seasons and moon cycles! Connecting to my Judaism in and through my environmental work makes me feel connected to my ancestors and to the land. Being Jewish helps me be a more grounded and observant farmer, and being a farmer allows me to be a more grounded and observant Jew.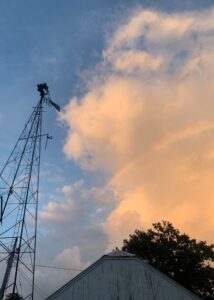 In a broader sense, religion/tradition is the lens through which many people see the world that we inhabit and the interactions within it. Understanding the way people view the world allows us to contextualize actions and mindsets in time and place. Over the summer, I met many farmers and community members for whom their faith is the driver of their work. Connection and mutual understanding on this level is the fuel for change.
How did this experience change you, personally, and/or impact your academic or post-academic plans, moving forward?
For one, my summer experience has inspired me to take more science classes. Using a GPS programmed with GIS to find the soil sampling sites for ZA's research on basalt rock powder as a carbon sequestering soil additive inspired me to take an Introductory GIS course this semester. Beyond Wes, working in a predominantly Jewish space and having frequent conversations about how our work is related to our Judaism made me think more seriously about pursuing a career as a Rabbi or a chaplain.
Any words of advice for other Wes students who might be interested in applying for a COE fellowship?
Make your wildest dreams happen! During the school year it is definitely overwhelming to take on an application, but in the end having the freedom to do something you're excited about is so fulfilling. You will learn even more than you hoped to about the world and yourself.
Do you have any eco-themed books, magazines/websites, and/or movies everyone should read, watch, or visit?
The Zumwalt Acres website!!! And if you haven't watched all of her content already, @theblackforager on Instagram or TikTok!