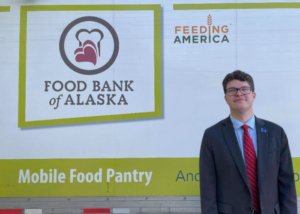 Ron Meehan '21 is the policy and advocacy manager for the Food Bank of Alaska. He graduated from Wesleyan with a BA in environmental studies and government.
Why did you choose to be an environmental studies (ENVS) linked major here at Wes and how did it tie-in with your government major and other interests?
Growing up in Alaska, I saw the direct and immediate impacts of climate change all around me. We're facing unprecedented wildfires, rapidly receding glaciers, and declines in marine life populations. Many rural Alaska Native communities that have been stewards of the land for time immemorial are no longer able to practice their subsistence lifestyles. Pursuing a linked environmental studies major at Wesleyan allowed me to analyze this more in depth while taking a comparative approach in learning about the impacts of climate change worldwide. ENVS had a lot of very interesting courses and integrated well with my major in government, which made the decision to pursue the linked major an easy one.
What was your environmental studies capstone project and why did you choose to explore that topic?
My capstone project, "The Impact of Climate Change on India's Agricultural Production: An Analysis of Proposed Solutions," explored India's adaptation practices and developing technologies to confront the growing challenges of the climate crisis on the region's agricultural industry. My interest in South Asia was sparked by a course I took my sophomore year on Modern India and further developed by a multi-country International Honors Program analyzing public health that took me to New Delhi and various other places in India my junior year. I wanted to do more comprehensive research into the ways climate change was impacting South Asia and ultimately chose to concentrate on agriculture and food production, given both its regional and global importance.
Was there a class, professor, or experience here at Wes that solidified your interest in the intersection of government and environmental issues as a professional path?
My interest in the intersection between the environment and government emerged through a culmination of life and political organizing experiences, though several Wesleyan classes and professors also helped shape my trajectory. Professor Mary Alice Haddad's Environmental Politics in East Asia made me think differently about the ways governments engage in environmental discourse and how some governmental structures are better adept to quickly confront the challenges of climate change. Other courses, such as Professor Fred Cohan's course on Global Change and Infectious Disease, uncovered some of the less well known global effects of climate change. The heavy emphasis on experiential learning from my International Honors Program also further substantiated the connections between the environment and human health for me and solidified my interest in government and the environment.
Tell us about your experience as director of field operations during Wesleyan alum and current Middletown mayor Ben Florsheim's successful campaign! What were your most important takeaways from that experience?
Joining Ben's campaign was one of the best decisions I made during my time at Wesleyan. My time on the campaign accentuated how much local elections matter and the impact they have on people's everyday lives. Working full time on a campaign, and particularly in the field, allowed me to interact with people from all different backgrounds and political beliefs across the Middletown community and to build bridges in a way that I would not have otherwise had the opportunity to do. Canvassing and direct interactions with voters are the most efficient tools in a campaign and relationships play an enormous role in political organizing. The Ben Florsheim for Mayor team became a second family to me, and I have strived to replicate that feeling in subsequent campaigns I've worked on since then.
You're now policy and advocacy manager for the Food Bank of Alaska. Tell us about the organization and your role in it.
The Food Bank of Alaska provides food to partner distribution organizations and partner agencies statewide in addition to administering federal commodity programs, including CSFP, TEFAP, and FDPIR. Last year we distributed more than 11 million pounds of food. Our goal is to create a hunger-free Alaska where every Alaskan has access to enough healthy, nutritious, and culturally appropriate food. I work in the Advocacy and Public Policy Department, which aims to protect and improve programs, increase access, and boost funding.
As policy and advocacy manager, I work with our advocacy team to implement a public policy agenda that increases awareness and reduces food insecurity across Alaska. I am also responsible for managing the Alaska Food Coalition representing 160 food banks and food pantries, state agencies, faith-based organizations, tribal groups, and more. I facilitate communications between coalition partners, oversee a yearly mini-grant program and advertise other potential funding opportunities, and organize a yearly legislative fly-in to Juneau which includes planning seminars and panel discussions, as well as leading meetings with legislators and staff to educate them on food insecurity across Alaska. We substituted the annual fly-in with virtual legislative meetings this year, holding meetings with more than half the Alaska Legislature. In my advocacy work, I also collaborate with the Food Research and Action Center, Feeding America, and the Center for Budget and Policy Priorities to help advance an anti-hunger agenda on the national level.
Can you tell us about any projects you're working on right now?
The Food Bank of Alaska and Alaska Food Coalition are working closely with stakeholders across Alaska's food system and the state legislature to pass a capital budget that will include infrastructure for Alaska's food bank and food pantry network, a startup and expansion of school breakfast programs, and a program delivering monthly produce boxes to rural Alaskan families. These represent strong efforts from food security advocates across the state to make substantive investments in our food system that will allow us to confront the unprecedented levels of food insecurity the food bank network has seen since the start of the pandemic. We have also worked with Representative Liz Snyder's office to promote a bill for an online SNAP application and to create a statewide Food Strategy Task Force.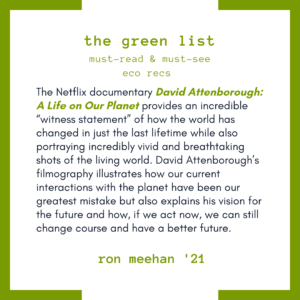 In addition to your "day job," you're also involved in Alaska's political scene, including your role as the Climate Caucus vice chair for the Alaska Democratic Party. Can you tell us what you hope to achieve with your involvement?
Alaska has incredible potential, but far too many of our leaders and elected officials aren't standing up for fundamental values: voting and workers rights, environmental justice, investing in strong public schools, and creating a brighter future for all Alaskans. Every day it gets harder for working families to get by in our state. I decided to serve in a variety of roles in the Alaska Democratic Party because I believe in our ability to make the changes we want to see and I want to help move our state forward. I have strived to increase involvement from progressives, young people, and those from underrepresented backgrounds to ensure they have a voice in our party and the direction of our state. Outside of the party, I have worked and volunteered on numerous campaigns from school board to state house to governor with the aim of electing more leaders who will fight for us. While this progress has often been slow, I have faith in our future.
What advice do you have for Wes students considering an ENVS linked major?
I would strongly encourage any Wes students with an interest in climate organizing or environmental studies to pursue the environmental studies linked major. It's a fairly flexible major that fits well with a lot of other majors and will also allow you to further learn, explore, and develop your interest.
What's your favorite enviro-lit book everyone should read or the enviro movie everyone should see?
The Netflix documentary David Attenborough: A Life on Our Planet provides an incredible "witness statement" of how the world has changed in just the last lifetime while also portraying incredibly vivid and breathtaking shots of the living world. David Attenborough's filmography illustrates how our current interactions with the planet have been our greatest mistake but also explains his vision for the future and how, if we act now, we can still change course and have a better future.