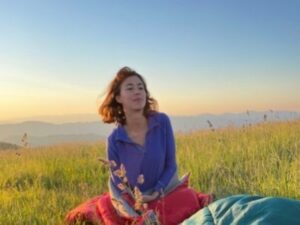 Every year, the COE awards fellowships to fund summer research opportunities for Wesleyan students across all majors and class years.
Abi Pipkin '22 is a government and environmental studies major interested in the question of land management in the United States. This summer she explored the Great Smoky Mountains region of Eastern Tennessee and Western North Carolina to learn more about how the privatization of land affects human stewardship of natural resources. The interviews and research she conducted will form a podcast she is developing this semester as part of her senior capstone for the environmental studies and government majors.
You spent the summer exploring land management in the Smoky Mountain region. Tell us about your project!
Within the Smoky Mountain region I examined the four main land regulation and ownership methods: Private U.S. land, National Forest, National Park, and Qualla Boundary (the Eastern Band of Cherokee Indian "land trust" which is a sovereign nation). Within each of these regions I conducted a series of interviews with community experts and regular everyday people who exist on these lands. Experts explained to me the specific land regulations. I asked individuals to speak to the ways that their lives are impacted by these regulations and to describe their relationship with the environment and if/how they are stewards of it. I'm in the process of making these interviews and my research into a podcast that I will develop throughout the current semester as part of my senior capstone for the environmental studies and government majors.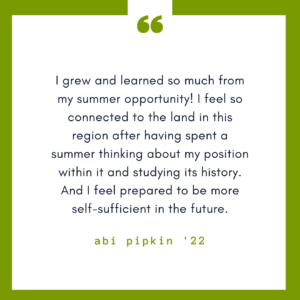 What sparked your interest in the topic?
During a road trip across the United States, I found myself confused and frustrated by the fact that in order to sleep, my options were to pay $100 for a hotel or $25 for a six-foot piece of ground that I would have to book three days in advance. I was driving for hours each day through uninhabited and agricultural land, but because I didn't own this land, I was excluded from existing on it, even if I left no trace. This brought to light an issue that had been on my mind because of a book I had read.

Braiding Sweetgrass by Robin Wall Kimmerer, a book about "indigenous wisdom, scientific knowledge, and the teachings of plants" made me think about the history of the land that I have been living on for my whole life. Her writing was a reminder that the way we own, interact with, and manage the land in the United States is not a universal law as I had grown up accepting. In fact, today's land management practices of the land that we call the United States are entirely different from Turtle Island (the name for this land), which people have lived on for over 10,000 years pre-colonization. When land is viewed as an ecosystem that humans are a part of, and each part of the ecosystem is valued, how will quality of life for the earth and humans be increased?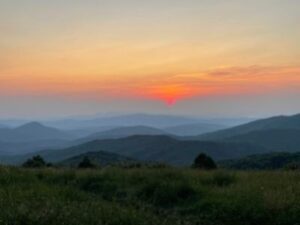 We are asking the land to support more people than ever before. Because of this, I assumed that the solution to our land management problems in the United States would not be straightforward. I went into this project wondering: How do land regulations impact human-environmental relationships? Does making humans "owners" over the land establish a power dynamic responsible for environmental degradation? How do management practices impact community? If privatized land ownership laws were  lifted or lessened, would greed and entitlement cause more destruction? Or ,with time, would environmental knowledge, environmental respect, mental health, physical health, and a sense of community start to regenerate?

COE summer fellowships give Wes students an opportunity to explore their enviro-related passions. What did you hope to learn this summer…and what did you learn?
Starting this project, I hoped to learn how to manage an independent project, to learn about the community of the Smokies, and explore the question of how land regulations impact ecosystem health. Though I had vague hypotheses, I had no idea what I would find through my investigation and was excited to find out.
I grew and learned so much from my summer opportunity! I learned how to create meaningful work that I am passionate about without an employer, work that I can see myself doing in the future. I was pleasantly surprised by how everyone I approached for my project was so friendly and willing to talk, and now feel more confident interacting with everyday people on the street or government officials. I feel so connected to the land in this region after having spent a summer thinking about my position within it and studying its history. And I feel prepared to be more self-sufficient in the future.
What was the most rewarding part of your fellowship experience?
I was the first person to ask many of the people I interviewed about their relationship with the land: whether they feel a sense of responsibility to take care of it, and in what way they care for and respect the ecosystem. Starting the conversation and being met with such genuine and thoughtful responses was very powerful and inspiring.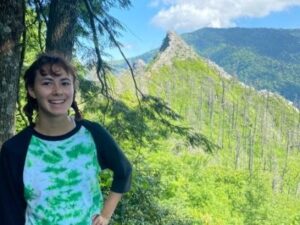 Tell us about any challenges you faced along the way, and how you overcame those challenges!
Figuring out how I was going to execute a big project all on my own was complicated and daunting! I ended up revising the original plan that I submitted in my application a LOT, once I re-evaluated my own abilities and the resources available to me. The longer I worked on the project, the more problem-solving skills and independence I developed. By the end, I felt confident in being able to figure things out on my own. 
How did this experience change you, personally, and/or impact your academic or post-academic plans, moving forward?
This COE fellowship gave me a chance to explore an interest I have–and make it into something important that I can share with everyone. As a government and environmental studies double major, this was the first time I had the opportunity to see my studies come to life in front of me. These ideas that we study are real! And I could see them right in front of me.
Any words of advice for other Wes students who might be considering applying for a COE fellowship?
Apply!!! Do something you are really interested in and don't be afraid to take risks. It might be scary and imperfect, but you will learn so much along the way and come out with something you are proud of.