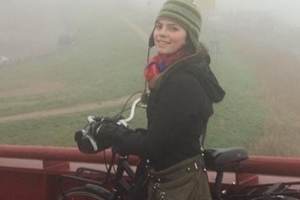 The Careers in Sustainability panel, hosted by the Gordon Career Center, the College of the Environment, and the Sustainability Office on October 4, 2019, included Nora Vogel '11, director of communications for Coalition for Green Capital. The College of the Environment graduated its first cohort of environmental studies majors in 2010. Below, an interview with Vogel '11, one of the first students to ever major in environmental studies at Wesleyan.
Did you come to Wesleyan knowing you wanted to study Environmental Studies? What led you to the COE?
Nora Vogel (NV): I knew I was interested in science and the environment, and I was thinking about doing biology. I actually worked in Professor Sonia Sultan's lab, which was an amazing experience. At the same time, it felt hard to stick to research science as a career path, when I felt that many decision-makers in the world aren't listening to the perfectly good science that we already have. That's what got me interested in communications and in the Science in Society Program (SISP). I wondered what makes people make decisions about things, and what makes them trust one source and not another one. I took a Media in Society class that dovetailed really well with that, along with some sociology classes. I took a philosophy class with Professor Joseph Rouse about objectivity that I loved; we went deep down the rabbit hole of whether objective truth really exists. I still think about it all the time. The great thing about SISP was that it gave me a way to fit those things together, and it ended up being directly relevant to the career path I ended up on.
The COE was new when I came to it. I looked at it and realized that I had most of the credits already and I only had to take a few more classes. I was able to be part of the group and attend events, meetings and lectures, and was really inspired by what many of my fellow COE students were working on. Because SISP was interdisciplinary and was often confusing to people, being in COE also let me tell people I was an environmental studies major, which was easier for them to understand.
Did you complete a senior thesis or capstone experience?
NV: I did my thesis with Professor Gary Yohe, in the Economics Department and the COE. I was really excited for him to be my advisor, and had a great experience working with him!
My capstone project, Scientific Objectivity in the Debate over Climate Change, explored people's beliefs about climate change, and drew comparisons with campaigns to promote creationism. There are common messages and tactics for how to take an accepted, scientifically supported idea, and get people to reject it. You see it used on all kinds of things today.
Part of the project also touched on how the public relates to the scientific establishment. At that time, a group of scientists who worked on climate change modeling had recently their emails leaked. People with an interest in avoiding climate action were able to use the emails to exploit a lack of public understanding about what scientists actually do. The scientists were having normal conversations, but it didn't fit with public images of scientists. If you're an average person, and your idea of science is that there are these geniuses who perform arcane experiments that result in a single objectively correct answer, you might have that illusion broken and think, wow, maybe it's all nonsense. And it's not! But it's also not what you thought it was, so you end up with a problem where no one's really understanding one another.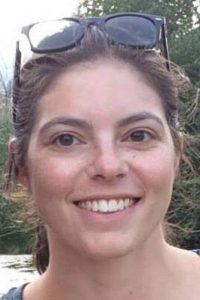 You moved to NYC after graduation and you've lived there ever since. How do you find ways to interact with nature in NYC?
NV: I actually feel like I interact with nature a lot. Cycling is my favorite way to get around, and I even bike to work most days. When you get used to living on a car-to-door basis, it's easy to forget about how much that limits the time you spend outdoors. In the city, you're walking more and outside more. I've really enjoyed living in New York, and experiencing the urban sort of nature that we have here.
How did your time in the COE set you on your career path?
NV: When I graduated from Wesleyan, I looked for jobs in the climate or environmental fields and took networking meetings with whomever I could. I ended up talking to someone who was starting a new nonprofit: Climate Nexus, a group built around the idea of communicating climate science.
In my first meeting with Climate Nexus, I talked about my capstone project, which clearly resonated. Correcting the misconceptions that I had been studying was exactly Climate Nexus' mission. Doing my capstone project and building a vocabulary to talk about it helped me become one of the group's first hires. So for anyone who thinks that an interdisciplinary course of study won't result in a job, I'd say it's completely possible.
I stayed at Climate Nexus for three and a half years before moving to Regional Greenhouse Gas Initiative (RGGI). I had spent a long time focused on science, and I wanted to learn more about energy. RGGI is a state-based climate change mitigation program in which states pass regulations that affect their power plants, then create a cap-and-trade market where participants can buy and sell "allowances." It's a really interesting program. At the time RGGI was established, only the EU had a carbon market, and now there are more of them around the world. Just the other day the governor of Pennsylvania signed an executive order saying that he wants Pennsylvania to participate in RGGI as well, which is really cool for me to see. I'd say I learned a lot working for RGGI.
Tell us about your current role in communications at the Coalition for Green Capital.
NV: The Coalition for Green Capital is a nonprofit focused on establishing and supporting green banks. These are institutions that work somewhat like investment banks, but are focused on mobilizing investment into clean energy and energy efficiency. Instead of choosing the projects and targeting a rate of return in order to maximize their profit, a green bank would maximize the amount of clean energy that gets created. They're looking for projects that for some reason can't get commercial capital. There are several green banks at the state level in the US, and there are other countries that have green banks as well. For example, Australia has one called the CEFC (Clean Energy Finance Corporation). The Coalition for Green Capital is also working on green banks in developing countries, including the Climate Finance Unit of the Development Bank of Southern Africa, and a scoping project going on in Rwanda. And finally, there's also a bill that's currently been proposed in the US Senate to create a National Climate Bank, which would be a big deal for the advancement of the green bank model.
In my role, I'm seeking to tell the story of these projects, and all of the momentum that's being built to create these institutions. In the big picture, if we can create enough green banks and they can mobilize investment all over the world, we can accelerate the switch to clean energy and solve climate change. It's a tall order, but that's the plan.
Anything else you'd like to share that might be helpful to current COE students or students thinking about getting involved at the COE?
NV: It's been an interesting career path. I feel like I've been able to talk to a really wide range of interesting people and get a window into different ways that energy is created in our world and how projects are financed. With the combined work that everyone is doing, you hope to move the needle. Especially working at places where there are actual projects being built as a result. One person installing a solar panel on their roof is not going to solve climate change by itself, but if you consider an entire green bank and the number of loans it makes, you start to see the bigger picture. That person might not have been able to put solar on their house without getting that low-cost loan. When multiple forces work together you can look and say, 'This is making progress towards something.'