As you retire after more than 40 years at Wesleyan, let's start at the beginning: Where did you grow up and what were your interests?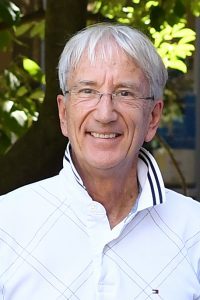 I grew up in West Chester, Pennsylvania. I played baseball through most of high school—until I found out that I could not hit a curveball. It was a curveball from Jon Matlack, who was rookie of the year in the National League for the Mets. It was then that I took up golf and started to practice a lot—like 10 hours a day plus 9 holes.
Rumor has it you were a pretty good golfer. Is that why you chose UPenn—or did Penn choose you?
I was good enough to qualify for the USGA National Amateur twice, but never good enough earn a living. Penn was interested in me playing golf for them, but the reason I went to Penn was because I won a full scholarship from my high school.
How would you describe yourself as a college student. Were you always interested in economics, or did you try out different majors before focusing on economics?
I only took one economics course as an undergraduate. I changed my major five times: English, philosophy, chemistry, chemical engineering, and finally mathematics. I was elected to Phi Beta Kappa even though I was not a very reliable attender of classes. My junior spring, we had 22 away golf matches in the month of April, so I went to one class the whole month. But math was a read the book, think, do the homework, and learn proof templates type of major, so classes were optional.
I went to Stony Brook for a year in their math PhD program, but transferred to economics at Yale. By default, I learned more than anyone else in my class, but it was possible because the math was easy. I completed my PhD in four years. Environmental issues became important when I took a class offered by Tjalling Koopmans and William Nordhaus, two eventual Nobel laureates.
I've read that you believe in the value of a liberal  arts education. Where does that belief come from and how did that belief shape your path?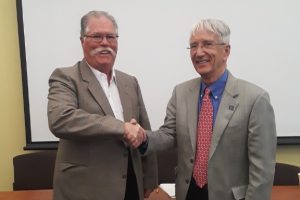 Since I was allowed to change majors so often, I saw important overlaps across different subjects from an early age—learning lots of different vocabularies. Wesleyan turned out to be the perfect place for me because I was hired as an economist but was allowed to follow my interests to focus almost entirely on climate change for over 40 years—a fundamentally interdisciplinary issue.
When did you first become aware of climate change?
I discovered climate change when William Nordhaus phoned me in 1980 and asked if I wanted to work with him on a chapter on emissions scenarios for a National Academies of Science panel that had been tasked to publish what really was the first global assessment to bring economics to bear on the policy questions.
In your eyes, what has been your greatest contribution to how we talk about and think about climate change?
Stephen Schneider, William Hare and I wrote "Responding to climate change involves an iterative risk management process that includes both adaptation and mitigation and takes into account climate change damages, co-benefits, sustainability, equity, and attitudes to risk." That sentence appears on page 22 of the Synthesis Report of the Fourth Assessment of the IPCC (2007).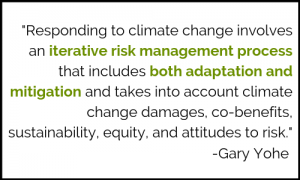 The IPCC had concluded in 2007 that warming was unequivocal and that our authors had very high confidence that human emissions of greenhouse gases were the primary cause. Skeptics had moved from "the world is not warming" and "human activity has played no role" to "so what? impacts are negligible." Mentioning extremes was, to their minds and their polemics, shameless "fear-mongering" by a conspiracy of climate change researchers.
These 30 words crafted in Colorado in the middle of many nights by several of us (Steve Schneider and Bill Hare with support from Rajendra Pachauri) certainly changed forever the way that decision-makers across the planet look at climate change as a policy issue. Cost-benefit analysis was finished. Risk management was the way forward. It took years for some. It took 30 seconds for Michael Bloomberg. I personally thought at the time, and I still think today, that this is the most significant conclusion of the six IPCC assessments that have been produced so far with respect to its impact on policy negotiations.
How did you get involved with the Intergovernmental Panel on Climate Change (IPCC)?
I was approached by the U.S. Department of State to see if they could nominate me. I said "yes" and rest is history. I ended up a very senior author and member who shared the responsibility of produce "Synthesis Reports" for the fourth and fifth assessments. Synthesis reports are designed for heads of state and their staffs, and so I got to attend some Conferences of the Parties of the United Nations Framework Convention on Climate Change.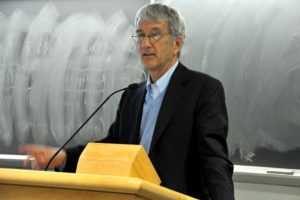 Did the IPCC's Nobel Peace Prize win in 2007 surprise you? How did you hear about the award and what's the first thing you did when you heard the news?
Very surprised. My wife was watching TV news early that day, and I was preparing to go to school. She came into my loft and told me. We hugged and expressed astonishment, and then I prepared what I was going to say if anybody from the press called. Forty-five minutes later, Andy Revkin from the New York Times called.
Effectively communicating about climate change is a huge challenge. We recently welcomed Meaghan Parker, executive director of the Society for Environmental Journalists, who spoke about breaking down communication barriers between scientists, journalists, and the general public. What drew you to the event?
It is an extremely difficult thing to do—to communicate complicated stuff that has lots of jargon. The executive director did a good job covering the basics and elaborating on the pitfalls.
In your recent Hartford Courant op-ed you write, "It is likely that the authors of the resolution and its co-sponsors thought that yoking climate change to their larger agenda would start conversations. But this version of the Green New Deal will impede continued progress on the climate front for years to come." Why?
Without dividing all of the fundamental problems that the Green New Deal puts forth into their own important and admittedly interdependent contexts, climate policy can get lost in the shuffle or even worse. It is being branded as a major pillar of a socialistic agenda, and, thus, a slow-moving target for skeptics in the White House, Congress, and distortionary think tanks like the Heartland Institute. We had seen a change in attitudes after the Fourth National Climate Assessment was dropped on Black Friday (climate being elevated to the same sentences as jobs and health care in places like Iowa), but suddenly we were back defending ice cream cones and airplanes.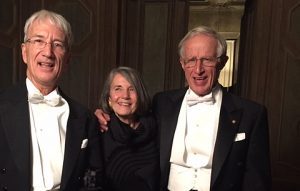 You're a noted academic and widely published author, you've testified before the Senate and been a member of countless committees, and you've won a share of a Nobel Peace Prize. Looking back, what has been your proudest professional moment?
Being invited as a one of four colleague guests by William Nordhaus for his Nobel Prize Ceremony Week in 2018. It was the top of the world that filled a gap I missed in 2007, when I lost the "lottery" that determined who would represent the IPCC at the Nobel Peace Prize ceremony in Oslo, since there were 40 senior members and only 15 spots available. But it actually meant more because it was Bill who gave me the chance.
Also, being asked by the Obama Administration to serve as vice co-chair of the Third National Climate Assessment in 2012. That appointment allowed me to advance risk management as the fundamental looking glass through which to search for answers.
In your opinion, what is the greatest environmental challenge facing the U.S. and the world, at this point in time? And what is your greatest hope for our future?
Clearly climate change—that was Bill Nordhaus's point in his Nobel Lecture. My greatest  source of hope is the growing passion among young people to clear up the mess we have left them.
As you retire from Wesleyan after more than 40 years of service, what are your plans? Will you continue with the Climatic Change journal? Travel? Spend time with your family? Other plans?
I will flunk retirement—continuing with Climatic Change, writing scholarly stuff, working with friends to write opinion pieces, and play with and help care for my twin three-year-old granddaughters to help their increasingly busy mother.
More about Gary Yohe
The following text appeared in the program for Yohe's retirement celebration at Wesleyan in April 2019. Link to the program pdf here.
Read Richard Grossman's remarks from the event here.
Gary Yohe is the author of more than 175 scholarly articles, several books, and many contributions to media coverage of climate issues. Most of his work has focused attention on the mitigation and adaptation/impacts sides of the climate issue. Involved since the early 1990s with the Intergovernmental Panel on Climate Change (IPCC), he shared its 2007 Nobel Peace Prize as a senior member. He was Lead Author for four different chapters in the Third Assessment Report, published in 2001, and Convening Lead Author for the last chapter of the contribution of Working Group II to the Fourth Assessment Report, published in 2007. For that Assessment, he also worked with the Core Writing Team to prepare the overall Synthesis Report with the conclusion that responding to climate change is an iterative risk management problem. He was a Convening Lead Author for Chapter 18 of the Contribution of Working Group II to the Fifth Assessment Report on "Detection and Attribution" and a Lead Author for Chapter 1 on "Points of Departure". Most recently, he has been a contributing author to the IPCC Special Report on a 1.5-degree temperature target for mitigation.
Professor Yohe continues to serve as a member of the New York (City) Panel on Climate Change (NPCC), created in 2008 by then-Mayor Michael Bloomberg to help the City respond to the risks of climate change. The third iteration of the NPCC reports was released on March 15, 2019, at the offices of the New York Academy of Sciences.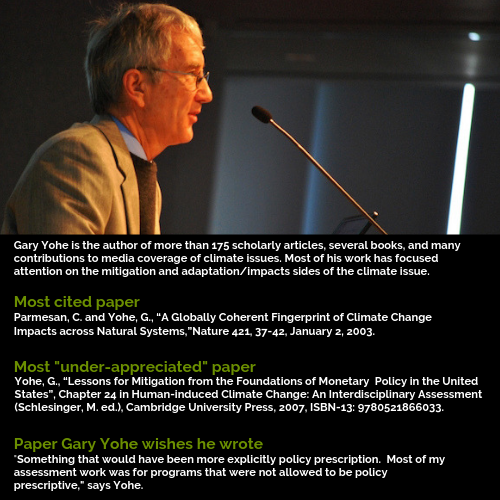 He has testified before the Senate Foreign Relations Committee on the "Hidden (climate change) Cost of Oil" on March 30, 2006, the Senate Energy Committee on the Stern Review on February 14, 2007, and the Senate Banking Committee on "Material Risk from Climate Change and Climate Policy" on October 31, 2007.
In April of 2011, Professor Yohe was appointed Vice Chair of the National Climate Assessment Development and Advisory Committee for the Obama Administration by then Under-Secretary of Commerce Jane Lubchenko for the Third National Climate Assessment. The Third National Climate Assessment Report was released by President Obama in a Rose Garden ceremony on May 6, 2014.
He served as a member of the National Research Council Committee on America's Climate Choices: Panel on Adapting to the Impacts of Climate Change between 2008 and 2011 and the National Research Council Committee on Stabilization Targets for Atmospheric Greenhouse Gas Concentrations that was chaired by Susan Solomon from 2009 through its release in 2010. More recent activity with the National Academies includes serving as the review editor for their report on the "social cost of carbon" and as a member of their panel to review the Fourth National Climate Assessment. He was also a member of their panel that prepared the 2017-2027 Decadal Survey for Earth Science and Applications from Space for NASA in 2018.
Professor Yohe is currently co-editor-in-chief, along with Michael Oppenheimer, of Climatic Change (since August of 2010). His opinion pieces now frequently appear in the national media.