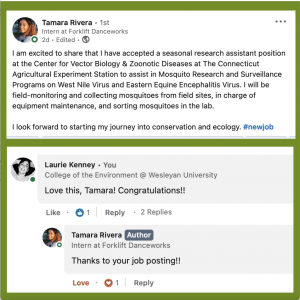 Check out our ever-updating list of eco-friendly opportunities open to our coexist community. Have an opportunity to add? Email me at lkenney01@wesleyan.edu!
Applications are now being accepted for the Yale Conservation Scholars – Early Leadership Initiative. Deadline: January 10, 2023.
Always be sure to check out the latest from Wesleyan's Gordon Career Center as well as the Allbritton Center's ENGAGED blog, for a slew of opportunities for Wes students!
past opportunities
Long Lane Summer Farmers Wanted! Looking for an opportunity to get paid while getting your hands dirty this summer? Long Lane Farm is looking to fill three summer farming positions. Work will take place at Long Lane Farm, at $15/hour. Student-farmers self-manage their work as a team! All the details can be found @ Summer Farming Position. Interested applicants can apply here. Deadline to apply: March 21.
The Healthline and The Nature Conservancy are offering four $5K Stronger Scholarships to students committed to making a difference at the intersection of health and climate change through their studies, extracurriculars, and career goals. Applications accepted: Feb 1 through April 22.
Social impact and entrepreneurship opportunities now available from the Patricelli Center! Check out the many opps available to Wes undergrads through Wesleyan's Patricelli Center for Social Entrepreneurship, including $5k Seed Grants, Davis Projects for Peace, fellowships, courses, and more! Contact Makeala Kingsley, director, Patricelli Center, with any questions. Deadlines vary.
The 2021-2022 JCCP Student Political Engagement Fund supports students interested in engaging the electoral process, exploring the range of American political interests, and supporting efforts that ensure the health of our democracy. Participants can apply to the Fund for costs associated with engagement in voter registration efforts, initiatives combating voter suppression, and issues advocacy work. Rolling deadline, but funding is limited, so apply soon!
Apply today! $4,400 COE 2022-23 Research Fellowships: Now accepting applications for our  COE summer 2022, fall 2022 and spring 2023 research fellowships! The College of the Environment (COE) Fellowship Program allows current Wesleyan undergraduate students to undertake research on environmental topics under the guidance of a faculty mentor during summer or fall or spring semesters. Fellowships are available to all current Wesleyan undergraduate students, regardless of class year or major, and may be undertaken at Wesleyan or off-campus. Check out the wide range of past COE research fellowship awardees, and their projects, here! Students must be current Wesleyan undergraduate students for the duration of their fellowship. All full COE summer fellowships carry a stipend of $4,400. Fall and spring semester amounts will vary based upon duration and hours per week spent on research.  Deadline to apply: February 21.
Danta Field Courses in Tropical Biology is pleased to announce their 2021/2022 field courses in tropical biology. Courses are intended for undergraduates or early graduate level students who have a keen interest in tropical ecosystems and conservation, but have little or no experience of working in a tropical environment. Participants may enroll on either a credit or non-credit basis. For more information, email conservation@danta.email. For an alumni perspective on our programs, visit DANTAisms blog.
Yale Conservation Scholars – Early Leadership Initiative is now accepting applications! Led by Dr. Dorceta Taylor, Program Director and Principal Investigator, the Yale Conservation Scholars – Early Leadership Initiative (YCS- ELI) was formerly known as the Doris Duke Conservation Scholars Program at University of Michigan/Yale School of the Environment. YCS-ELI is a summer opportunity for undergraduates who are traditionally underrepresented in the conservation field and who are interested in careers in the sector.  Any questions can be directed to YCS-ELI@yale.edu. Rolling deadline through January 31.
The JCCP Student Innovation Fund awards students up to $750 for spring OR summer projects that support collaborating with community partners, investigating civic impact, and sharing ideas in the greater Middletown community. Apply by February 17th.
The Sustainability Office is hiring for 2 positions: 1 Sustainability Coordinator and 1 Waste Not Coordinator!  The position will require 5 hours per week @ $13/hour ($14/hour starting August 2022), with a requirement to work through Senior Week and return early during Orientation week, as well as occasional remote meetings in the summer. To apply: Fill out an application at   AND apply via Handshake. Please don't hesitate to reach out to the current Coordinators with any questions at wesustainability@gmail.com. Deadline: February 21. 
Are you a sophomore or junior with a passion for conservation and environmental issues? If so, you may be eligible for the Udall Scholarship! Sophomores who are awarded the Udall Scholarship receive $7000 toward their college expenses for their junior and senior years (a total of $14,000) and juniors receive $7000 for their senior year. The Udall Foundation also organizes and pays for a five-day orientation in Arizona and connects scholarship recipients with the Udall alumni community. If you're interested in applying, reach out to Assistant Director for Fellowships, Erica Kowsz, at fellowships@wesleyan.edu or book an initial fellowships conversation at this link. More fellowship opportunities can be found here. Deadline for Udall applications:  March 1.
2022 Yale Environmental Fellows Program is now open for applications! The Environmental Fellows Program is a nationally competitive summer fellowship program for masters and doctoral students that seeks to place students traditionally underrepresented in the environmental field and those committed to the principles of diversity, equity, and inclusion in summer fellowships with environmental foundations and their grantees. Informational webinars Nov 17 at noon ET and Nov 18 at 3 pm ET. Please RSVP here. Feel free to contact Molly Blondell or Donna Williams at efp@yale.edu.  Deadline to apply is January 10,2022.
The Summer Institute on Sustainability and Energy is currently recruiting fellows for their 11th annual program. The program will consider the process of finding ecosystems in energy and the environment and how to mobilize change to affect climate change and address issues of environmental justice. The program will be presented virtually this year. Application deadline: June 1, 2021.
The Wesleyan Sustainability Office is hiring a new compost intern! Join our team of students passionate about food waste reduction. Responsibilities include maintaining compost bins, collaborating with student groups on campus, and developing educational campaigns on social media. For more information, check out the full job description here. To fill out an application, visit http://bit.ly/compostfall2021. Application deadline: May 1, 2021 at 11:59pm.
The Association for the Advancement of Sustainability in Higher Education (AASHE) offers a variety of professional learning opps, including webinars and workshops. Deadline past.
The Paris Institute for Advanced Study and the 2100 Foundation (France), together with the Institute for Future Studies (Sweden), have launched an international contest, open to all, regardless of nationality. The Positive Future contest asks candidates to write, draw, or even produce a short video, imagining a desirable and sustainable world in cities in the year 2100. Grand prize: 10,000 EUR. Deadline: May 31, 2021.
Conservation International is currently recruiting for several internships and full-time positions, including current listings for an Evidence Review of Natural Climate Solutions Intern and a Wildlife Insights Business Development Intern. Contact Sebastien G. Costedoat for the details. Deadline past.
The Connecticut Agricultural Experiment Station in New Haven is looking to fill 13 seasonal research assistant positions at its Center for Vector Biology & Zoonotic Diseases to assist in mosquito research and surveillance programs on West Nile virus and Eastern Equine Encephalitis virus. Positions are durational from May 3 – October 29, 2021, with variable start and end dates, depending on the position and the applicant's availability. No deadline specified. Contact Philip Armstrong for more info.
Appalachian Headwaters, a nonprofit focused on ecological restoration on mined lands, environmental education, and economic development in Appalachia, is looking for camp counselors for their three-week environmental and arts summer camp, Camp Waldo, in southern West Virginia. Program dates: July 5-30. Other paid internships available (pollinator science, environmental philosophy, communications/marketing, reforestation ecology, native plant horticulture, beekeeping, organic farming, and economic development). No deadline specified. Contact Kate Asquith for salary and other details. Deadline past.
FoodCorps, a national non-profit that teaches hands on nutrition & garden education, fosters a school-wide culture of health, and promote healthy school meals is looking for service members!  Applications are open now and the first round interviews is being scheduled for mid-March. Deadline past.
The Connecticut Land Conservation Council (CLCC) advocates for land conservation, stewardship and funding, and works to ensure the long-term strength and viability of the land conservation community in Connecticut. The organization has a regularly updated list of opportunities for students and others! Deadline past.
The Maine Geological Survey (MGS) is pleased to announce a job opening for a college-level geology student in Augusta this summer. The position, made possible by USGS National Geological and Geophysical Data Preservation Program grant, will assist with a large digital conversion project to make mining claims maps and claim file reference information digitally available. Job description here. Deadline: May 7, 2021.
An exciting paid opportunity for students to be involved in the development of Coltsville National Park in Hartford! Start date June 7. Deadline to Apply: April 30, 2021.
Each year, Wild Gift selects a small group of environmental entrepreneurs for a 12-month fellowship that includes mentoring, fundraising support, and wilderness-based programs that teach leadership and business skills while building a lifelong support network. ​Wild Gift connects and empowers environmental entrepreneurs through immersive wilderness experiences. Application can be found here. Deadline: March 26, 2021.
From Grace Kohn '22: Applications to be a Wesleyan Writing Workshop tutor are currently open! Do you love working with other students? Are you interested in what it even means to be a writer? We want our Workshop to look like you: Whatever your writing background, class year, or major, we encourage you to check out more details and apply today! Our tutors are cheerleaders, sounding boards, and peers–not writing experts or teachers! Contact Ford Fellow Naomi Glascock at  with any questions. Deadline: March 26, 2021.
The Justice, Equity, Diversity, and Sustainability initiative at the Yale School of the Environment invites your students and young professionals to present their work at the New Horizons in Conservation Conference.  The New Horizons in Conservation Conference is an annual gathering of students, young professionals, leaders, and visionaries. Those who attend New Horizons are committed to furthering diversity, equity, and inclusion and many are from historically underrepresented backgrounds in the environmental field. Application deadline: March 5.
The JCCP Student Innovation Fund offers $750 for remote spring or summer projects that deepen our contribution to the greater Middletown community. Projects can focus on collaboration between student groups, faculty/staff, and/or community partners; investigation of the impact of our civic engagement efforts, or sharing of ideas and learnings in civic engagement. Deadline: March 12, 2021.
Yale Environment 360, an award-winning online magazine, is seeking a Web Editor to oversee the day-to-day operations of the website. The Web Editor's responsibilities include preparing articles for publication (finding images, copyediting, and layout); writing short news items; handling all social media; and serving as general operations manager. A good sense of design and knowledge of HTML, CSS, Photoshop, and social media are essential, along with excellent writing skills and a strong interest in and knowledge of environmental issues. Deadline past.
The Party at the Edge of the World (syllabus here): Liz Woolford '22 and Michayla Robertson Pine '22 are the directors of Liz's two-semester senior capstone project investigation into theater and ecological storytelling: The Party at the Edge of the World. From Liz: "This piece will be built by a small, core collaborative ensemble rather than a traditional DSM team. Core team members will take our student forum this spring, then devise and work on the show next fall (credited).  Those not interested in joining the core team can join us next semester for a class that is part environmental performance think-tank, part creative endeavor. Students in the forum (in-person w/remote) will earn 1.0 ENVS credit. As we build this piece, we're looking to create a classroom of folks with varied interests and strengths: artists, movers, activists, geologists, anthropologists, and everything in between. This is a learning experience & prior experience with performance/theater is not necessary." Contact Liz Woolford, for all the details!
Wes Sustainability Office interns: The Sustainability Office is hiring for 2 positions: 1 Sustainability Coordinator and 1 Waste Not Coordinator! All Wes students (2022, 2023, and 2024) who are passionate about campus engagement are encouraged to apply. To apply: Fill out an application and apply via Handshake. Contact current coordinators at wesustainability@gmail.com for more info. Deadline: February 28, 2021. 
Penn State is partnering with Project Drawdown to explore and enhance "the most comprehensive plan ever proposed to reverse global warming." The Drawdown mission seeks to clarify a positive solutions-oriented path ahead for action on climate change. By working with researchers from across the world, the team has already identified 100 of the most substantive solutions to address climate change. Program dates: June 2 – August 6, 2021. Stipend: $600/week. Deadline: February 15, 2021.
UNH Sustainability Fellowship Positions Available for Summer 2021: The University of New Hampshire's Sustainability Institute is now accepting applications for its 2021 summer Sustainability Fellowships, pairing exceptional students from UNH and colleges and universities across the country with host organizations in New England to work on transformative sustainability initiatives. Each summer, fellows undertake challenging sustainability projects that are designed to create an immediate impact, offer an extraordinary learning experience, and foster meaningful collaboration. Both Jen Kleindienst and Ingrid Eck '19 are former program fellows! Contact Megan Carney (megan.carney@unh.edu)  for more info. Deadline: February 15, 2021.
Keck Geology Consortium Summer 2021: Geology and environmental science related summer projects are available from the Keck Geology Consortium for summer 2021. Gateway projects are intended for rising sophomores (current first-years) while Advanced projects are for rising seniors (current juniors).  Each project has a field component with a Covid contingency plan. Kim Diver, associate professor of the practice in E&ES, is leading one of the projects and another is led by Wesleyan MA alum Dan Maxbauer. Deadline: February 15, 2021.
The Sustainable CT Fellowship Program will place highly qualified fellows across the state's nine Councils of Governments (COGs) to assist with the uptake and implementation of Sustainable CT during the summer of 2021. Sustainable CT will follow all current COVID-19 safety guidelines, and it is unknown at this time if the 2021 program will be held in-person or virtually. For all the details, contact Jessica LeClair at leclairj@easternct.edu for more info. Deadline: February 16, 2021.
2021 Wesleyan Summer Grants Program are funding resources awarded through the Gordon Career Center which allow students to pursue no- or low-paid career-related summer experiences such as internships, faculty-mentored research, language study, volunteer work, field study, and academic programs. The list of available grants and the application can be accessed on AcademicWorks through WesPortal. The GCC is holding 3 virtual info sessions this month to answer all your questions! Fore more info, visit the GCC website. Applications open: February 8-26, 2021.
Community-Based Art Making in Practice: Two opportunities to get involved in a collaborative performance with Forklift Danceworks and Wesleyan's Physical Plant and Custodial Operations! In spring 2021, students in Community-Based Art Making in Practice will explore historical and theoretical contexts for community-based art making and put this learning into practice through a process of embedded artistic research and collaboration with campus employees. In summer 2021, Forklift will be hiring two Wes students to support production for the Wesleyan performance. Contact Gretchen LaMotte '18 for all the details or both opportunities. Deadline for spring 2021 course: ASAP. Deadline for summer positions: February 25.
NASA Develop  Summer Program projects focus on helping local and international communities address their environmental concerns while utilizing NASA's Earth observing fleet of satellites. This is a great opportunity for participants who are interested in practical applications of remote sensing and GIS, specifically in the field of Earth Science. The summer term runs June 7 through August 13. Fall and spring opportunities are also available. Deadline for summer program: February 26.
Patricelli Center Seed Grants: 
$5,000 grants to fund the launch or early-stage growth of a project/venture with potential for impact are available now!
Deadline: February 28, 2021.