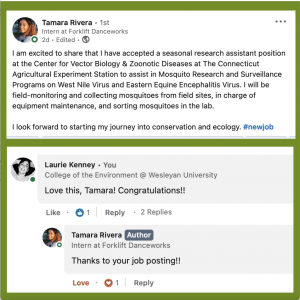 This semester, we'll be sharing an ever-updating list of eco-friendly opportunities open to our coexist community. Have an opportunity to add? Email me at lkenney01@wesleyan.edu! Check out the latest opps, below!
The Association for the Advancement of Sustainability in Higher Education (AASHE) offers a variety of professional learning opps, including webinars and workshops. Access the full list of opps here!
The Paris Institute for Advanced Study and the 2100 Foundation (France), together with the Institute for Future Studies (Sweden), have launched an international contest, open to all, regardless of nationality. The Positive Future contest asks candidates to write, draw, or even produce a short video, imagining a desirable and sustainable world in cities in the year 2100. Grand prize: 10,000 EUR. Deadline: May 31, 2021.
Conservation International is currently recruiting for several internships and full-time positions, including current listings for an Evidence Review of Natural Climate Solutions Intern and a Wildlife Insights Business Development Intern. Contact Sebastien G. Costedoat for all the details. Various deadlines.