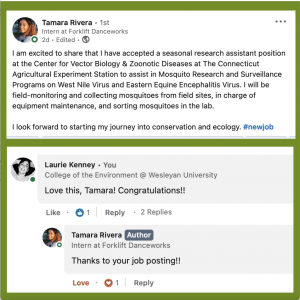 Check out our ever-updating list of eco-friendly opportunities open to our coexist community. Have an opportunity to add? Email me at lkenney01@wesleyan.edu! Check out the latest opps, below!
Long Lane Summer Farmers Wanted! Looking for an opportunity to get paid while getting your hands dirty this summer? Long Lane Farm is looking to fill three summer farming positions. Work will take place at Long Lane Farm, at $15/hour. Student-farmers self-manage their work as a team! All the details can be found @ Summer Farming Position. Interested applicants can apply here. Deadline to apply: March 21.
The Healthline and The Nature Conservancy are offering four $5K Stronger Scholarships to students committed to making a difference at the intersection of health and climate change through their studies, extracurriculars, and career goals. Applications accepted: Feb 1 through April 22.
Social impact and entrepreneurship opportunities now available from the Patricelli Center! Check out the many opps available to Wes undergrads through Wesleyan's Patricelli Center for Social Entrepreneurship, including $5k Seed Grants, Davis Projects for Peace, fellowships, courses, and more! Contact Makeala Kingsley, director, Patricelli Center, with any questions. Deadlines vary.
The 2021-2022 JCCP Student Political Engagement Fund supports students interested in engaging the electoral process, exploring the range of American political interests, and supporting efforts that ensure the health of our democracy. Participants can apply to the Fund for costs associated with engagement in voter registration efforts, initiatives combating voter suppression, and issues advocacy work. Rolling deadline, but funding is limited, so apply soon!