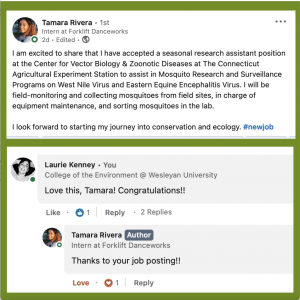 Check out our ever-updating list of eco-friendly opportunities open to our coexist community. Have an opportunity to add? Email me at lkenney01@wesleyan.edu!
Apply today! $4,500 COE 2023-24 Research Fellowships: Now accepting applications for our  COE summer 2023, fall 2023 and spring 2024 research fellowships! The College of the Environment (COE) Fellowship Program allows current Wesleyan undergraduate students to undertake research on environmental topics under the guidance of a faculty mentor during summer or fall or spring semesters. Fellowships are available to all current Wesleyan undergraduate students, regardless of class year or major, and may be undertaken at Wesleyan or off-campus. Check out the wide range of past COE research fellowship awardees, and their projects, here! Students must be current Wesleyan undergraduate students for the duration of their fellowship. All full COE summer fellowships carry a stipend of $4,500. Fall and spring semester amounts will vary based upon duration and hours per week spent on research.  Deadline to apply: February 28, 2023.
Funded by the National Science Foundation, the LAKES Research Experience for Undergraduates (REU) at the University of Wisconsin aims to better understand the root causes of phosphorus pollution and solutions while offering undergraduate students the opportunity to participate in cutting edge research. Applications due February 15, 2023.
The Connecticut River Conservancy is hiring for several seasonal staff positions, including water monitoring and aquatic invasive species work. Deadlines range from Feb-March 2023.
Connecticut DEEP is looking for individuals interested in helping to enhance our State Parks and Divisions. A variety of opps are available, including summer positions.
Northeast Forest Farmers Coalition Forest Farming Mentorship Program – paid forest farming mentee and mentor opportunities.
Maritime Aquarium in Norwalk, CT internship opportunities available.
The Udall Scholarship is open to sophomores and juniors planning careers in Native American tribal policy and Native health care (Native American applicants only) as well as the environment (U.S. citizens, nationals, and permanent residents only). In 2023, the Udall Foundation anticipates awarding 55 scholarships of up to $7,000 each. The campus deadline is February 9 at 5pm, so reach out to fellowships@wesleyan.edu in advance of the start of the semester if you wish to be considered.
University of New Hampshire Sustainability Summer Fellowships – UNH Sustainability Fellowships pair exceptional students from colleges and universities across the nation with host organizations to work on transformative sustainability initiatives.  Jen Kleindienst was a '09 fellow and Ingrid Eck '19 was also a fellow, if you have any questions! Opps pay up to $6K for undergrads and $8K for grads. Applications due 2/10.
Sustainable CT Fellowships (Serena Levingston '24 and Annika Shiffer-Delegard '23 were both fellows last summer). The Sustainable CT Fellowship Program will place highly qualified fellows across the state's Councils of Governments (COGs) to help cities and towns become registered, certified, or recertified with Sustainable CT during the summer of 2023. Students must be either enrolled in a Connecticut college or university or a permanent resident of the state. Students must have maintained a GPA of 3.0 or above and be registered to take classes in the fall of 2023. Students of all majors will be considered.
Connecticut Dept. of Energy and Environmental Protection – is currently accepting applications for an Environmental Protection Seasonal Resource Assistant (Forestry Division) for the DEEP Eastern District Headquarters in Marlborough, CT. Applications due by June 1.
Wolfe's Neck Center in Freeport, Maine is looking for 2023 farm camp staff (many positions available)! Camp season runs from June 20 – August 25, 2023. \ 
Always be sure to check out the latest from Wesleyan's Gordon Career Center as well as the Allbritton Center's ENGAGED blog, for a slew of opportunities for Wes students!